Is there a more evocative phrase in all of photography than "the decisive moment?" For most of us, the three words connote that fleeting instant-quick, get it before it's gone!-when the camera captures the essence of a changing scene.
The term is indelibly associated with the French photographer Henri Cartier-Bresson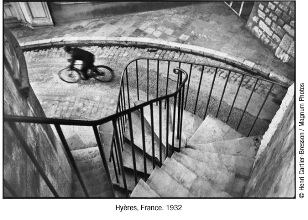 (1908-2004), whose images in Life and other magazines helped define photojournalism and broadened the creative possibilities of the medium. His American publisher even chose "The Decisive Moment" as the title for the English-language version of a 1952 book of his work (it had a different title in the original French).
So it may initially come as a surprise that Peter Galassi, the curator of "Henri Cartier-Bresson: The Modern Century," which runs from April 11 to June 21 at the Museum of Modern Art, doesn't much care for the term.
For one thing, it tends to suggest that speed is all. Yet the Cartier-Bresson show will, in part, "try to explain to observers that it isn't just that he was quick," said Galassi, the chief curator of MoMA's department of photography. Equally important was that he could wade into scenes of political and social upheaval (the 1948 assassination of Gandhi and its aftermath, the Communist revolution in China) and emerge with photos of remarkable artistic and historical clarity. "It wasn't like it would have been obvious to anybody who had been there that this was the key moment, and he was just quick enough to get it. That is sort of the popular misconception," Galassi said. "It's paying attention, and in fact, it's understanding what's happening. That's part of why he's such a great photographer."
The first major retrospective in this country of his work in more than three decades, "The Modern Century" brings together nearly 300 prints (some never-before seen in public) to examine the multiple facets of Cartier-Bresson's particular genius. The photographs from the early 1930s constitute "a self-contained body of work," the curator said, heavily influenced by the Surrealist art and literary movement of the day. In one 1932 image, for example, a spiral staircase curls down onto a cobblestone street, where a bicyclist speeds past; the effect is somehow mysterious, and slightly dizzying.
Advised by fellow-photographer Robert Capa to move beyond Surrealism, Cartier-Bresson became for decades a continent-hopping photojournalist (and a charter member, with Capa and others, of Magnum, the cooperative photo agency). Among his most celebrated postwar images are two that both capture and transcend their historical moment: In one, a woman in a 1945 German displaced-persons camp strikes another who had been a Gestapo informant; in the second, a desperate crowd gathers in 1948 Shanghai, trying to exchange soon-to-be worthless paper money for gold before the final Communist takeover.
The exhibition continues to 1989, and includes pictures taken in the United States and Mexico. No other photographer covered so many changes of the 20th Century, Galassi said: "For the combination of global scope and historical reach, from the pre-industrial past to the modern present, Henri Cartier-Bresson's work is unique."