Anyone who has seriously hunted for a house or apartment-or watched others do it on cable TV-knows that a kitchen can have multiple personalities.
Sure, it's the place where dinner is cooked. But it may also be the stuff of fantasy (a "dream kitchen"), a symbol of affluence (look at those high-end appliances!) or a statement of design or lifestyle aesthetic.
All of the above figure into "Counter Space: Design and the Modern Kitchen," a show at the Museum of Modern Art through March 14, 2011. On view are nearly 300 works from the museum's collection, from sleek gadgets and nifty containers to a hist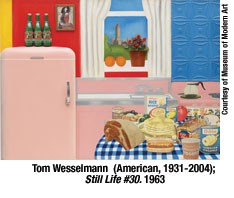 orically important early modernist kitchen. Posters, photographs, film stills and media works provide a graphic counterpoint to the objects.
The show's centerpiece is the "Frankfurt Kitchen," a compact unit designed in 1926-27, an example of which was acquired by the museum in 2009. The kitchen, created by the architect Margarete Schütte-Lihotzky, was part of a vast public-housing effort between the world wars in Frankfurt-am-Main, Germany.
"There were certainly very modern kitchens for individual clients who had electricity" and gas, said Juliet Kinchin, a curator in the department of architecture and design who, with curatorial assistant Aidan O'Connor, organized "Counter Space." But, "the Frankfurt Kitchen was the first to do that on such a large scale."
With its adjustable stool that allowed the user to zip around from clever storage spaces to prep area to stove, The Frankfurt Kitchen reflected a social-engineering effort to transform the lives of ordinary people. A vintage German before-and-after film clip shows the "before" Frankfurt kitchen as a place of endless drudgery: Imagine starting the evening meal by chopping kindling for the stove. "That still went on well into the 20th century," Kinchin said.
Moving on, the show displays an array of interwar and post-World War II kitchen refinements, some of which are small or countertop size. Examples include a set of Bauhaus-influenced glass stacking containers; svelte stainless-steel poultry shears; Tupperware (of course); and a Braun "Multipurpose Kitchen Machine" with 16 fixtures, including a blender.
Other pieces are large, though not too large: the sleek, plastic-laminate Italian "Spazio Vivo"-meaning "living space"-is a mobile kitchen from 1968, a wonder of steel-hinged sections that might enhance many a cramped studio apartment today.
The gadget-filled post-war American kitchen has sparked some debate-including, literally, the famed 1959 "Kitchen Debate" in Moscow between Richard Nixon and Nikita Khrushchev. A large photograph in the show recalls their memorable Cold War verbal sparring in front of a model American kitchen.
Works of the 1960s and '70s by such artists as Andy Warhol may both epitomize and satirize American kitchen-consumerism. Two scenes from Cindy Sherman's "Untitled Film Stills," dated 1978 and 1980, portray Sherman as a harried housewife returning from grocery-shopping-suggesting that women harbor ongoing anxieties centered on the kitchen. Some things, it seems, never change.
MoMA
11 West 53rd Street; 212-708-9400; moma.org
Cindy Sherman appears again, though with a very different persona, in "Eat Drink Art Design," an exhibition (through March 27) of objects for the table at the Museum of Arts and Design. Here, Sherman portrays Madame de Pompadour, the 18th-century mistress of King Louis XV, her enigmatic visage photo-silkscreened on a Royal Limoges porcelain tea set of boudoir-pink and white.
The show of 60 works includes pieces by other well-known artists, li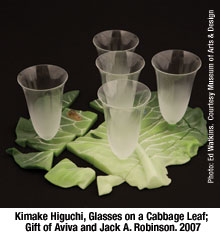 ke Roy Lichtenstein and Keith Haring. "One of the themes is the way in which artists and designers have taken what is very familiar, and given it a different twist," said Associate Curator Jennifer Scanlan, who organized the exhibition.
Dale Chihuly's 1968 blown-glass wine bottle, for example, slithers horizontally like a worm. Paul Scott uses screen-print decal collages to alter the idyllic images on Spode earthenware plates, suggesting a paradise lost. And the married team of Constantine and Laurene Boym cover a small table with a still-life painting featuring a table. Talk about twists: What you've got now, Scanlan said, is "a table with a tabletop on it."
Museum of Arts and Design
2 Columbus Circle; 212-299-7777; madmuseum.org
The home is a focus of yet another exhibition, this one at the Metropolitan Museum of Art. "The Artistic Furniture of Charles Rohlfs," on view through Jan. 23, features 50 examples of the highly individualistic furniture (and related items) of Rohlfs, an American turn-of-the-20th-century figure who designed only a few hundred works in his brief career.
Initially, th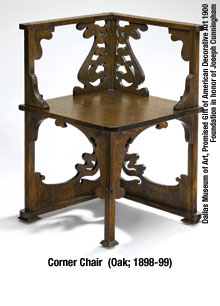 ey were for his own home in Buffalo, N.Y. There, neighbors and guests began asking him to make his richly carved furniture-incorporating elements of the Arts and Crafts and Art Nouveau movements, as well as Chinese and Japanese carvings-for them as well. Rohlfs' reputation zoomed for a time, but as tastes changed his following declined and he virtually abandoned furniture-making.
Bringing together examples from public and private collections, this show adds a new fillip, the result of recent research: Rohlfs' early designs, it seems, were the products of collaboration with his wife, the artist and successful mystery novelist Anna Katharine Green, whose own activities are also part of the show.
Metropolitan Museum of Art
Fifth Avenue at 82nd Street; 212-535-7710; metmuseum.org
Karin Lipson, a former arts writer and editor for Newsday, is a frequent contributor to The New York Times. Her last article in Promenade was on the Abstract Expressionist show at MoMA.