About three years ago, the Manhattan real estate market saw a boom of international investors looking to take advantage of a window of opportunity created by two concomitant conditions: foreign currencies' strength over the declining dollar and the United States' faltering housing market. Buyers came in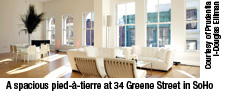 droves from around the globe, but most notably from Western Europe, where the weight both the euro and pound held over the dollar offered an incentive too strong to ignore.
But over the past year or so, the dollar has begun to gain back strength and the housing market in Manhattan is stabilizing again. And while it's true that foreign buyers have declined in number, many are still interested. "People think that because the euro has taken a dip lately that foreign purchasers are no longer active, but that's not true," says Luigi Rosabianca, principal attorney of the Manhattan-based real estate law firm Rosabianca & Associates. "The dollar is a bit stronger now, but in New York prices are a little softer than a year ago, so their actual acquisition costs are actually the same." And with the current economic upheaval in some European countries, Rosabianca says Manhattan real estate is understandably an attractive investment. "Many people are relegated to the fact they have to place their assets somewhere, and what's safer than bricks?" he says. "The safest bricks in the world are in New York."
While a non-liquid asset may not seem all that attractive to some buyers, the burgeoning nature of the market right now is providing a lot of opportunities for long-term investors, says Steven Goldschmidt, senior vice president and licensed broker with Warburg Rea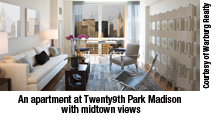 lty. "The market has been very depressed for the past two and a half years. The relative signs of some modest recovery are reflected in the dollar's strength, and that's what's bringing investors back: They see opportunity," Goldschmidt says. "The signs are all there that things will continue to move in a positive way if you can find good purchases now."
So, where to invest? Interest is always high in the classic neighborhoods like Central Park West and SoHo, but luxury inventory there is currently lacking, says Anne Marie Moriarty, vice president and associate broker with Corcoran Real Estate Group. "The market needs to open up," Moriarty says. "There's not as much good property, especially on the higher end. Whereas about two years ago I could show my clients about 10 fantastic properties, now I have only two or three. We're sorely lacking inventory."
However, a new development at 34 Greene Street in SoHo is attracting attention from buyers looking for a pied-à-terre. Developed by Sorgente, an international firm based in Italy, the 1873 cast iron loft building was redesigned with the international buyer in mind, says Jason Karadus, senior vice president at Prudential Douglas Elliman and Sorgente's director of sales for the property. Since the building was completed this spring, three out of the seven units have sold, and all as second homes to European buyers. "The floors are American oak, but everything else in the residences is European, from the marble to the appliances," Karadus says. Still, the building's technological trimmings may be its most attractive feature: All residences come equipped with CytexOne technology, which means everything from lighting to electronics equipment can be controlled remotely from your desktop or smart phone. "It was very much designed with a pied-à-terre buyer in mind," Karadus says. "You can land at JFK and set up the whole loft from your phone. Or you can set it up for a guest while you're in Paris." Four units remain, priced from $3.95 up to $13.75 million for the two-floor, four-bedroom penthouse that clocks in at 5,000 square feet, plus 2,300 square feet of private rooftop terrace.
While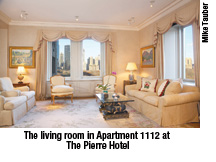 SoHo is world renowned for the shopping and cultural experience it provides, some buyers may want to be closer to some of Manhattan's more impressive physical statements, such as the Empire State Building. Five blocks from this quintessential landmark and three blocks from Penn Station lies Twenty9th Park Madison, a 142-unit condominium tower on Park Avenue South. Its proximity to midtown makes it desirable, Goldschmidt says, while it also boasts concierge services and other amenities coveted by foreign absentee owners. Some apartments' ceilings reach up to 13 feet and floor-to-ceiling windows offer stunning views of the city. Studio, one-, and two-bedroom units are available, priced from $685,000 to $1.765 million.
While she understands the draws of the archetypal Manhattan neighborhood, Moriarty advises her international clients to keep an open mind and explore areas they're less familiar with. "I like to educate my clients about different neighborhoods. Sometimes if they're set, I'll say let's wait until something opens up. But sometimes they buy in areas that are alien to their initial opinions and they end up loving it."
One less recognized area that many realtors have pointed to as a smart area to invest in right now is the Financial District. "A lot of people are not going to find a bargain in Central Park West or SoHo," says Daniel Hedaya, executive vice president with Platinum Properties. "The majority of investors are targeting areas that are hurting a little more." Hedaya cites an oversupply of condos in FiDi as reason for the attractive prices investors have been noticing there. A property seeing a lot of activity right now, says Hedaya, is 75 Wall Street, a soaring, state-of-the-art condominium building just north of Hanover Square. Prices here range from about $550,000 for a studio up to $8.4 million for a 3,400-square-foot, four-bedroom penthouse duplex.
Those with their heart set on park views may want to explore a less traditional route, like a co-op apartment at The Pierre Hotel. Situated at 795 Fifth Avenue and overlooking Central Park, this property appeals to those searching for the quintessential New York luxury home, says Kirk Henckels, director of Stribling Private Brokerage. It comes with all the comforts of a hotel, including furnishings and daily housekeeping and concierge services, and can be rented out by the hotel to defray the buyer's cost, Henckels says. Apartment 1112, a two-bedroom, two-and-a-half-bath apartment in the sky, is currently on the market for $6.5 million.
No matter where in the city you're buying, New York is always a strong, safe investment, Moriarty says. "Our currency might fluctuate, the property might falter a bit, but [real estate] is a lot better than the stock market: Thirty years from now you're going to have something tangible."