If you happen to be strolling in the Broadway district around 11 pm on a theatre night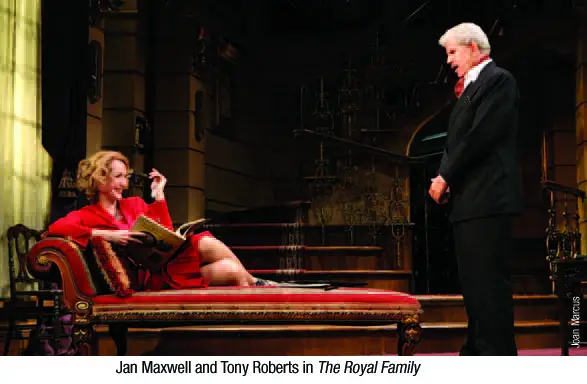 , you might catch a glimpse of a slender blonde woman wearing a bike helmet, stage makeup and a determined look, purposefully peddling towards her home-base area west of Times Square in the low '40s known to locals as Hell's Kitchen. I suggest you look quickly, though, since the rider in question - two-time Tony Award nominee, full-time wife and mom, Jan Maxwell - is pretty adept at keeping a low profile. At least off-stage. Under the proscenium arch she veers to the luminous.
In her most recent role - Julie Cavendish, the flamboyant toast of 1920s Broadway in The Royal Family, George S. Kaufman and Edna Ferber's parody on the Barrymore clan - Maxwell proves once more that she is the real deal: an uncompromising mix of intelligence, talent, empathy and passion.
Under the deft direction of Doug Hughes (Oleanna, A Man For All Seasons) Maxwell soars. "Doug and I worked together on several workshops, and we get along very well. I feel lucky to have him in my corner," she notes, adding that when The Royal Family debuted in 1927, Ethel Barrymore, on whom the character of Julie was based, was not amused - to the tune of a lawsuit, no less. The unfortunate upshot was that many high-profile actresses of the day were reticent to take on the part at the risk of offending Ms. Barrymore.
What strikes Maxwell most about the play today, however, is the amount of early feminism within the script. Her favorite scene in this vein comes during Act II as Fanny, Julie's mother/family matriarch (Rosemary Harris) and she spell out the parallel universe in which actors exist. On the receiving end is Julie's daughter, Gwen, who's on the brink of giving up the stage after marriage.
FANNY: Your mother and I both got married. But we didn't drop more important things to do it.
GWEN: There isn't anything more important.
FANNY: Fiddlesticks! Marriage isn't a career. It's an incident! Aubrey Cavendish and I were married in the Church of St. Mary Redcliffe, in Bristol, England, just before the matinee and the night performance - we played "She Stoops to Conquer" in the afternoon, and "A Scrap of Paper" was the night bill.
GWEN: I know, Grandma. But that's got nothing to do with me. You married an actor, and so did you. You lived the same sort of lives.
JULIE: ...There were lots of times when I thought that being a wife and mother was all that mattered in the world. And then each time I'd learn all over again that that wasn't enough for me....
And for Maxwell, who is happily married (to an actor!) with a 13-year-old son, you can be certain the vintage maxim "the show must go on" is firmly stamped on her DNA.
Like legions of theatre wannabes, Maxwell gravitated to New York from elsewhere -West Fargo, North Dakota - where, as a student at West Fargo High School, she became smitten with acting at the age of 16 by way of a field trip to see Tennessee Williams' A Streetcar Named Desire at the famed Guthrie Theatre. "Watching it, every pore of my body opened up," she recalls. "I had no idea there were plays like this." Her love affair with theatre was officially a done deal.
Fortunately, her parents supported her passion. "Although I don't think they had any idea of how hard it would be," she says. "My dad had done community theatre in Fargo and he wrote plays, and my mom did the leg work to find a summer theatre program for me. And, because I didn't have a license yet, she drove me the 15 miles each way."
Maxwell eventually attended Minnesota State University Moorhead, making her migration to Manhattan in the 1980s with a $2,000 start-up fund from her parents.
Her Broadway breakthrough came when she was cast as an understudy in the hit 1989 Cy Coleman-David Zippel musical, City of Angels. "I remember being overwhelmed at getting the job, because it was such a huge dream of mine. But then, I started thinking back on what it was like performing in college and it was then I realized that audiences are really the same," she says. "Your [the actor's] responsibility is to believe in your character, draw the audience in, and most of all, stick to telling the story at hand."
Since then, Maxwell has enjoyed a fabulously eclectic and much-lauded stage career that has taken her from the darker Dancing At Lughnasa and Coram Boy to the hilarious Chitty Chitty Bang Bang, the latter netting her a Drama Desk Award and a Tony nomination, and the following notice from John Simon: "As Baron and Baroness, the roguishly resourceful Marc Kudisch and the amazing Jan Maxwell [is there any role she can't dazzle with?] entertain more than baronially-royally."
Maxwell, like most New York actors, helps out the bank account by performing in other media - voiceovers, audio books, TV ("Law & Order," "Gossip Girl"), etc.
But she is clearly wedded to the stage. "It's a bit disheartening to have to do other things when all you really want to do is theatre," she says. "And comparisons - like theatre to television - are so difficult to deal with since they are so vastly different."
In the end, though, she recognizes that as long as there's variety in the mix as she attempts to "put peanut butter on the table," it's a pretty good thing. "I know that I feel very lucky to be making a living acting in New York," she concludes. "And when it comes to roles, I've been lucky as well. I only have one rule: I don't care what the part is as long as it's different from the ones I've done before."
Maxwell's Broadway Roles & Honors
- The Royal Family (Play) | 2009 (closes 12/13)
Role: Julie Cavendish
- To Be Or Not To Be (Play) | 2008
Role: Maria
- Coram Boy (Play with Music) | 2007
Role: Mrs. Lynch
Drama Desk Nomination | Tony Nomination
- Chitty Chitty Bang Bang (Musical) | 2005
Role: Baroness Bomburst
Drama Desk Award | Tony Nomination
- Sixteen Wounded (Play) | 2004
Role: Sonya
Drama Desk Nomination
- The Dinner Party (Play) | 2000
Role: Mariette Levieux
- The Sound of Music (Musical) | 1998
Role: Elsa Schrader
- Dancing at Lughnasa (Play) | 1991
Role: Agnes
- City of Angels (Musical) | 1989
Roles: Alaura Kingley; Carla Haywood