The Jane Austen revival just seems to keep going-think of all those film and TV adaptations, not to mention "Pride and Prejudice and Zombies," this year's bestseller literary "mash-up." Now enter the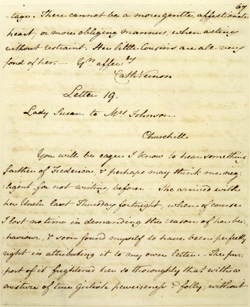 Morgan Library and Museum, with an exhibition examining the life, work and legacy of the English novelist, who died way too long ago (1817) to benefit personally from all this interest.
Don't call the Morgan a Jane-come-lately, though. Its collection of Austen manuscripts and letters is the largest of any institution in the world, and includes the only surviving complete manuscript of an Austen novel. Still, the Janeite bandwagon was "certainly a motivating factor in doing the exhibit," said Declan Kiely, who heads the library's department of literary and historical manuscripts and co-curated the show. After all, he noted, the current affinity for Austen goes well beyond "our usual demographic, people in their 50s and older," to encompass youthful Janeites, as well.
The exhibit, which runs Nov. 6 through March 14, 2010, features some 100 works, including early editions, manuscript fragments, and letters, mostly from Jane to her sister, Cassandra. (Sorry, no romantic revelations; Mr. Kiely describes the letters as "very domestic.")
The greatest rarity is a complete manuscript of "Lady Susan," probably written in 1794 or 1795, when Austen was around 20. The Morgan has a later draft, around 1805. "It hasn't been adapted for television or film," Kiely said, though the ruthless title character is "such a piece of work, it's a great role for somebody."
Any takers?
The Morgan Library and Museum
225 Madison Avenue; 212-685-0008; themorgan.org
Karin Lipson, a former arts writer and editor for Newsday, is a frequent contributor to The New York Times. Her last article in Promenade was on the new American Wing at the Metropolitan Museum of Art.
To view the pages in pdf form, click here.