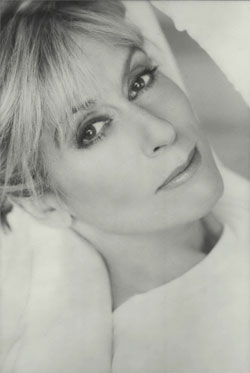 When Judith Light was three years old, she made her theatrical debut in the family living room. She performed "The Night Before Christmas" for her father, and when she finished he was weeping. "I ran to him, threw my arms around him and I knew—this is what I want to do," she says.

Unlike most of us, whose childhood infatuations evaporate with time, Light never questioned that initial burst of toddler ecstasy—at least not until her early 20s, when she had what she calls an "existential moment."

Recently graduated from Carnegie Mellon University with a degree in drama, Light was working in repertory theatre when she realized something was missing. "I was miserable because my career was becoming part of 'content' rather than 'context'… it was about ego, what I was getting, not about how I could be of service with my work," she says. "Actors have powerful things to share, from insight into our characters' worlds to the ability to change culture through our work. We are in a service business and it's not something to be taken lightly."

Once she embraced this redirection of purpose, Light says, her life changed. "When you reframe something, all of the sudden all the pieces fall into place in a much more joyful way."

While Light began her life's work on the stage, her first high-profile break came via television when she was cast at Karen Wolek on the soap opera One Life to Live—a role that brought her two Best Actress Emmys. This was followed by an eight-year run (1984-1992) on the popular sitcom Who's the Boss?, alongside Tony Danza, after which she starred in a number of made-for-TV movies. But she missed the energy of the theatre and performing in front of a live audience.

Still, it wasn't until 1999 that Light returned to Off-Broadway in Wit, replacing Kathleen Chalfant, who originated the role of Dr. Vivian Bearing, a brilliant professor who uses her withering, dry humor and amazing intellect to deal with her progressive ovarian cancer.

Recalls Light, "At the time I was set to audition for the play If Memory Serves about an aging sitcom star, but I was looking for something that was more of a challenge. I had been going around the country doing work for AIDS and the elderly and I really wanted to do something meaningful, something courageous. So I said, 'I'll audition for the next thing that comes up'… and it was Wit."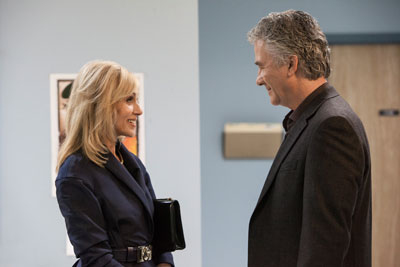 With Patrick Duffy on Dallas

Light admits to being terrified about going back to theatre after devoting herself to television for so many years. She even doubted she'd be cast in the Pulitzer Prize-winning play that had already been praised in reviews.

But cast she was, and any doubts she had melted away once the critics weighed in.

The New York Times wrote: "Her innate feel for the theatre, the ease with which she takes us into her confidence, are apparent in a harrowing and deeply affecting portrayal. The death camp pallor mutes her prettiness, but the supple voice—a rarity in actors groomed in television studios—remains an instrument of refinement…."

With her theatrical flame reignited, Light began tackling as much stage work as she could—each new role a challenge.

After the New York production of Wit left the building she toured the play nationally and followed it up with a steady flow of stage productions within the U.S., including starring roles in Hedda Gabler, Company and A.R. Gurney's Children. She also managed to take on a couple of juicy recurring roles on TV, like Judge Elizabeth Donnelly on Law & Order: SVU and Claire Meade on Ugly Betty, the latter earning her an Emmy nomination.

Fast forward to a new decade—and Broadway. In 2010, Light signed on to play Marie Lombardi to Dan Lauria's Vince Lombardi in Eric Simonson's insightful play Lombardi. "People who read the play told me Marie was too small a part," says Light, "but I never saw it as as small because it was pivotal role and showed the personal side of Lombardi's life."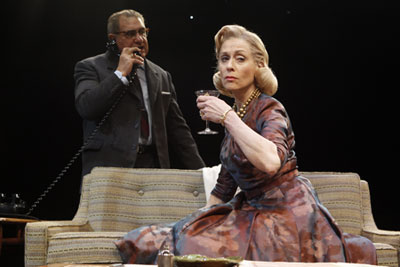 With Dan Lauria in last year's Lombardi. Photo: Joan Marcus

The Tony Awards nominating committee agreed and Light had her first Tony nomination—announced the same day Lombardi was closing. "Bittersweet," she notes with a hint of irony.

But give Light a year and another shot at a Tony and you've got yourself a winner. Cue Other Desert Cities, an Off-Broadway Lincoln Center hit that was heading to the Great White Way without Linda Lavin, who had originated the uncensored, scene-stealing role of Silda in the family drama. With the part up for grabs, director Joe Mantello immediately turned to Light.

"I don't know who else would have seen me in that role," she says, "but thankfully Joe did and guided me to the heart of Silda." Best Featured Actress in a Play: the Tony goes to Judith Light.

Also tucked into Light's busy schedule is her tantalizing role on TNT's Dallas. To date, her character is still wrapped in a bit of mystery (they're unfolding her plot line in dribs and drabs), but suffice it to say she plays Judith Ryland, part shrew, part authoritarian, total dragon lady—and she's out to wreak havoc on Southfork. Naturally, Light's ever-growing fan base is relishing her every acerbic minute on screen.

Which brings us to Light's 2013 Broadway project: a new, family-centric play by Tony winner Richard Greenberg, The Assembled Parties.

When Judith and I first spoke, she and the cast had just begun readings and since then Greenberg has been busy tweaking the script for the show's first preview on March 19th.

The underlying motivations and characters, though, remain solid. The play, built around a Jewish family coming together for the holidays, is divided into two acts, the first set on Christmas Day, 1980, just prior to the AIDS crisis, and the second on Christmas Day, 2000, less than a year before the World Trade Center disaster. Family tensions, loss and change are part of the script's tapestry.

Regarding her role—that of Faye (sister-in-law of Julie, played by Tony nominee Jessica Hecht)—she says, "It's a complicated role in a complex and poetic play. I have no idea how it will come out, and I mean that in the highest sense of the Zen of not knowing. Fortunately, I'm open to everything… advice, guidance, and the people I'm working with."
---
The Assembled Parties is in previews for a 4/17 opening at the Samuel J. Friedman Theatre, 261 W. 47th St. For tickets, call 212-239-6200 or visit www.manhattantheatreclub.com.