"Where are the snows of yesteryear?" a French poet famously asked. Around the Koch Theater at Lincoln Center, where it snows profusely on George Balanchine's The Nutcracker year in and year out, everyone knows the answer: last year's snow is in the New York City Ballet's warehouse in New Jersey.
Made of flame-retardant paper the size of hole-puncher circles, it is trucked to Manhattan, along with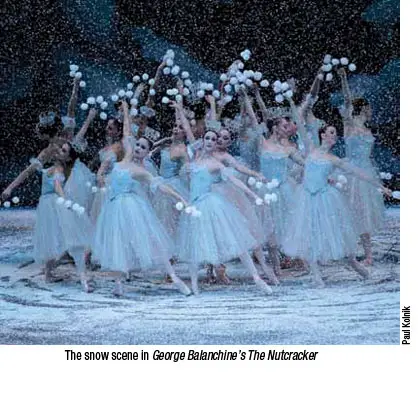 the miraculously growing Christmas tree, the giant cuckoo clock, and the flying sleigh, just in time for the 49 Nutcracker performances that run from Nov. 23 to Dec. 30. At each intermission, says Marquerite Mehler, NYCB's production stage manager, the snow is swept up, cleared of any stray bobby pins, screws or nails with a giant magnet, and re-used.
At American Ballet Theatre, which brings Alexei Ratmansky's Nutcracker to the Brooklyn Academy of Music for 12 performances, from Dec .7-16, they prefer snow made of flame-resistant tissue paper, cut into half-inch and quarter-inch squares. And they dump it after each show. "It kills me from an environmental standpoint," says James Whitehill, ABT's director of production. But this way when the dancers swallow a snowflake or two – it happens – it's fresh.
The technology that creates the blizzard that closes the first act of both Nutcrackers was probably in use for the ballet's original premiere in St. Petersburg in 1892. Cloth bags with perforations on one side are hung above the stage in a U-shape, with the pierced side higher than the solid side. To make the snow fly, stagehands at each corner of the bag shift its position so that the perforations are lower, and they control the rate of flow by shaking the bag. At the height of the "Waltz of the Snowflakes," the stagehands are moving as strenuously, if not as gracefully, as the dancers.
New York City Ballet nycballet.com
American Ballet Theatre abt.org