These days, it's all about "small": Tech gadgets are tinier and tinier, information comes in ever-briefer sound bites or tweets. But with "Abstract Expressionist New York," the survey exhibition that runs at the Museum of Modern Art from Oct. 3 through April 25, the museum has headed in the other direction, with a vengeance.
Reinstalling its entire fourth floor, which usually houses half its galleries for paintings and sculpture, a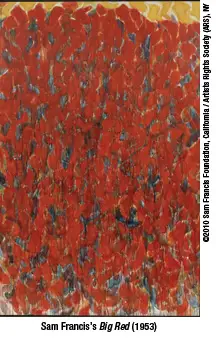 nd further taking over galleries of drawings and prints on two other floors, MoMA is devoting more than 25,000 square feet of space to some 300 works-paintings, sculpture, drawings, prints, even photographs -30 artists who were part of the startling new movement that made New York City the center of the art world in the 1950s .
The space is justified not only by the large dimensions of the works-Jackson Pollock's One: Number 31, from 1950, is nearly 9 by 17 1/2 feet-but also by the outsize aims of their creators, says Ann Temkin, MoMA's chief curator of painting and sculpture and the organizer of the exhibition.
"It wasn't just that they were trying to make something to look at," Temkin says of these artistic pioneers. "They were trying to make something that would hit you like a truck. Maybe it was a sublime truck, but it was something that was going to overwhelm your body and your mind and your spirit."
The "sublime trucks" parked at MoMA, all from the museum's own huge holdings (nearly 1,000 works that could be labeled Abstract Expressionist, according to Temkin), include pieces by Pollock, of course, and Willem de Kooning, Mark Rothko, Robert Motherwell, Barnett Newman, Arshile Gorky, Lee Krasner, David Smith, and Joan Mitchell, to name just some of the more celebrated members of that loose-knit brother- (and sometimes sister-) hood.
Surprisingly, perhaps, this is the first time in more than 40 years that these works are being displayed together at the museum in a comprehensive exhibition: The last such show was in 1969, which means that it will be a new experience for at least a couple of generations of MoMA-goers.
"Isn't that incredible?" Temkin says of the time gap. "I think it became something that people so took for granted, and thought they knew everything there was to know."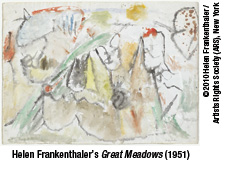 "The first two rooms will still be those European-scale paintings," Temkin said in an interview over the summer, as the show was still being organized, "and then it will be like-boom!"
Roughly chronological, "Abstract Expressionist New York" traces the development of the movement, and of individual artists, some of whom earn special rooms where visitors can study their work in depth. In general, the curator says, the flow of the show is not intended to elicit an "'oh yeah, that's a great Pollock. Oh yeah, that's a great Rothko.' We're plunging you into their own efforts and their own struggles."
Some lesser-known compatriots of the big-name artists are also being shown, to sink or swim alongside them. These include William Baziotes, Theodoros Stamos, and Bradley Walker Tomlin; the last, Temlin says, "died in 1953, tragically early, so the career didn't have a chance to develop. MoMA owns three paintings of his-at least two will be up. They are really strong-and in the proximity of people like Pollock."
If the show is about a revolutionary breakthrough of the past, MoMA is also going to some effort to connect the exhibition to the present. The museum is "doing an iPad app for the show," Temlin says. She pronounces herself "curious" and "open-minded" about the museum's first iPad app, noting that, in any case, "there is no substitute" to seeing these works in the flesh: "It's not really about the image-it's about the physical and psychological experience that you have with this thing tha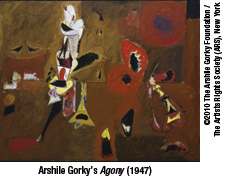 t in many cases is bigger than you are."
Adding to that experience will be tours led by young working artists, whose commentaries are unscripted, the curator says. "I'm curious about what they think about the impact of these paintings," Temlin Savills. "Does it have relevance to what they're doing? What do they see in it that interests them?"
No question that they'll find something, Temlin says, "because all great art is new all over again, for every time."
MoMA
11 West 53rd Street; 212-708-9400;
moma.org (Closed Tuesdays)