Located in the southwest corner of Central Park, Columbus Circle began as a turnabout for horse-drawn carriages in 1869. Two decades later, on the 400th anniversary of Christopher Columbus' accidental discovery of the New World, approximately 10,000 people gathered to dedicate the defining feature of the area: the Cararra marble statue of Columbus and its four fountains. Despite its humble beginnings, the area has become a hot spot for real estate and culture. Within walking distance, Manhattan Westsiders have easy access to Time Warner Center, Central Park, and Jazz at Lincoln Center, as well as high-end hotels like the Mandarin Oriental and Trump International Hotel and Tower. For those looking to snag a luxury address of their own, consider these sophisticated options.
An Art Deco Townhouse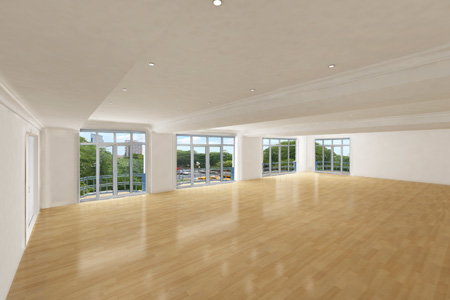 This former office space at 150 Central Park South offers 10,000 square feet on one floor — amazing space for a dream apartment

The Hampshire House at 150 Central Park South offers residents a townhouse with an almost unheard of 10,000 square feet of space all on one floor, for $16.9 million. It is one of the only properties in Manhattan to boast such a sprawling area on a building's first floor. While the property's current layout is for a professional office space, it can easily be transformed into an intimate residential apartment with a capacity for four or five bedrooms, including a grand master suite, expansive living room, media room, and eat-in kitchen. Homeowners may enter the cooperative from the doorman-attended entrance at the Hampshire House's front, or use the private Masonite entrance with an elevator directly to the townhouse landing.
A stone's throw away from Central Park, the apartment has three balconies that overlook the park and 150 feet of park-view frontage. According to Douglas Elliman agent Pat Slochower, who shares the listing with Howard Margolis, the views are part of what people love about the Columbus Circle area. "It's the proximity of being near every thing: across the street from Central Park, steps away from some of the world's finest shops, and Lincoln Center," she says. "The area has some of the finest restaurants in the city. Plus, this property is a short walk away from the Broadway theatres."
And the Hampshire House itself is a major selling point. A highly coveted address, the building was constructed in 1926 and designed by the famous Dorothy Draper. Draper, who is regarded as a pioneer in interior design, is responsible for the property's art deco and Regency styles. The building's residents enjoy a wide range of amenities that include a 5-star white glove staff, a personal laundry and housekeeping service, and a 24-hour state-of-the-art fitness center. The co-op owners also have a car and driver at their disposal, and the building ownership allows the spaces to be used as pieds-à-terre. All these perks are available at a residence that is hailed as "a piece of New York history."
An Outdoor Oasis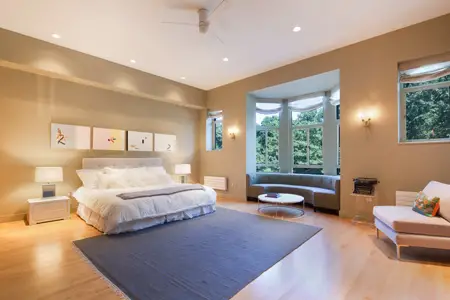 At 247 Central Park West, residents get a peek at nature from the inside: The master bedroom suite opens to a terrace

With three outdoor spaces—a roof deck overlooking Central Park, a terrace off the master bedroom suite, and a dining room that opens to a bamboo garden—the townhouse at 247 Central Park West offers a Zen escape from the stresses of city life. And the property's opulence is not limited to its open-air spaces. Available to rent for $75,000 per month or to own for $37 million, residents have access to approximately 12,000 square feet across six floors, five bedrooms, and eight full baths. A 60-foot lap pool, a home gym, his and hers private offices, and a media room with custom massage seats ensure the utmost at-home comfort.
The approachable, contemporary space encompasses a finished basement, home theatre, and a library. Two fireplaces and central air conditioning provide seasonal warmth and cooling. The master floor suite boasts a regal master bedroom, his and hers dressing rooms, and a spa-like bathroom that opens to the terrace. On another floor, the dining room and professional chef's kitchen offer unrestricted access to the bamboo garden.

Light pours in from a skylight over a glass, Guggenheim-style staircase

One of 247 Central Park West's defining characteristics, however, marries the natural with the man-made. "An especially spectacular feature of this property is the Parlor floor glass staircase," says Sotheby's senior global real estate advisor and associate broker Vannessa Kaufman. "It is a Guggenheim-style sweeping staircase, and it is topped by a large domed skylight that bathes the interior in light. You can really see the beautiful architectural details when everything is lit."
Floor-to-ceiling windows also encourage streams of light to come in from the east and west sides. The architectural details Kaufman refers to include a juxtaposition of old and new, and she says the townhouse is also a unique find because it is one of a handful of private mansions that remain on the east or west sides of Central Park. The location appeals to people who love Columbus Circle and flock to the area, she adds, for its "proximity to the park and variety of cultural amenities."