Along with visiting the Metropolitan Museum of Art and shopping at the city's iconic department stores, catching an event at Lincoln Center tops the charts as a Manhattan must-do, for temporary tourists and born-and-raised residents alike. Highlighted by the New York Philharmonic, the Metropolitan Opera, and Lincoln Center Theater, eleven organizations provide countless entertainment opportunities across the 29 venues that comprise the Lincoln Center campus.
Arts lovers looking to make the Lincoln Center area their home, are also in luck. As an up-and-coming part of the city, it promises a "neighborhood feel" and spectacular views to full-time New Yorkers or those seeking a pied-à-terre in the middle of the arts action. Sellers agree that, since 2008, the area has blossomed into its own niche, now referred to separately as the Lincoln Center area instead of simply the Upper West Side. Read on for some of the best living spaces this cultural district has to offer.
Up on the Roof
The Corner, loca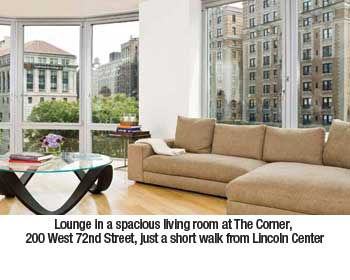 ted at 200 West 72nd Street, brings a whole new meaning to the words "rooftop party." Atop this midrise luxury rental building, the spacious terrace features ample comfortable seating and a table for conversing with friends, various lounge chairs for sunbathing in the summer, and a fireplace for chilly fall evenings. The building also provides rooftop entertainment on a seasonal basis, such as wine and cheese tasting parties, fashion shows, and spa days. During a recent open house for one of the building's apartments, residents enjoyed high-end boutique shopping for clothing, pocketbooks, and jewelry. And there's more: The luxury building's free-for-residents amenities also include a children's playroom complete with Macs, a 42-inch LCD HD television, Blu-ray player, blackboard, and toys, a state-of-the-art fitness center with yoga classes, and morning breakfast served Monday through Friday in The Corner Club's Lounge.
The kitchens in all of the spacious apartments feature custom Wenge cabinets, Liebherr French-door model refrigerators, Franke sinks with Gessi faucets, and some units include U-Line wine coolers. Environmentally conscious renters should take note of the building's silver LEED green building certification. Rental prices range from $3,500 for studios with high ceilings and washers and dryers to $18,000 for three-bedroom apartments, which may include a 4-piece master bath, terrace access, a powder room, a built-in safe, and a walk-in closet. Although there is little reason to leave the comforts of home, making the midnight showing at the Lincoln Plaza Cinema, enjoying a cocktail at Shalel Lounge, and listening to the the orchestra at Alice Tully Hall means a five-minute journey home at any hour. Adds Jim Hayden, The Corner's property manager, "One of the main features of any building is the staff," says Hayden, "and our staff cannot do enough for these residents."
Seeing the City Sights
If taking in the gorgeous Manhattan skyline gives you gooseflesh, consider planting roots inside the Park Millennium at 111 West 67th Street. At the top of the building, apartment 40DE has exactly what you've been searching for. "This property is all about views," says Corcoran SVP Lawrence Schier. "You can see Manhattan from all sides."
The 3,200-square-foot apartment comes with three bedrooms (easily converted into 4-5), a kitchen facing Central Park, top-notch security and doormen, and on-site access and a discount to one of the city's premier fitness centers, the Reebok Sports Club NY. Residents have more than views to brag about.
Another plus for couples who fight over sink space, the master bedroom includes two separate bathrooms, a his-and-hers amenity that Schier describes as rare. For the just-shy-of-$9 million price tag, interested parties also become part of a great neighborhood. "The Lincoln Center area has really come into its own," he adds.
Long Way Down
Buyers yearning for terrace space need to check out the Grand Millennium Condominium at 1965 Broadway an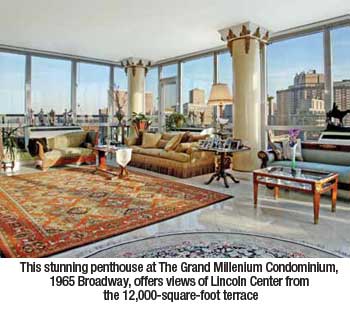 d ride the elevator all the way up to the Trophy Penthouse. The building's top apartment features 4,300 square feet of space in addition to a 12,000-square-foot balcony terrace overlooking Lincoln Center. For just under $15 million, spectacular views are in all directions.
The penthouse includes four bedrooms, six full bathrooms, a library (which can be effortlessly converted into an additional bedroom if desired), formal dining room, and eat-in kitchen. With great schools, supermarkets, and the park right nearby, everything residents need is mere steps away. The biggest perk? "The owners are literally able to see people walking in and out of Lincoln Center," says Corcoran realtor Michael E. Feldman. "The current owners say their friends wave to them all the time on the way to the theatre or the ballet."
Tier-iffic Rentals
At 1930 Broadway and 64th Street lies a gem of a building that provides renters craving condo-style luxuries with everything they need. Step into the lobby, which is decked out with vaulted ceilings, marble floors, and rare artworks, and you might think of settling in before even viewing the apartments. Each potential home includes oversized bay or half-bay windows, hardwood floors, a gourmet kitchen, and a variety of layouts to accommodate everyone from a family of four to a singleton.
Residents who want something special in terms of fitness should see the pool, exercise center with on-site trainer, and sauna. After a good workout, feel free to lounge on the landscaped roof deck while taking in a breathtaking winter sunset. If you are still considering other options, Nancy Albertson of Glenwood, the company managing the Grand Tier, touches on the building's best quality. "You're one block from Central Park, have easy access to the waterfront, and are just steps away from some of the best dining, high-end shopping, gourmet food, and more-not to mention the culture and entertainment offered at Lincoln Center," says Albertson. "You have a front-row seat to this institution known internationally for the ballet, opera, the recent addition of Fashion Week, and regular events in the plaza such as the tree lighting, dance performances, and intimate concerts."
California Dreaming
New Yorkers know that their city is the greatest in the world, but if the crisp weather has you longing for a little West Coast sunshine, why not try buying into the best of both worlds? At 30 West 63rd Street, 22CD sits a three bedroom, three-and-a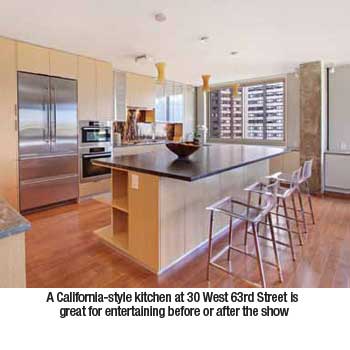 -half bathroom, California-style oasis.
For $5.28 million, this 2,161-square-foot home includes "Napa Valley touches" such as a "custom-built in-wall wine cooler, exposed concrete, and spacious open-kitchen with tons of usable counter space and the use of natural stone throughout," according to the listing. "The home features one of the most amazing amenities packages that I have seen in a long time," says Frances Katzen, the Prudential Douglas Elliman Real Estate agent in charge of the sale. The package Katzen refers to consists of a billiards room, mini golf, screening room, "gourmet gym" located on the top of the building, and a lounge.
Speaking of the seller-a biologist-turned-architect based out of California-he channeled even more of a West Coast feel into this property, which combines three apartments into one spacious condominium. Large windows that offer stunning views of Central Park west and south (with exposures to the north and east), and let in tons of natural light, only help to make this apartment feel more like a vacation home than an everyday living space. And, in this zen home, catching a New York Philharmonic performance next door at Lincoln Center completes the getaway illusion.