The handsome gentleman in the lavish, show-white terry robe was resting serenely in an oversize divan in the relaxation room of the Dorchester Hotel's spa. When a solicitous attendant came to check on guests, he inquired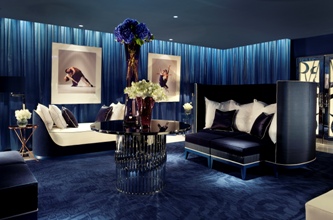 of her whether he "might have another lichee juice." With that, his companion, snuggled in a settee next to him, also requested another...and then a second woman also asked...and so it went: Everyone craved another refreshing lichee juice, the most delicious, energizing fillip to a perfectly indulgent, sybaritic afternoon in what is arguably one of the most glamorous-and cosseting-spas in London, if not the cosmos.
From the pearl-encrusted chandelier to a wall composed of gaily-colored nail polishes, there is not one facet of the recently renovated spa that is out of sync. A striking fusion of 1930s Art Deco allure and 21st-century edginess, the relaxation room, not to mention the treatment rooms, the nail and hair salons, the barber shop, and the cozy eatery (the Spatisserie, where savory nibbles and spa cocktails are serve) are so inviting and appealing, you won't want your pampering to end.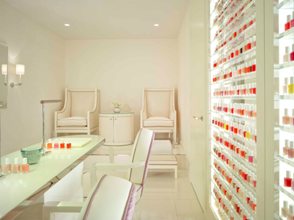 Treatments are equally well conceived: For the travel-weary, there is the Jet Lag Remedy, the Rose Cocoon, the Detox Wrap, and the Eye Revive. There are myriad facials from the renowned British expert, Vaishaly (clients include Nigella Lawson and Sophie Dahl), whose healing facials incorporate craniosacral massage. Treatment products include emollients from Kerstin Florian and Carol Joy London.
There is little the management has not thought of, from the full-size lockers with safes in them (and your own kit of amenities to use), to the rain-head showers, to the aromatic steam rooms and mirrored vanities. thedorchester.com