In Manhattan, there is always something to be said about Fifth Avenue. Not only does the famed avenue allow access to that big green space in the city's center, it also boasts some of the highest-end iconic NYC stores, like Tiffany & Co., Harry Winston, and Cartier. Fifth Avenue, however, has more to offer than scenic carriage rides and super-chic retail therapy. Higher up, from 82nd Street to 105th, Fifth Avenue is known as "Museum Mile." With nine museums on a 23-block stretch, art lovers are within walking distance of some of the finest cultural institutions in the world…from the Museum of the City of New York at the upper end to Cooper-Hewitt to the Solomon R. Guggenheim to The Metropolitan Museum of Art on 82nd Street. In between the "big ones" are specialized treasures like El Museo del Barrio, The Jewish Museum, and Neue Galerie, among other exciting options. Now imagine having all of this art, history, and cultural activity right outside your front door. If that sounds like your dream, consider these three luxurious properties on the Mile.
Where Cozy Meets Spacious
At 1133 Fifth Avenue, an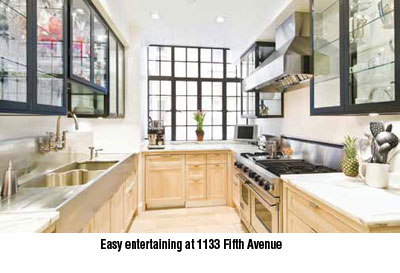 estimated 5,000-square-foot duplex in a 12-apartment building still exudes intimacy. In the heart of Carnegie Hill, directly across from the reservoir, this "boutique-y" building positions its tenants three blocks away from the Guggenheim. "Wherever you go, you have galleries and museums on either side," says Stribling & Associates listing agent Linda Maloney.
Inside the 13-room apartment, the living room houses a wood-burning fireplace and the kitchen offers a four-burner Viking stove, 48-inch Gaggenau refrigerator, and Miele dishwasher. The large picture window overlooking Fifth Avenue and sunroom off the kitchen afford owners plenty of well-lit space in which to entertain or relax. With six bedrooms and bathrooms, guests can spend the night without disturbing their hosts. The building also features a manned elevator and state-of-the-art gym. The property is listed at $9.6 million.
Pre-War Gets an Update
For those who love the look of Pre-War but prefer the extravagance of ultramodern amenities, a new apartment awaits at 1212 Fifth Avenue. The structure, on Fifth since 1925, received an interior makeover from Durst Fetner Residential before reopening in the fall of 2011. "From the very beginning, we viewed this project as having the best of both worlds," says Durst Fetner COO Damon Pazziglini.
While the condominium maintains the charm, character, and integrity of its exterior, the inside boasts marble master bedrooms and modern-day appliances and roo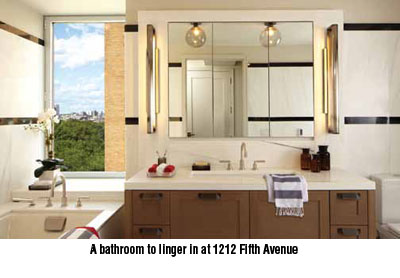 m sizes. The building has 15 floors with four apartments each and condominium ownership. Two separate elevator banks mean tenants only share their elevator with one other apartment. A pair of Central Park-facing apartments cost $2.8/2.9 million to $3.4 million. East-facing, one-bedroom apartments boast about 1000 square feet of space for $850,000-$950,000. A similar two-bedroom offers 1500 square feet for a $1.5 million price point.
To top all this luxury off: the location, of course. "The museums themselves are an amazing amenity. To have some of the best museums in the world at your doorstep is really unique," says Pazziglini. "There are a lot of things that change in New York City, but the park and the museums are always there, and there is great value in that.
Front and Center on Fifth
View the Metropolitan Museum of Art's Temple of Dendur from the apartments at 1035 Fifth Avenue. JER Carpenter, the prestigious New York City architect responsible for the elegance that makes Upper Fifth Avenue a sought-after locale, also created this building. An approximately 3,000-square-foot, five-bedroom space provides about 60 feet of frontage on Fifth. For $6.9 million, you can be a spectator to the many sights Central Park has to offer. An extra $400,000 guarantees one of the building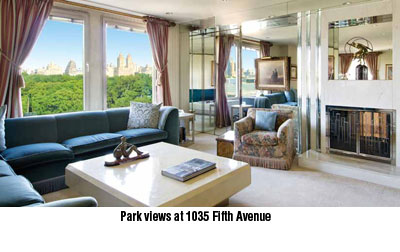 's two maid rooms. Amenities include a concierge, doorman, gym, and a manned elevator.
And don't forget all that culture, just mere steps away.
"Between the elegant architecture, the stunning limestone co-ops, townhouse mansions, and the nine museums that give Museum Mile its name, there is a dense display and access to culture that you won't find anywhere else in New York City," says The Corcoran Group listing agent Liora Yalof.
Dining and Art
From Kandinsky at the Bauhaus, 1922–1933 on display at the Guggenheim to Carlos Osorio's Símbolos que nos joden (Symbols That Enslave Us) at El Museo del Barrio, taking in what is available at the nine museums in the area can work up an appetite. Stop for a midday bite to break up a day of gallery-hopping or enjoy a candlelit dinner after dark. Stribling & Associates Vice President Bahar Tavakolian recommends a few of her most satisfying favorites.
Café Sabarsky in Neue Galerie
at 1048 5th Avenue
Share a bottle of Grüner Veltliner – Smaragd while dining on Adolf Loos furniture. Admire the Yamaha S4 grand piano in the corner of the café as your lunch party dines on Ungarisches rindsgulasch mit spätzle (Hungarian beef goulash with fresh herbed quark spätzle). Follow it up with rehrücken for dessert.
Crown
at 24 East 81st Street
Sip on Clover Club cocktails while feasting on the Pennsylvania rack of lamb. Dinner for two might entail the day dry côte de boeuf for two. The apple degustation (vanilla cannelle, cider doughnut, and apple tatin spiced cream cheese ice cream) makes an ideal meal ender.
Sant Ambroeus
at 1000 Madison Avenue
Sunday brunch near the Van de Weghe art gallery might include the Insalata di Nettuno (a mixture of lump and king crab meat with sliced fennel and orange). For a two-course dining spread, pair the risotto alla Milanese with the charbroiled Mediterranean sea bass served with asparagus in olive oil imported from Garda.