New York is a city that boasts nearly 100 museums (not to mention many more cultural institutions and organizations), some of which you've never heard of, like, say, the Museum of American Financial History. Others are big crowd-pleasers—the Met, MoMA, the American Museum of Natural History, the Guggenheim—which rarely lack an audience, even for their most arcane exhibits. Still others are gems that don't get that kind of high-volume traffic, like the Frick, the Morgan Library, or even (to my mind) that jewel, the Cooper-Hewitt National Design Museum, and another favorite, the Museum of Arts and Design. Then there are the specialty museums that I adore, some under the radar, like the New York City Police Museum, the Dahesh Museum, the Merchant's House Museum, Theodore Roosevelt's Birthplace, and that treasure, the Lower East Side Tenement Museum... and on and on. One thing that just about all of them have in common is their well curated gift shops, with exciting and interesting merchandise. Usually there are unique offerings, smartly edited by the specialist retailers who make these mini-emporia as much like their museum counterparts as possible. Here are some wondrous things to buy in our superb museum shops.
1 Black and white never looked so stylish together as they do in this stunning seed-bead clutch from The Metropolitan Museum of Art. The design of the Deco-style evening bag is based on
a dazzling 1923 Austrian beaded purse; it has a satin body, is fully lined, and measures 7" x 11", with a 10" chain drop. $225.
The Metropolitan Museum of Art,
1000 Fifth Avenue (82nd Street);
800-662-3397; store.metmuseum.org
2 The endearing Milly von Barksky the resident hund at Neue Galerie New York, was the inspiration for the extensive and charming merchandise dedicated to canines that you will find here. Her luxurious bed cushion (with Velcro closures)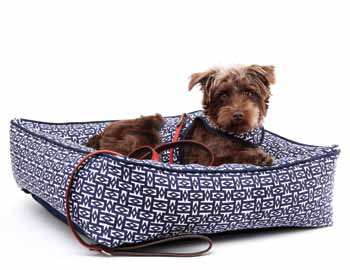 patterned in Josef Hoffmann's "Rectangles" in 100% linen, with non-toxic, chemical-free, organic cotton stuffing. 20" x 20" x 8" $340.
Neue Galerie New York, 1048 Fifth Avenue (86th Street); 212-994-9496; neuegalerie.org
3 The Chinese designer Hang Feng knows a thing or two about theatrical-entrance clothing: Consider splendid kimonos she created for the Metropolitan Opera's 2006 Anthony Minghella production of Madama Butterfly. Here, her poly-silk "Floral" scarves at AsiaStore at t
he Asia Society are worked in tight pleats and are adorned with delicate flowers.(6"-7" wide and 55"-60" long). $138.
AsiaStore at the Asia Society and Museum, 725 Park Avenue (70th Street); 212-327-9217; Asiastore.org
4 Own a piece of The Metropolitan Opera's history, in the remarkable sculptural forms the Met has created from its signature, original starburst "Sputnik" chandeliers, which were replaced in 2008. The 1966 fixtures' Swarovski crystals have been refashioned into one-of-a-kind ornaments. Each comes with a certific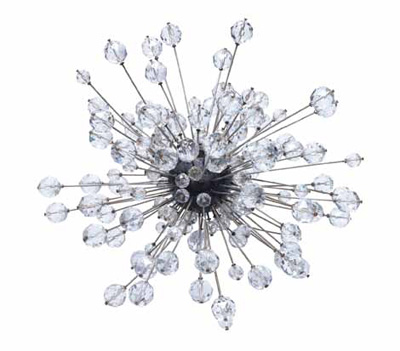 ate of authenticity and a storage pouch fabricated from the Met's elegant gold curtain (also replaced). Sizes vary: $2,000 to $5,000.
The Metropolitan Opera, Lincoln Center, Columbus Avenue (62nd/65th Streets);
212-501-3482; metoperashop.org