In 1994, the Iraqi government described Madeleine Albright as a "serpent" because of her vocal opinion on Baghdad's behavior after the Gulf War. Albright, then the U.S. representative to the United Nations, responded to the accusation a bit untraditionally-in a subsequent interview with CNN, repo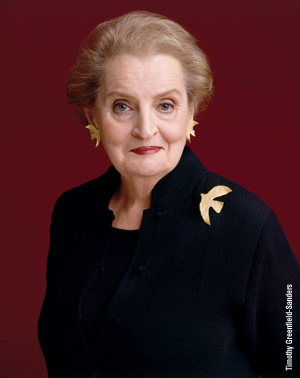 rters hastened to point out the gold serpent brooch pinned to her lapel.
Albright was appointed U.S. Secretary of State in 1997 by then-President Bill Clinton and became the first woman to hold the position. She was famous first for her tough negotiating skills, but was soon also recognized for her ability to turn feminine fashion into bold communication-an attribute that will be on display in the Museum of Arts & Design's upcoming exhibit "Read My Pins: The Madeleine Albright Collection." Besides pleasing the eye, Albright's collection of brooches became a part of her diplomatic persona-symbols used to convey some sort of message, whether to the public or her political peers.
"Jewelry, because it's something you wear in a public setting, is a form of communication," says David McFadden, chief curator of the museum. "As Secretary of State, communication was her most valuable diplomatic tool. She loves that idea, and she loves these brooches."
McFadden says the brooches-all 200 of them-are not impressive for their monetary value, but rather for their social and political meaning. The collection of pins ranges in type from the mass-produced knick knack to the novel creation. A highlight in the latter category includes a pin made specifically for Albright called "Liberty," a silver outline of Lady Liberty's head with two clock faces for eyes, one of which is upside down. The pin allowed both Albright and her company to keep track of the time, ensuring they both knew when their appointment was at its end.
Another headliner of the exhibit will be the dove pin Albright frequently wore as a sign of peace. The brooch was given to Albright by Leah Rabin, wife of former Israeli Prime Minister and peace advocate Yitzhak Rabin, who was assassinated in 1995.
Albright pens similar brooch tales in her newest book "Read My Pins: Stories from a Diplomat's Jewel Box," which will accompany the exhibit.
The exhibit will be presented from Sept. 30 through Jan. 31, 2010, in the Museum's Tiffany & Co. Gallery, which is dedicated to the study and presentation of contemporary jewelry from around the world.
"It's very personal," McFadden says of the exhibit. "It's really about how these pins reflect her moods, sentiments, and wishes. Those who see it will have a really good insight into Mrs. Albright's sense of character and also her sense of humor."
The Museum of Arts & Design
2 Columbus Circle; 212-299-7777;