On the surface, you might think Montréal has a lot in common with Gotham-both cities are islands: Montréal proper is on the island of Montréal, at the confluence of the Ottawa and the Saint Lawrence Rivers; Manhattan, sandwiched between the East and the Hudson Rivers. Both urban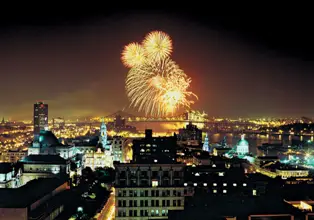 centers are divided into boroughs, and both have a Little Italy, a Chinatown, and parks designed by the visionary landscape architect Frederick Law Olmsted. But, no one visiting New York City would mistake it for Montréal and vice versa.
The Canadian metropolis, where over half the population speaks French-the city's official language-has a very distinct flavor and now, as winter approaches, it's a paradise, just waiting to welcome visitors. Described by Monocle magazines as "Canada's cultural capital," the season offers plenty to do and see, from the expected to the most esoteric.
Step back in time in romantic Old Montréal, with its cobblestone avenues and alleys (don't pass up Sai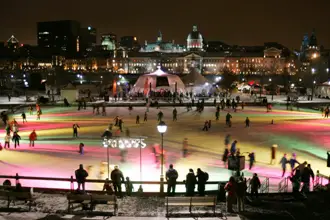 nt-Paul and de la Commune Streets), dotted with quaint cafés, art galleries, charming shops, and artisans' boutiques; Notre-Dame-de-bon-Secours Chapel, the city's oldest stone chapel, is a must-see, as is the birthplace of Montréal, the Pointe-à-Callière, Montréal Museum of Archaeology and History. For fun a change of pace, the Montréal Insectarium houses an impressive collection of several thousand living and preserved insects, from around the earth; and Being Irish O'Quebec at the McCord Museum of Canadian History explores the immigration and integration of the city's Irish population, highlighting its contributions to the social, cultural, political, and economic textures of the province, Québec. In good weather, visit the Lachine Canal Historic Site of Canada, where the Lachine Canal was built nearly 200 years ago, and where today there is a nearly nine-mile-long pedestrian and bicycle path.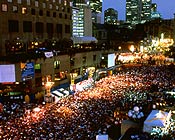 Fine dining abounds everywhere, with countless restaurants serving up French-flavored fare; among popular destinations for top-tier meals are Toque and XO. For lodging, the Fairmont is a solid, luxury-category choice. -RJK