Move over David Copperfield, Houdini, and even that gifted master of legerdemain, Ricky Jay. If it's real sleight of hand you want to see, then take a trip backstage to the Metropolitan Opera's costume and wig shops. Here, the resident magicians use sewing machines, glue guns, curling irons, and their wits-and years of exquisitely honed talent-to create fantasy from fabric, literally.
The 5,000-square-foot main costume shop (there is a nearly 2,000-square-foot satellite shop, three floors up, where the costumes for the chorus are fabricated), appears to be a jumble of bolts of textiles, bins of trims, drawers of threads, hangers dripping with kraft-paper patterns, padded mannequins (with opera singers' names on them), and busy hands stitching, trimming, crafting, an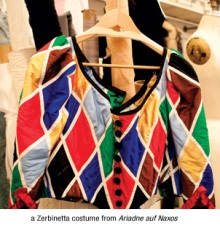 d creating. But the seeming mayhem is quite ordered and organized. It has to be, since at any given moment, the staff may be handling the garments for the six or seven productions currently in repertory, and also working on a few that will appear later in the schedule-not to mention operas that will be mounted in a season or two.
Sylvia Taalsohn Nolan, the resident costume designer and a 14-year veteran of the Met, works hand in glove with nearly 100 people. She has to make countless decisions-style, silhouette, structure, fabrics, fitting, and so on-and she monitors costume-creation and mending on hundreds of garments. (The "standard" chorus is 80, and if the choristers change costumes three times, that's...well, a lotta costumes.) The employees comprise not just the costume-makers (the tailors and seamstresses), but also supervisors; drapers (who transform sketches into reality, creating patterns and prototype garments); "first-hands" (who are the right arms to the drapers); milliners; shoppers; a craftsperson; a dyer; stock clerks; shoppers, who scour the markets; and-one lone shoemaker.
To transform the costume sketches into real garments, Nolan works closely with the designer. She keeps at least one show "bible," with designs, resea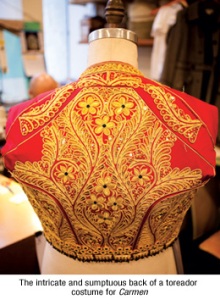 rch, and so on; the shop also maintains a master costume Baedeker, detailing every aspect-fabrics, yardage, processing-of a garment. An archivist from the technical department takes photos of each singer in character; the costume and wardrobe departments work from those photos, maintaining continuity in repertory.
Nolan tries to keep additional fabric inventory, so that there are the same yard goods available when a costume needs to be remade after it has worn thin. "We keep things," she laughs, "until they are nearly shredding." When a new singer of entirely different proportions steps into a role-that season, or five years down the
road-costumes may need to be recreated. She observes, "For the 'warhorse operas,' we are fortunate enough to still have some original costumes, like the Colline vest and overcoat from Act IV of La Bohème." (Designer Franco Zeffirelli's production premiered during the 1981-82 season.) She says that they always make things with an eye to the future, building garments with generous seam allowances. "And we take very good care of our garments, building them with sound internal structures that are very supportive to the fabrics."
Some costumes are so intricate and elaborate that they could take a draper and a stitcher nearly three weeks-a solid 120 hours-to fashion. For the dazzling, braid- and metallic-encrusted matador costumes-trajes de luce ("suits of light")-for this season's Carmen, the Met custom-ordered bespoke, traditional, Spanish bullfighting ensembles from a master Madrid tailor, who meticulously fashioned the show-stopping garb.
Another hotbed of activity is the wig-making room, presided over by Tom Watson, who has been with the company 10 years. He and his staff of five hand-make the wigs on mesh or lace caps, using hair purchased from the Far East. For principal singers, he has cast and molded individual head shapes, so he can create a wig without the artist's being present. High-definition live broadcasts (shown around the country in local cinemas) "have changed the way we can work," he notes. "We have to trim the lace caps practically to the natural hair line, and it's made our work a bit trickier." Wigs are washed, set, curled, and so on, as meticulously as natural do's; generally per show, there are around 80-90 wigs. But there are the exceptions. "In Ballo in Maschera, we had the most wigs used in one production, about 220."
Regardless of where the shoes, wigs, or costumes are made, they are crafted lovingly and painstakingly, accurate in period detail and precise in every way, because the creative geniuses at the Met know that in every audience there is one ardent devotee who sits in the fourth row, with a pair of high-powered binoculars, relishing every sequin, every tuck, every ruched ruffle, drinking in the splendor of the voices and the artistry that the behind-the-scenes alchemists have wrought. And that enthusiastic fan would be, er, this reporter.
[ the details ]
Metropolitan Opera Guild Backstage Tours can be arranged by calling 212-769-7020 or online at operaed.org. The Met season ends May 15, but there is still an opportunity to purchase tickets to old favorites like Tosca, Aida, La Bohème, and La Traviata, and less frequently performed operas like Armida and Attila. For more information about tickets, visit metopera.org.