Let's face it, everyone wants beachfront property. And that same desire to own the equivalent of wave-tickled turf in a retail environment is what promotes posh commercial corridors like Madison and Fifth Avenues. But in a store, what is the equivalent of a big-ticket location?
If t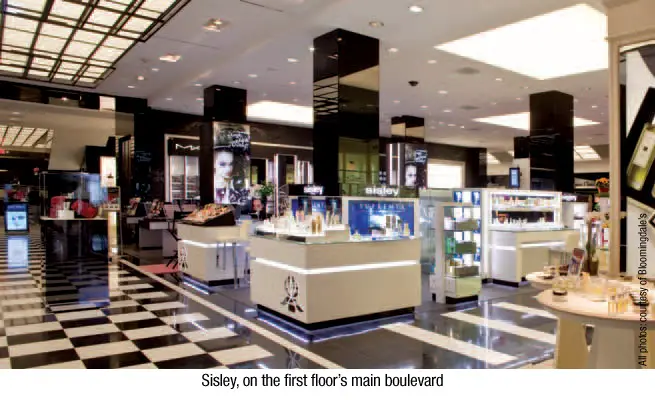 he store is Bloomingdale's, the venerable city landmark, founded in 1872, then the idea of prime location exists down the new byways and broader aisles of the retailer's handsome reinvention of its first floor. In the store's new floor plan, it's as if every cosmetics vendor has struck it rich with an ocean view. Not only has Bloomingdale's retained its famous black-and-white checkered central boulevard (east/west), but it has widened the two parallel lanes, and has added "cross streets" (north/south), so that navigating that first floor now is like window-shopping in a major retail neighborhood.
This is the most adventurous and ambitious undertaking the store has committed to, ever. And while the retailer underwent a massive redesign some 30 years ago, and also experienced a little face-lift about 10 years ago, this is a complete remodel, with new concepts, new vendors (including, among others, Bare Escentuals, Jo Malone, and Sisley), and new services, too, including a Bumble and bumble salon, called the Bb.StylingBar, a "no wash, no appointment" dry styling counter.
"The overall goal of the 'Biggest Makeover in NYC' was to create a floor that has the largest and most dynamic world of beauty in the city," observed Michael Gould, chairman and CEO of the store. And while the transformation, which started on the drawing board in 200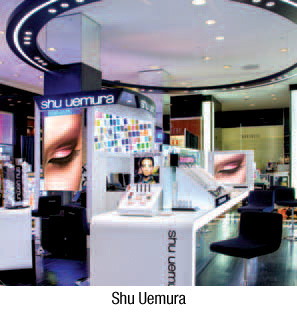 4, affects the entire store, it's most obvious on this first level. Other elements contribute to making it great: The 1,300-square-foot Cosmetics Studio, open 362 days a year, which can be reconfigured for various purposes-master classes, special events, and private treatment rooms; the energetic vibe that permeates the first-floor environment, emanating from lots of video, music, and salon-style nooks; and of course, the design, which is slick, with black mirrors and stainless steel elements throughout, while a rich-looking black damask-printed pattern frames many of the vendors' enclaves.
The first floor has gained some 10,000 square feet, with the cosmetics department alone adding more than 4,400 square feet; but more space was not the only goal here. Merchandise is closer, within view; partial walls have been erected to create more individual "shops," and the floor itself has been divided into seven major areas. Traditional selling counters have been removed, and there are now more intimate work stations, creating a feeling of one-on-one-a better shopping experience for the cus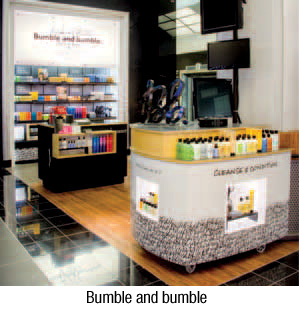 tomer, for sure.
A full promotional campaign has accompanied this makeover, including more than 500 special events, which began last month and which will continue through mid-December. For more information on the events and the store itself, go to bloomingdales.com.
To view the pages in pdf form, click here.