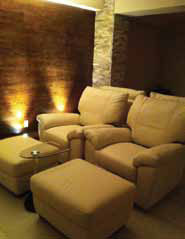 Platinum Pampering for a World-Class Clientele:
Trump Spa™ New York
The name says it all… particularly when you realize the design of the newly renovated Trump Spa™ at Trump International Hotel & Towers on Central Park came from none other than Ivanka Trump herself.
With an impeccable eye for detail, comfort and style, Ivanka – who oversaw the spa's dramatic makeover – opted for rich woods, inlaid stones and polished Italian marble to create an elegant and inviting ambiance for hotel guests seeking a tranquil in-house getaway laced with exclusive spa treatments.
And while Trump Spa New York is a compact 6,000 square feet (including reception area, three treatment rooms, 55-foot heated Salt Pure lap pool, workout area, steam and sauna facilities, and manicure-pedicure room featuring a wall embellished with hand-embroidered cherry-blossoms), it also boasts one wonderful ironic touch: the well-appointed changing/locker rooms are stocked with bottles of spring water -- Trump Ice (cue flashback to season one of The Apprentice) – bearing the smiling face of The Donald on the label.
As for the treatment menu, while it is refreshingly straightforward—massages, body therapy, skin care, hair removal, and nail care—the range and quality of the treatments are stellar. Take Trump Spa's massages: a handful are listed but the possibilities are endless—as I discovered luxuriating on a massage table as Carlos, my brilliant masseur, customized every aspect of my massage from scented oils to heated lava shells to choice of pressure. Transcendently Trump.
trumphotelcollection.com/central-park/spa-new-york-city.php [The spa is for hotel guests and residents only, so book your stay accordingly. And since you're a guest of Ivanka and Donald, it's only fitting that "snacks" come directly from the hotel's five-star restaurant, Jean Georges.]
Savoring the Sublime SoHo-Style: York Spa
The street-level entrance to York Spa is deceptive. Yes, it has a lovely multi-windowed corner façade, but upon entering you are met with a classic New York nail salon – not a spa amenity in sight. Once you've informed the receptionist you've arrived for spa services, your brush with the everyday evaporates and York's highly personalized approach to pampering takes over.
Led down a discreet staircase, you step into York's large, decadently inviting spa lounge: beautifully lit, subtly decorated and dominated by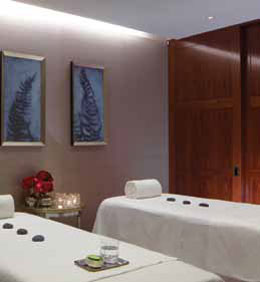 a generous number of oversized leather chairs and ottomans. After changing into your spa robe and sandals, you instinctively sink into one of the massive seats and stretch out complacently as a spa staffer covers your legs with a plush white towel. Read, chat, sip a complimentary beverage and abandon all stress: this quiet time is York's cushy preamble to their spa treatments.
I was intrigued by the York Signature Massage—a fusion of Swedish, Deep, Shiatsu, and Thai massages. The experience and masseuse were amazing, as was the aesthetician assigned to my follow-up treatment, the Hydro Marine, one of the best moisturizing facials ever.
Post-treatment you are invited to return to the world of laid-back comfy chair bliss, a plate of fresh fruit, tea, water or juice, and an open-ended R&R experience.
One final perk: Spa owner Alan Tak is almost always on hand interacting with clients, taking suggestions and ensuring everyone's spa interlude is as close to perfect as possible.
Insider scoop: Spa regulars and celebrity guests (yes, word of York has reached the VIP set) are offered a glass of wine with their fruit. But if you know to ask (and now you do)… cheers! yorkspabeauty.com
Thinking Outside the Spa: SPOONK!
If you're like me, biddi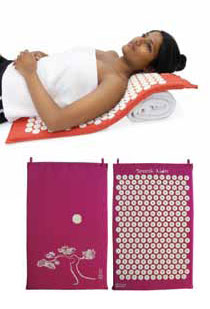 ng adieu to a fabulous spa experience requires a take-home indulgence. Anything, really, from a lotion or serum to a signature robe, candle, or headband. Taking this obsession to the next level, I now seek out products and innovations that bring spa-like sensations into the home… or hotel room.
The most recent one to win my heart is Spoonk, named by its Swedish originators after Pippi Longstocking's pronunciation of "spunk." An acupressure massage mat that alleviates aches and stress, it's also known for releasing endorphins that improve energy and sleep. Made of eco-friendly materials, each Spoonk features 6,000+ stimulation points in the form of spiked flowerets (on which you lie). Sounds scary, but it's unbelievably cool once you surrender, and trust me, you will, working up to the recommended 20 to 35 minutes a day.
Spoonk's four designs are priced between $60 and $70 online at spoonkspace.com.