Partners-in-crime Bob Hope and Bing Crosby, along with sidekick, paramour, and doll-of-the silver screen Dorothy Lamour, hit many an exotic road in their celluloid excursions—roads to Singapore, Zanzibar, Morocco, and Utopia—but I'll bet that none of them could have compared to mine, as my bus zipped across Jordan on the King's Highway heading toward the ancient Nabataean city of Petra, a once-in-a-lifetime destination.
The signage along the iconic King's Highway was occasionally amusing, with a warning symbol (marked by a picture of a humped dromedary) that we were in a camel-crossing zone (just guess who has the right of way). I was only on day two of my Regent Seven Seas'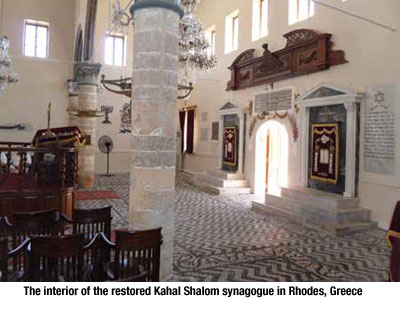 Voyager cruise, from Safaga (Luxor) to Barcelona, and yet, there had already been so many highlights that it was hard to imagine that Petra could equal (even top?) the three days of land excursions prior to boarding the 700-person vessel. But, of course, it did.
And that is just one of the reasons why Regent Seven Seas remains, according to Condé Nast Traveler's 11th Annual Readers' Choice Survey, the best cruise ship line in its category; it's an intimate ship, and within the ultra-rarefied category of luxury cruise ship companies, Regent is second to none.
Prior to embarking, I had experienced three days in Luxor and Cairo, part of Regent's traditional land-and-sea packages. In Egypt, I was mesmerized by the world's wonders—the Great Pyramid in Giza, the Sphinx, the temples of Karnak, Luxor, and Hatshepsut, and the extraordinary Valley of the Kings. (It is worth noting that, despite recent upheaval in Egypt, there are still a few Regent cruises—Arabian Adventures and Red Sea Rendezvous—for the 2012-13 season that include land excursions in Luxor, and even a night in Cairo, prior to heading, not north through the Suez Canal—as I journeyed—but south, toward Mumbai.)
So, back on the King's Highway—which connects magical, monumental sites in the Holy Land—we followed this centuries-old thoroughfare, although clearly it was not macadam when the Nabataeans settled Petra in the sixth century B.C., when this slice of Jordan became an important juncture for the silk and spice trade routes linking China, India, and Southern Arabia with Egypt, Syria, Greece, and ultimately Rome.
To reach the fabled city, one is faced with a near-mile-long hike down into the ancient "town." The pathway, known as the Siq, or narrow gorge, is flanked by sheer rock facades, nearly 275 feet in height. The stone walls are laced with explosions of colors showcasing geological strata—from saturated russet to flinty black. The reward at the end of the trek is the ancient city and its marvels—from Al Khazneh, or the celebrated Treasury edifice, to the sandstone, rock-cut tombs, Roman Theater, the neighborhood boulevards, dwellings, and Byzantine Church—are but a few of the sites worth visiting; if only I could have walked the Siq two days in a row, I might have seen it all. But on the second day, while the Voyager was berthed in Aqaba, I chose to visit Wadi Rum (the Valley of the Moon), made famous by T. E. Lawrence (aka Lawrence of Arabia). The largest wadi in Jordan, Rum was the base of Lawrence's operations during the Arab Revolt in 1917-18; today, his face is carved in an unpretentious monument in the wadi.
After two days of trekking around the desert, I was in desperate need of pampering, and the Voyager's Canyon Ranch Spa did not disappoint; a sybaritic massage and foot reflexology session were precisely what the doctor ordered. The spa is just about the only place on board where you will incur any additional fee. Unlike many other cruise lines, everything on board Regent is included, and that means: roundtrip airfare, unlimited shore excursions (an extraordinary sweetener for hard-core cruise devotees), the land package pre- (or post-) cruise, which encompasses hotels, meals, and all local touring; premium wines and spirits (and an always-stocked in-suite mini bar), 24-hour room service, ground transfers, and—perhaps the best of all—tips, which on many ships can add a sultan's ransom to a cruise tariff. In fact, Regent is known among cognoscenti travelers as the "most inclusive ultra-luxury cruise line"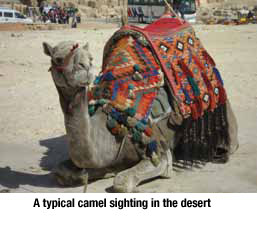 because of this; my very capacious (370 square feet, including a big veranda) penthouse suite even came with iPad! (And it is no surprise, also, that Condé Nast Traveler's Gold List ranks Regent's cabins as the most desirable at sea.) And if you want to get to know your fellow voyagers, Regent stages a unique, meet-your-neighbors event—a block party—when you are encouraged to open your suite door and wine and dine with your new-found friends.
So, on the day we traversed the Suez Canal (luxurious summer homes flanked the west coast of the channel and unbroken, snowy-white desert stretched infinitely beyond the eastern shore), I vegged out at the spa and took enrichment classes (the on-board guest lecturers are excellent and their background talks on the ports of call are absolutely worthwhile) and dabbled in some on-board activities—paddle tennis, a couple of swings in the golf cages, and a go at Mah Jongg. I even indulged in the pastry chef's all-cupcake afternoon tea, which daily featured a different enticing menu of tasty sweets and savories.
Our lazy sojourn through the Mediterranean included a stop in Bodrum, Turkey, known as Halicarnassus in antiquity and today as one of the country's hot resorts, with hillsides dotted with whitewashed cottages and riots of vibrant bougainvillea. The tomb of Mausolus, one of the original Seven Wonders of the World, was erected here and although there is little to see now, it is the root of the word mausoleum. The Castle of Saint Peter, a late-medieval military structure built by Crusaders, is worth a visit; along its ramparts, you'll recognize many European coats of arms. The Greek-style theatre is also worth your ti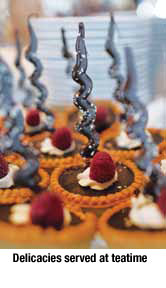 me, after which boating, sunning, and shopping should be tops on your docket.
Another Mediterranean port-of-call was Rhodes, an island I have visited previously and cannot get enough of (and which was the location for a major part of the film The Guns of Navarone.) For thousands of years, this 540-square-mile island has been a stepping stone between East and West and its famed sanctuary at Lindos was a destination for generations of pilgrims. Its varied architecture reflects its countless foreign rulers—the Romans, the Venetians, the Byzantines, the Genoese, among the many. It is the acropolis at Lindos where this becomes apparent; it's a long climb up, but the vista and ruins at the summit are well worth the 950-foot trudge. Rhodes' Old Town is a UNESCO World Heritage Site and is rich in medieval architecture, Orthodox and Catholic churches, a colorful Turkish quarter, and my favorite stop, the Kahal Shalom synagogue, the oldest temple in Greece, built in 1577; it has a superb, highly informative museum, and the story of the once-thriving Jewish community of the island is recounted in artifacts, pictures, and text.
Another delightful stop was the island of Malta, also a strategically situated Mediterranean isle, ruled by various waves of conquerors from the Phoenicians and Carthaginians to the Normans, and even the Order of St. John of Jerusalem. Malta has been inhabited for over 7,000 years, and is a charming mélange of cultures; it boasts narrow, cobbled stone streets, hilltop forts, limestone cliffs, and bucolic countryside, not to mention nine UNESCO World Heritage Sites (and it was also here that much of the movie Midnight Express was filmed.). Valletta, the capital, offers many sights, but the main ones not to miss are the Fort St. Elmo, built in 1552, and the richly ornate, baroque St.John's Co-Cathedral, with its famed Caravaggio, The Beheading of St. John.
Every day, however, I have to admit to being delighted to return to my on-board sanctuary. I marvel at how a vessel—staffed by employees from nearly 40 countries—can function so seamlessly and deliver such first-rate service (my butler was a gem and no task seemed too difficult to execute). Part of the answer is in the crew-to-guest ratio, which is 1:1.5 and the space ratio per guest is 59:1, one of the highest in the industry. Just getting meals out of the dining room seems a wonder, when you consider what takes place below deck in the ship's stores: in one two-week period, the chefs churn through 4,800 pounds of flour, 800 pounds of lobster, 1,300 pounds of beef tenderloin, 13 hundred dozen eggs, 1,400 gallons of milk, and 900 bottles of Champagne! And mealtime is a real treat on board—with a half-dozen destinations for dining, I indulged at the signature Compass Rose restaurant, Prime 7, the fabulous steak house, and Signatures, the classic French restaurant.
But eating is just one of the pleasurable pastimes on board: One evening, we had outdoor movie night, and the pool deck was turned into a theater. I snuggled under a fuzzy mohair blanket in a comfy chaise as staff refilled my popcorn bowl and hot-toddy and offered me oodles of tempting desserts—if only Bob and Bing had been on the screen, but Mamma Mia! was just as good, and under the majesty of the Mediterranean's celestial constellations, life just couldn't have been any better.
[ more information ]
rssc.com
For a ten-day, typical Mediterranean cruise in the 2012-13 season, fares start at $5,499 per person for a category H stateroom; for B penthouse suite, fares start at $12,099 per person, and include a business-class airfare upgrade; all fares include the amenities detailed above.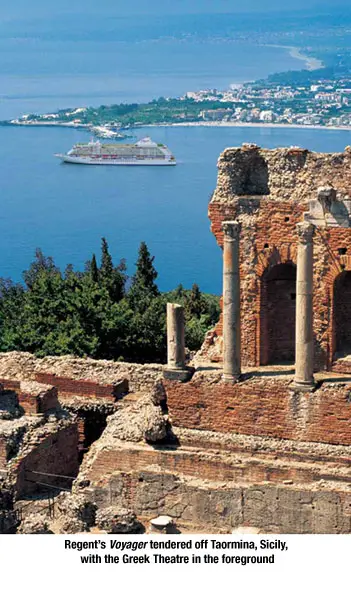 When we tendered off Taormina in Sicily, I was eager to see the amazing Greek Theatre, with its diameter of over 350 feet. In excellent condition with astonishing acoustics, the theatre is used today for pop concerts, opera performances, and classical plays. After a half-day excursion tramping up and around the Theatre, I was just as eager to enjoy a leisurely lunch and beach time at the two Orient-Express properties on the island. Orient-Express owns some of my favorite hotels (the incomparable Reid's Palace in Madeira and the majestic Mount Nelson in Cape Town), and I rightly guessed that these two newest members of the O-E family would not disappoint. The magnificent Grand Hotel Timeo, perched high up on a hill adjacent to the Greek Theatre has a view to kill for (Mount Etna, anyone?), and has bragging rights to a cavalcade of celebrity guests—from Jean Cocteau, Tennessee Williams, and Carlos Santana, to Joe Cocker, Elton John, and Truman Capote. (The hotel has been welcoming travelers since 1873!) Its sister hotel, the slightly more modern, seaside Villa Sant'Andrea, built as a private residence in 1830, offers a private beach and water sports. I dined first at the Timeo, where local specialties abound, including Sicily's famed green-gold pistaccio di Bronte and finoccio selvatico (wild fennel), for example. My waiter recommended the ricotta and wild fennel gnocchi served with sea urchin emulsion and the local salamis and ham, and who were we to argue? We topped off our meal with La Granita Siciliana, a semi-frozen dessert whipped up from sugar, crushed ice, and exotic flavorings. I looked out at the sea and knew that I had died and gone to Italian Heaven. orient-express.com