On the second floor of midtown's Creative Arts Building, a few blocks east of Grand Central Terminal and just a bit o
ff the beaten path, lies a block-long showroom (that's 25,000 square feet, to be exact) filled with an eclectic and elaborate collection of pieces from 75 of the world's top antique and modern dealers. With that kind of inventory, there's no place quite like Center44, which interior designers like Mica Duffy of Mac II and Eric Cohler of Eric Cohler Inc. have compared to the Marché aux Puces in Paris and a "modern day Souk."
But the dazzling displays are only part of what make this store (to put it mildly) a destination for designers and laymen alike. Its open-room settings and maze-like layout invite visitors to amble, linger, and bask in the friendly atmosphere created by proprietors Paul Plumadore and Jim Tindell. "People tend to get lost in the store. We often hear a lot of laughing and giggling," Tindell says. "We've always approached it as a sort of salon, where people gather to talk and share ideas."
The combination of Tindell's Southern charm and Plumadore's eye for detail has made shopping at Center44 a unique experience since its opening four years ago. We caught up with the amiable pair for a behind-the-scenes look at their novel brainchild.
Q: How would you describe Center44?
Jim: It's an eclectic mix. We sell everything from antiquities to conte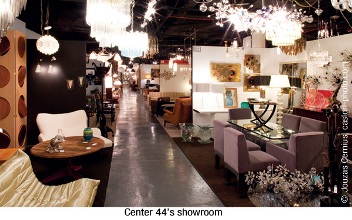 mporary design, with a heavy emphasis on mid-century modernism, which is very popular right now. The atmosphere is laid back and friendly - we're here to help people in any way we can, but we also give them the freedom to shop at their leisure.
Paul: It's a sort of casual, warehouse location, but we sell very sophisticated, high-end material.
Q: What's your business partnership like?
Paul: Left brain and right brain. Jim handles most of the sales and direct contact with the designers. I handle more of the advertising and general look of the place.
Q: How did you become interested in antiques dealing?
Paul: That's a strange story. About 10-12 years ago we both had jobs that we didn't like. I was working renovating apartments, while Jim was working in TV production. I had a client who said, "Instead of a kitchen cabinet, we'd like to find an antique." So Jim and I drove around and found something. I showed it to them and said, "Its only $4,000!" And they said, "That's cheap, we'll buy it!" That was a light bulb moment; we realized we had a knack for it.
Q: How do you choose your dealers?
Paul: We let them choose us. We don't really pursue them; I've tried that a couple of times, but normally we find it doesn't work that way. When they're ready, they contact us.
Q: What's the best part about your job?
Jim: Working with people.
Paul: Sometimes people come in and say, "Hi Paul, where's Jim?" (Laughs.) Jim has a great rapport with everyone; it's a Southern charm thing. I'm just an old cranky Yankee.
Q: What is your personal style?
Paul: We promote the mix of all styles, and that seems to be what most designers are doing now. As Jimmy's momma says, "As long as it doesn't fight." Sometimes you mix things and it's no good, but a lot of things really promote each other. For example, we decorated our apartment with old Chinese doors and mixed those with modern Swedish coffee tables, then added some arts and crafts.
Q: What current trends have you seen in interior design?
Jim: I've talked to a lot of designers about this recently, and the concept is that, with the economy, people are nesting again. They're staying home more. So I think we're seeing a shift: It is about style and design, but it's also about comfort. For awhile it was severe modern designs, and now we need something a little older in there, something a little more comfortable and not so hard.
Paul: We're seeing lacquered furniture from the mid-century. It used to be white or black, but now people want it in colors, like deep plum, or something less severe. People are going back to comfort. The world gets more and more frightening every day, but when you're at home you want to feel safe. It's always been that way, but it's more heightened now, I think, with the economy and terrorism. Everything that goes on in the world influences design; it's all one thing really.
To view the pages in pdf form, click here.