In Woody Allen's charming recent film, Midnight in Paris, a nostalgic and conflicted Hollywood screenwriter is magically transported back in time to the "années folles" (the crazy years) of 1920's Paris. With Ernest Hemingway as his guide, he soon finds himself in the salon of Gertrude Stein, where he meets Pablo Picasso and Henri Matisse. He attends glamorous parties with F. Scott Fitzgerald and Cole Port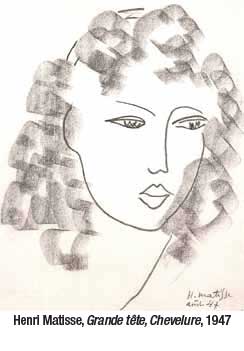 er and has a "surreal" cafe conversation with Salvador Dali and Man Ray. Many artists, collectors and art dealers have probably had similar fantasies. Although time travel may be impossible, a close substitute can be found by visiting Hammer Galleries' new exhibition, Modern Masters: Paris and Beyond.
The exhibition features over 20 exceptional paintings by Marc Chagall, Fernand Léger, Henri Matisse, Joan Miró, Pablo Picasso and Kees van Dongen, as well as significant sculptures by Jean Dubuffet, Joan Miró, Henri Matisse and Alexander Calder. A beautiful 86-page catalog with an introductory essay by noted art critic and art historian, Edward Lucie-Smith accompanies the exhibition. A virtual tour of the exhibition is also available at hammergalleries.com.
For the first half of the 20th century, Paris was the undisputed center of the art world, the place where any serious artist had to be. Artists and writers from all over the world flocked there. Van Dongen came from Holland shortly before the turn of the century, and others followed - Picasso and Miró from Spain, Chagall from Russia and Matisse, Léger and Dubuffet from the French provinces. As Edward Lucie-Smith states in his essay for the catalog, "the result was a mixture between a stewpot and a laboratory. A stewpot, because all kinds of cultural traditions were blended together. A laboratory because this is where all kinds of artistic ideas were continually tested to their limits...The city was a buzzing hive of new ideas." It was in Paris where many of these artists made their crucial breakthroughs, where they became "Modern Masters".
Gradually, however, the Parisian artistic community began to disperse. In the decades following the inter-war years, many of these Masters became established artists and started to seek inspiration outside of Paris. External factors such as the onset of World War II certainly accelerated the flight from the city as well. Léger and Chagall sought refuge in America, and Miró returned to Spain.
It was during this time that many of these artists explored media outside of painting, so Hammer Galleries' exhibition includes sculptures by Matisse and Dubuffet, ceramics by Miró, and an exquisite "mobile" by Calder. Individually, the artists featured in Paris and Beyond each made vital contributions to the avant-garde; overall as a movement they revolutionized modern art. The significance and appeal of these Modern Masters endures today.
Designed by Rexrode Chirigos Architects, Hammer Galleries provides an intimate setting in which to view these works of art and is located in close proximity to many of Manhattan's five-star hotels.
Hammer Galleries
475 Park Avenue; 212-644-4400;
Modern Masters: Paris and Beyond
Oct. 29, 2011 - Jan. 21, 2012