A century-and-a-half ago, the sound of music could be heard echoing across the rolling hills of Shaker Village at Pleasant Hill, a 3,000-acre community picturesquely nestled above the Palisades of the Kentucky River just outside of Lexington. (Shaker Village is the largest restored Shaker community in the United States and the first site in America to be designated in its entirety as a National Historic Landmark.) The Shakers may have eschewed the pleasures of the flesh, but never the pleasure of a song. The last Shaker left in 1910, but the music never died.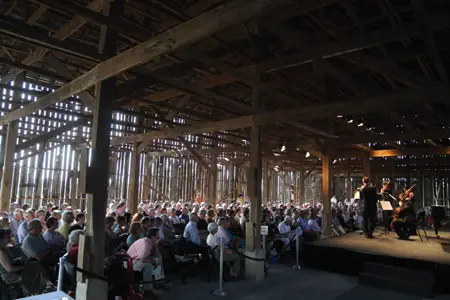 Since 2007, the Chamber Music Festival of the Bluegrass has been a staple of the Memorial Day Weekend in Central Kentucky. The pioneering effort to bring world-acclaimed chamber music to the area was begun by Centre College's world-renowned Norton Center for the Arts in nearby Danville in collaboration with the Chamber Music Society of Lincoln Center in New York City, the ultimate collaboration between the Bluegrass and the Big Apple.
Shaker Village was chosen as the festival setting for it offers, as David Finckel, co-artistic director of the Chamber Music Society of Lincoln Center, says, "the perfect mating of music with venue, offering music enthusiasts a unique and intimate setting to experience the genius of chamber music in the tranquil setting of a restored barn." And not incidentally, the Shakers are credited with writing some 20,000 hymns extolling the virtues not just of God but of the simple life.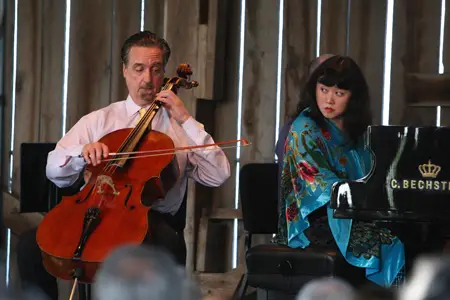 Finckel, a cellist, and Wu Han, a pianist, will again be on hand this weekend (May 25 and 26) for a two-day program which features selections from Debussy, Paganini, Mozart, Vivaldi and Benjamin Britten.
In addition to enjoying the gorgeous music, visitors to the attraction can also enjoy much more: Fourteen of the original buildings, with their collections of original Shaker furniture and hand crafts, are open to the public, including several which can accommodate visitors for overnight stays.
For more information on the festival, go to www.shakervillageky.org.