Early in 1962, Andy Warhol asked a friend over to his studio to check out two recently completed paintings of Coca-Cola bottles. One, dated 1961, had a loose, painterly style; the second, made at the start of 1962, was a hard-edged, more impersonal vision of the iconic American soft drink.
Which did he like better, Warhol asked his friend, the documentary filmmaker Emile de Antonio.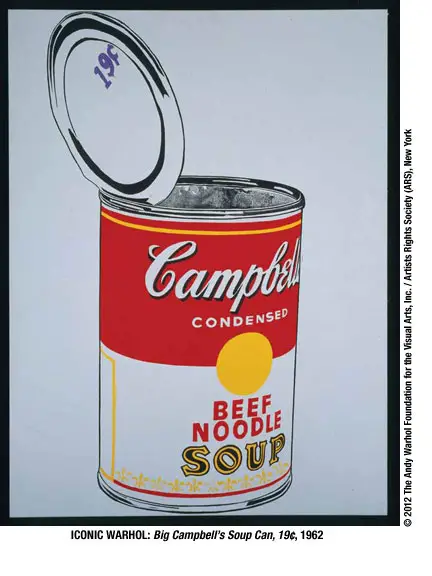 Destroy the first painting, de Antonio urged. The second, on the other hand, he found "remarkable": "It's our society, it's who we are, it's absolutely beautiful and naked," de Antonio said.
That moment is recalled in the catalog of Regarding Warhol: Sixty Artists, Fifty Years, an exhibition at the Metropolitan Museum of Art Sept. 18 through Dec. 31. The incident, writes the show's guest curator, Mark Rosenthal, is noteworthy for "sealing" the direction of Warhol's style—and, by extension, opening new paths for artists of the next half-century.
Exploring that theme, Regarding Warhol features some 45 works by Warhol and 100 by around 60 other artists. Organized in thematic sections, the show juxtaposes Warhol's paintings, sculpture, and films with those of the other artists.
Were they all influenced by the pop-art star, who died in 1987?
"Influenced" is a word Rosenthal avoids. "I prefer to thi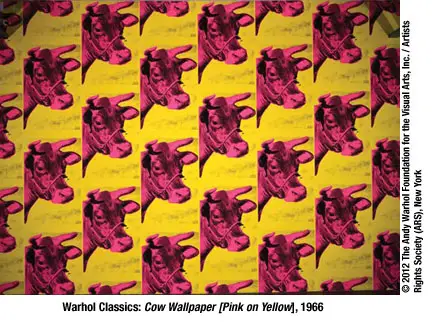 nk that Warhol established a kind of sensibility," he says, a "beachhead" for the future. "Many other artists were nourished by [it] and went on to create very wonderful careers themselves."
Warhol's fame—he quickly became a sort of cultural icon—had a lot to do with his, well, influence. "It's startling how quickly and how widely Warhol became famous," says Rosenthal, an independent curator who is also an adjunct curator at the Detroit Institute of Arts. With the early 1960s, Rosenthal says, "his art and his ways of working entered an awful lot of people's consciousness."
Cool, detached, observant, Warhol (like other pop artists) embraced America's popular market culture as legitimate subject matter. "This was a shocking, shocking thing," Rosenthal says. "All these people are making abstract paintings," he says, of the reign of Abstract Expressionism, "and here comes this jerk painting pictures of Marilyn Monroe and soup cans and Coca-Cola bottles. This was so against the romantic ideals of art."
Warhol was also repeatedly inventive, adopting the use of photography, the appropriation of other images, and serial composition as central to his work. In essence, Rosenthal writes, he "gave permission to do virtually anything in the name of art."
Take portraiture (to which the show devotes a section), which was hardly a mainstay of the Abstract Expressionists. Warhol, fascinated by the "packaging" of celebrities, created silkscreened images of personalities from Marilyn to Mao; his "Jackie" series from 1964 captured Jacqueline Kennedy in the moments before and after the assassination of the president.
From the mid-'70s on, Warhol greatly enlarged his income by making commissioned portraits—perhaps too many of them: "The world is awash in his commissioned portraits," Rosenthal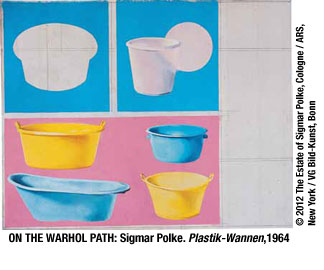 says.
But by putting portraits center stage, Warhol encouraged others to do the same. Among the examples in the show: works by the German artist Gerhard Richter; Julian Schnabel (a 1990 commissioned portrait of Barbara Walters that employs his famed "broken plate" technique); Elizabeth Peyton ("Blue Kurt," a 1995 portrait of the Nirvana singer-songwriter Kurt Cobain) and Cindy Sherman, famed for photographing herself in a multitude of costumed guises and personae.
Similarly, Warhol's use of banal subject matter, embraced with what Rosenthal, in a slightly different context, calls "affectless wonder," is a hallmark of such contemporary artists as Jeff Koons. Koons is represented here by several sculptures from his 1988 series Banality, including a seated Michael Jackson in gold clothing, holding his pet chimpanzee, Bubbles.
Michael and the Met may seem an unusual pairing. In fact, Regarding Warhol was originally conceived by Rosenthal for the Detroit Institute but was never mounted there. It was picked up by the Met, where curator Marla Prather (with assistant curator Ian Alteveer and research assistant Rebecca Lowery) of the department of modern and contemporary art further shaped the show.
Prather's contributions include a series of insightful Q & A artist interviews in the catalog. "One of the goals of the whole project was to include artists' voices" as part of the exhibition "dialogue," Prather says. So, for instance, we get Chuck Close, extolling Warhol as "a great colorist," and Alex Katz, who sees him as a wonderful graphic artist, but a less-than-inspiring painter. Opinions on Warhol have always differed.
And we get Deborah Kass, whose work has had a strong connection to Warhol's oeuvre, and who may give the best summing-up of the late artist. "Some artists reflect their times and some artists change their times, you know?" she tells Prather. "Andy did both."
Metropolitan Museum of Art
1000 Fifth Avenue at 82nd Street,
212-535-7710; metmuseum.org