If, as the so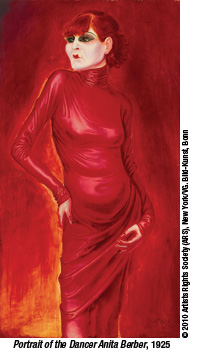 ng goes, life is a cabaret (you know: depraved and macabre, but still fascinating), we probably owe some thanks for that ironic perception to the paintings of Otto Dix. A German artist whose work encompassed a wide range of stylistic influences, Dix (1891-1969) is perhaps best known for his sardonic images of the loose and liberated society that epitomized the Weimar Republic in the 1920s.
In fact, Weimar's most famous pop evocation, the film version of "Cabaret," includes "two or three scenes which are based on paintings by Otto Dix," said Olaf Peters, the guest curator of the Dix retrospective at the Neue Galerie through August 30th. It is the first solo exhibition for the artist at an American museum.
With more than 100 works dating from 1916 to 1939 (including watercolors and etchings of the horrors of World War 1), the show focuses in part on Dix's bitingly satirical portraits. Among the most riveting is a 1925 painting that Peters considers the art-icon of the Weimar Republic: the figure of the provocative actress and dancer Anita Berber, clad in crimson, against a red background. Dix used the color "to express the fact that she was self-destructive," said Peters, a German art historian. Done in by cognac and cocaine, Berber did not live to 30: She was, Peters said, "a flame that died very early" -a phrase that could describe Weimar itself.
The Neue Galerie
1048 Fifth Avenue; 212-628-6200;
neuegalerie.org (Closed Tuesdays and Wednesdays)