The Puerto Rican-born artist Rafael Ferrer made a splash in the late 1960s with installations that used such materials as leaves, hay, steel, even a block of melting ice. Around 1980, he turned to creating inte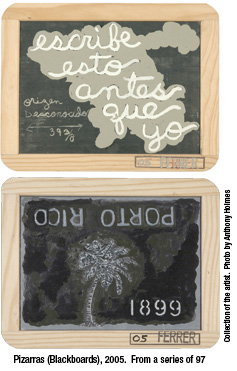 nsely colored paintings that some termed a break with his past, and an embrace of "primitivist" Caribbean influences.
With "Retro/Active: The Work of Rafael Ferrer," running from June 8 to August 22, El Museo del Barrio examines Ferrer's career over the past 55 years, emphasizing the continuum of his work despite its seeming shifts. Organized by Deborah Cullen, the director of curatorial programs, the show of about 100 pieces is Ferrer's first solo museum retrospective; seen in context, Cullen writes in the catalogue, Ferrer's paintings are far from "intuitive" or "primitivist," but part of a career-long effort to "build a poetic and allusive artistic language."
El Museo del Barrio
1230 Fifth Avenue; 212-831-7272;
elmuseo.org (Closed Mondays)