And now for something completely different... Yes, that segue line is ripped from "Monty Python." But the British comedy sketch series-with its whimsical, trademark cutout animations-is more than likely to pop into mind when we encounter the oddly beguiling subject of "Playing with Pictures: The Art of Victorian Photocollage," at the Metropolitan Museum of Art through May 9. As the exhibition points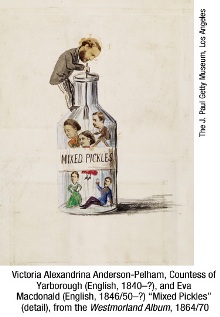 out, such other diverse reality-changers as Alice's journey in Wonderland and the surrealist collages of early 20th-Century avant-garde artists also seem related in spirit to the cut-and-paste Victorian handiwork in this show-a combination of photographs (usually snipped from visiting cards of the day) and watercolor drawings, organized into often bizarre and fantastical images.
The creators of these photocollages, which could be slyly subversive, were women from the uppermost reaches of British society. Trained as amateur artists, they constructed tableaux in which human heads might be pasted on animal bodies (the theory of evolution, after all, was in the air at the time, though these works weren't necessarily pro-Darwin); children might sit atop giant
mushrooms (think: Lewis Carroll's "Alice"), and people might be juxtaposed in different sizes-a clue to their relative importance to the artist.
Originating at the Art Institute of Chicago, "Playing with Pictures," is the first major exhibition to explore this little-known work, which was usually found in personal albums. Using some 50 photocollages from 15 albums of the 1860s and 1870s, the show also features "virtual albums" on computer monitors, allowing visitors to see the full contents of albums that are open to a single page. Even the most imaginative of these artists couldn't have envisioned that play on reality. Or could they?
The Metropolitan Museum of Art
1000 Fifth Avenue; 212-535-7710; metmuseum.org
(Closed Mondays)