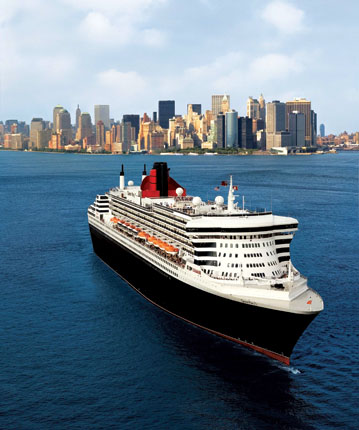 "

I

would be delighted!" So gushed—at least apocryphally—Queen Mary, wife of England's King George V, in 1934 or thereabouts, when
the good King was told that the Cunard Line would like to name its newest ocean liner "after England's greatest Queen." Legend has it that the delegation that visited the royal was seeking his blessing to christen her the Queen Victoria, but Mary assumed that the description referred to her—and graciously accepted what she misconstrued as an offer for an eponymous ship! Whether factual, it initiated a series of new queenly appellations for Cunard's glorious ocean-going ves
sels, which had always borne majestic-sounding names, ending in "ia," like Carpathia, Lusitania, and Mauretania.
That original Queen Mary was retired in 1967 and is currently a hotel and museum in Long Beach, California. But her successor and namesake, the $800-million-dollar Queen Mary 2, or QM2, is the first liner built in over 40 years, and carries on the regal tradition of transatlantic crossings (her maiden voyage was in 2004). She is without question the world's most imposing ocean liner. Put the Chrysler Building (1,046 feet tall) on its side next to the QM2 (1,132 feet, stem to stern) and the liner outflanks the landlubber skyscraper by 86 feet; she sports 17 decks, 14 of which are for passengers. A jigsaw puzzle of over 300,000 pieces of steel, she is home to the world's largest floating library (over 8,000 volumes) and its only maritime planetarium; she has 5 swimming pools, a driving range, a putting green, a jogging track (and, O.K., the clichéd shuffleboard and table tennis), a kennel, and even a Harrod's outpost.
Call her a cruise ship within earshot of any of her more than 1,200 crew, and you're likely to get your wrist kindly rapped by a white-gloved hand. She is a liner, an imposing liner, capable of slicing through tranquil or treache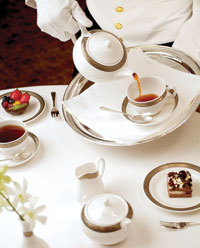 rous seas like a sleek cigarette boat or agile dolphin. She can chug along at 30 knots (a not-so-speedy 34 miles an hour, but on board, it seems swift), and despite a gross tonnage of over 150,000 tons, she's delicate, even when her deep A note bellows from her signature red-and-black whistle-funnel. (That horn is a vestige of the original Mary, and its basso profundo can be heard for ten miles.)
Last fall, the QM2 logged her 100th voyage across the pond, during which I had the opportunity to "road test" a westbound (Southampton/New York) crossing, in a gracious Princess Grill stateroom, an experience I would repeat in a heartbeat.
Yes, it's true sailing might not be for everyone, but if you like to:
• Read in a singularly unique atmosphere—like how about on-deck, in a classic chaise, with a smart tartan blanket wrapped around your feet, basking in glorious sunshine, with a mild breeze caressing your cheek;
• Eat in any of ten top-flight restaurants, one of which is under the artful culinary whisk of renowned chef Todd English (his famed Truffled Potato Loveletters should not be missed);
• Swirl your own frozen, dairy-delight treat in a cone, out of one of those nifty machines with the dispensing levers, anytime, 24/7 (I particularly liked doing this!);
• Take enrichment courses and classes (I brushed up on Advanced Excel), or an acting workshop with students from London's Royal Academy of Dramatic Art;
• Seek out another kind of "enrichment" course in the casino;
• Attend interesting auctions, lively discussion groups, or drink in fun lectures, like "Forensics for Everyone: Let's Bump Off Granny";
• Check out the exhibit (take the audio tour) throughout the ship, called "Maritime Quest," highlighting fascinating bits of Cunard (and world) history, punctuated by captivating old-time
photos;
• Luxuriate in a state-of-the-art, 20,000-square-foot Canyon Ranch spa (Yes, I dragged myself there a few t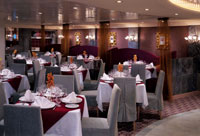 imes);
• Watch movies, stage shows, and assorted live entertainment in the ship's theaters, lounges, and nightclub;
• Sip elegant afternoon tea, accompanied by finger sandwiches, scones, and other tantalizing delices. (There are eight bakers on board who sure know their way around puff pastry; keeping about 2,
600 passenge
rs i
n
scrumptious carbs requires nearly 8,000 industrial-size bags of flour, that, if stacked up, would be taller than five Eiffel Towers!)
So, if you like to do any of those things, you could assuredly get accustomed to ocean-going travel and being treated like a celeb…speaking of which, the QM2's literature boasts that it has hosted more bold-face names tha
n any ship, from Elton John to Nelson Mandela, including Gotham's Mayor M
ichael Bloomberg an
d S
ecreta
r
y of State Hillary Clinton, to name but a few.
My voyage was filled with little vestiges that reminded me that it wasn't that long ago that steam travel was the norm: popping corks from bubbly and streamers and confetti soared skyward…royalty and commoners alike dressed to the nines for nightly black-tie dinners, after which the smart set would boogie to the big bands…café society arrived with their steamer trunks and lap dogs. Today, there are touches that are pitch-perfect, evoking that bygone era: I loved the captain's daily noontime speaker-broadcasts, always sending me to a map, announcing things like, "We're 625 miles astern of the Azores," or that we were "crossing the Grand Banks and the water depth is a mere 200 feet," or that we were "41 degrees, 21minutes north, 65 degrees, 45 minutes west of" some nautical landmark I'd never heard of.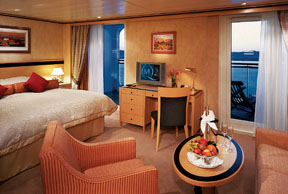 I enjoyed the Daily Programme (yes, so English) that arrived nightly with turn-down service, to keep me apprised of the next day's "big doings." And the notice on my TV screen five out of my six nights on board, which politely instructed: "Please remember to retard your clocks & watches by one hour before retiring." (Yes, so English.) This is perhaps the best perk of a westward crossing—with six nights on board and a five-hour time difference, you literally get five 25-hour days! Assuredly something to make you smile.
And speaking of smiling, you'll find yourself grinning cheerfully during your entire journey. I realized I hadn't stopped feeling heady and happy from the moment I got my sea legs. I spotted a sign when I toured the galley of the Britannia restaurant: Just to the right of the egress leading into the dining room, a blue-paper placard with yellow lettering was posted as a gentle reminder to the wait staff, which stated: "This is a Happy Area. Let's SMILE." The entire ship is a happy area and you'd be hard-pressed to feel anything but buoyant to take a wondrous and worldly voyage like this one…and bittersweet to see it end. On the last night, nearly everyone woke up to experience a (perhaps) once-in-a-lifetime event at 4:30 a.m.—sailing under the Verrazano-Narrows Bridge, with a mere ten-foot clearance. By 8 a.m., it was time to disembark, and I had to then encourage myself to consider that terra firma might also be a "happy area," but not as evocative as the one I was leaving.

To view the pages in pdf form, click here.