Upon entering the city limits of the Irish town of Tipperary, there are welcoming signs that proclaim, "You've come a long way…" referencing the marching tune "It's a Long Way to Tipperary," popular among the British military during World War I. You might well be tempted to make a similar declaration when you finally arrive at The Cliffs Preserve in the Lake District of coastal Patagonia, in southern Chile: The flight from Gotham is just over 12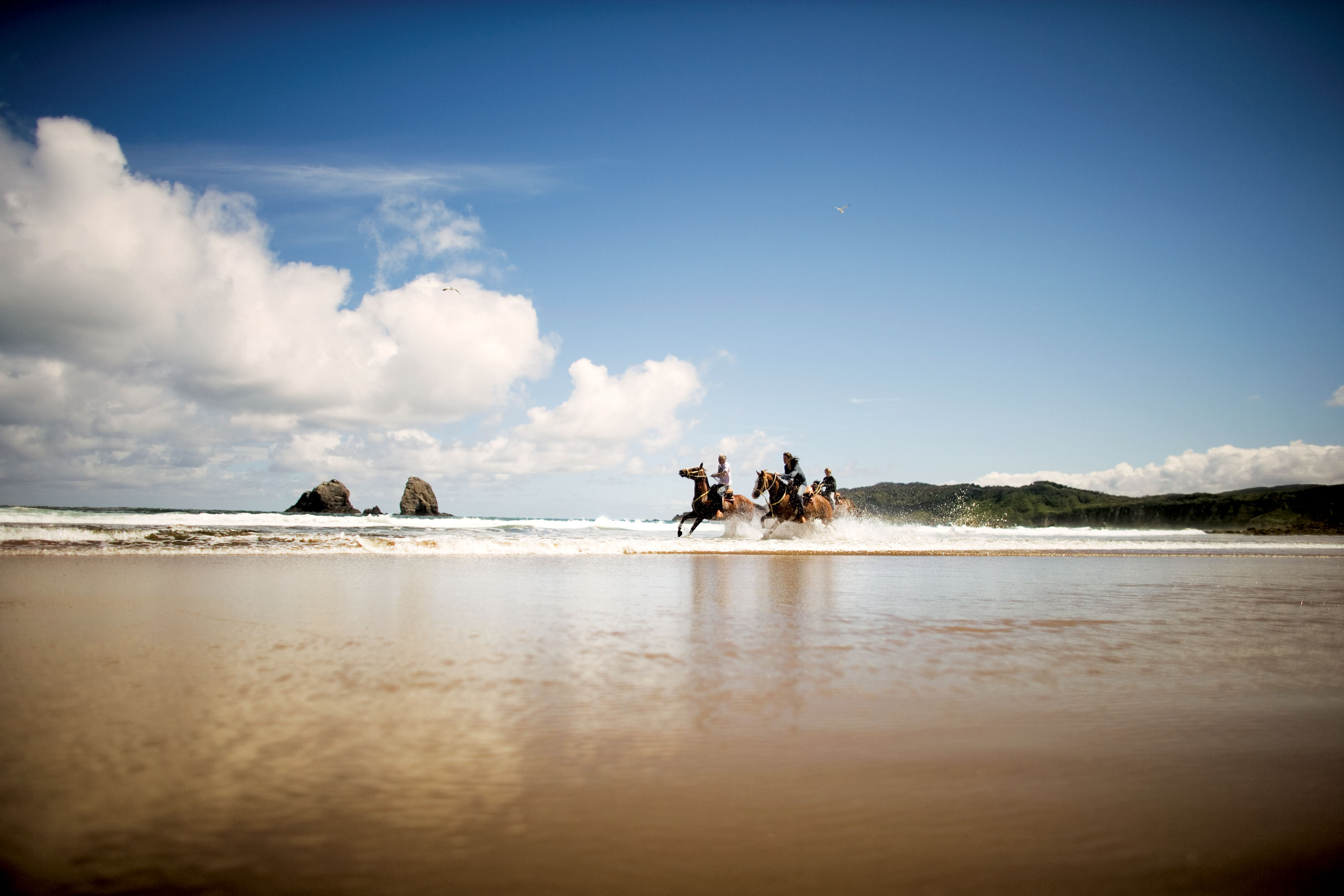 hours, the connecting flight from Santiago to Puerto Montt is another hour-and-a-half, and then the fillip is a 45-mile drive, the last third of which is slow-going, over a somewhat primitive dirt and gravel road, sliced through the wilderness.
Yes, it is a long way there, but when you alight from your four-wheel-drive chariot, you will have to catch your breath, lost not from exhaustion, but stolen by the awe-inspiring vistas splashed across a geographic canvas of 8,000 acres of temperate rain forest, a mere 6% of which is developed; the rest is still an arguably matchless eco-system with astonishing biodiversity. The powerful Pacific flanks one side, accented by rocky out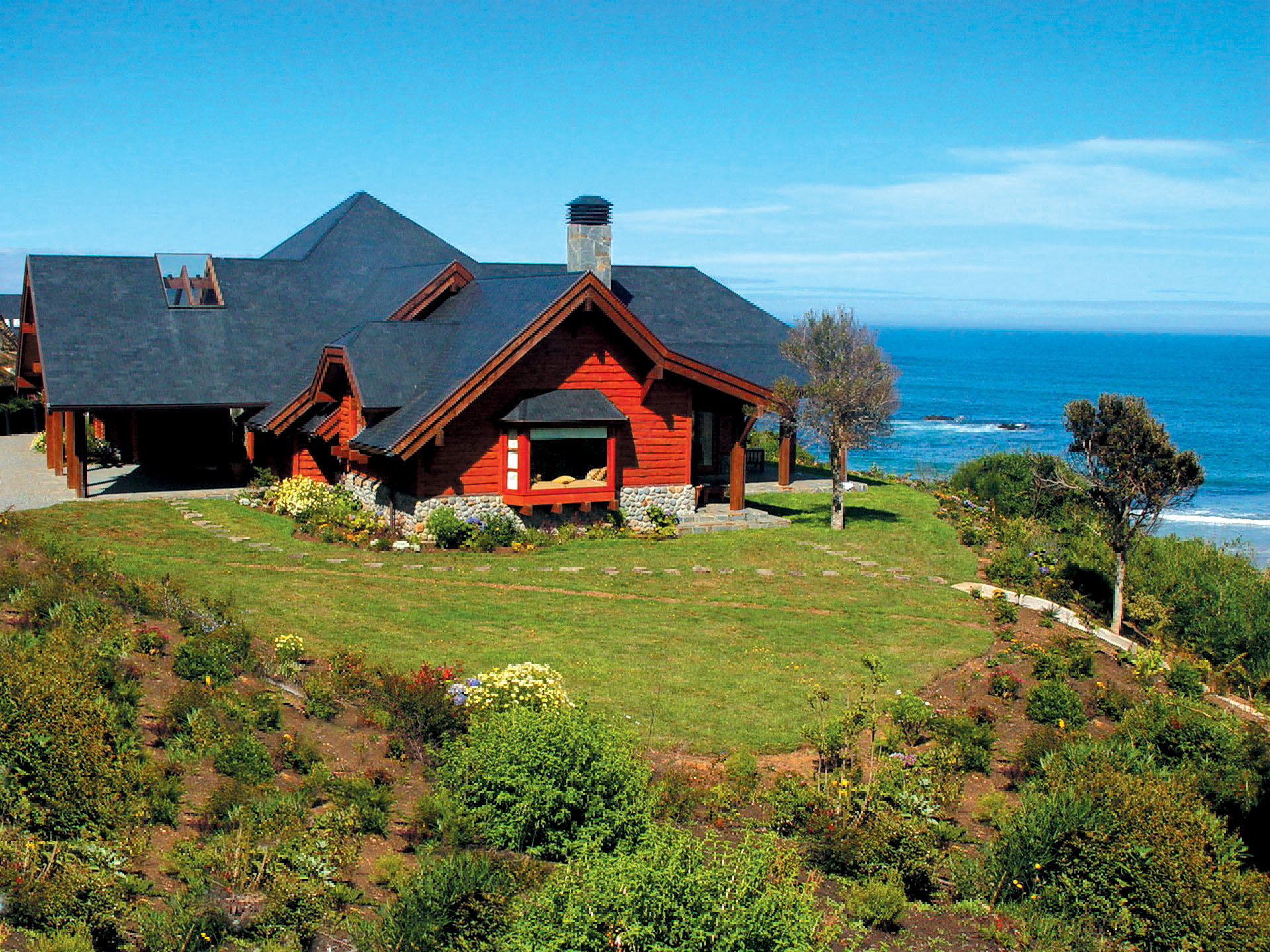 croppings; on the other side, a verdant swath extends to the horizon, dotted with majestic snow-tipped mountain ranges. It is easy to understand why Patagonia, a vast 300,000-square mile area in the southern half of South America, consistently garners kudos among outdoor enthusiasts, eco-travelers, and anyone who simply wants to escape from it all.
Instantly, you'll see you are truly in for a rare treat at The Preserve. Open for less than two years, it is the brainchild (and cherished "offspring") of president and CEO Jim Anthony, who is also the founder of The Cliffs Communities in the Carolina Preserve, located between Asheville, North Carolina, and Greenville, South Carolina. The stateside Cliffs is devoted to the prudent development of private, residential communities, with golf as the jewel in the crown of most of the company's eight mountain-lake developments. (The latest, The Cliffs at High Carolina, will feature the first-ever Tiger Woods golf course in America.) Anthony wanted to create a getaway resort, and avid fly fisherman that he is, he hunted for the just-right property in a pristine environment, a place w
here his commitment to ecology could reign. Et voilà, he lit upon Chilean Patagonia, where, not parenthetically, some of the finest fly fishing exists.
Fine, too, are the six miles of inviting coastline that form part of the perimeter of the property. Not surprisingly, there is rich marine life and world-class, deep-sea fishing. This is one of the most reliable places on earth to see Blue whales, and Humpbacks are also frequently encountered, as both mammals migrate from the equator to chillier seas. Fragile penguin species—Magellanic and Humboldt—can also be sighted on the craggy islets off the shoreline, when they establish their nesting colonies from November through May. Dolphins and sea lions and otters may cavort in the water near your boat; flamingoes and black-neck swan colonies might grace your outing, too. The area is home to over 50 types of birds, including the Black-browed Albatross and the Red-legged Cormorant, both classified as near-threatened.
The property has 20-plus miles of a skillfully built trail system that weaves through old-growth forests, open fields, pristine beaches, and natural ridges; inland excursions might include meandering jaunts or serious animal-tracking treks through the Valdivian temperate, coastal rainforest. Keep on the lookout for the 18" pudú, the world's smallest deer and for mountain monkeys, barely larger than a mouse.
Also for the nature lover, there are countless other activities, including bird-watching; guided coastal and river eco-system tours; Patagonian heritage and cultural tours. Especially popular are organic farm tours (perhaps followed by cooking lessons in the kitchen). The organic garden is well worth your attention for a half-day, what with its six acres of hand-planted, -tilled, and -farmed flowers, fruits, and vegetables, including five types of potatoes, five varieties of beans, and six kinds of lettuce. There are also dozens of local, medicinal herbs, and their mysteries are all explained by executive chef John Pinilla, who will share culinary uses, as well as medicinal applications, as practiced traditionally by the Mapuche Indians, the earliest settlers of the area.
There are also more adventure-oriented activities, like horseback riding in the outback or along the beach; mountain-biking; kayaking or white-water rafting on the grade 3-4 rapids of the Petrohue River; flying down the thrilling zip line (in nearby Puerto Varas); Osorno volcano tours (there are also two other volcanoes, the Puntiagudo and Calbuco); Maullin River sport fishing and heli-fishing.
And if you feel like doing simply nothing, you'll find your comfy villa and the 20,000-square-foot clubhouse (with its welcoming, massive, open fire pit) particularly hospitable. Of course, the resort has a small, but decently equipped and staffed spa/wellness center and gym, ideal for chilling out in Chile. You can also chill out with a Chilean wine-tasting (pisco sour-tasting is also a good sport here).
All the furniture in the villas is crafted on the premises by master woodworkers, led by the capable Esteban Quevedo. Floors are laurel, beams Douglas fir, and walls constructed from a combination of Brazilian sisal and the wood of a local conifer. In fact, everything, with the exception of the refrigerators, is from Chile, including fabrics woven in Santiago and crafts (even the flatware) created by local artisans. While great respect has been paid to nature, using indigenous building materials, no amenity has been sacrificed, including a music system, international phone, satellite TV, and wireless Internet. Villas all have a cozy living room-cum-fireplace, patios, a loft, a complete kitchen (there's even a washer/dryer), and an outdoor, wood-fired hot tub overlooking a magnificent panorama.
The fare at the clubhouse will satisfy anyone looking for wholesome and toothsome food. Gracing your table most nights is fresh produce from the garden, as well as seafood, like Pacific King crab, abalone, mussels, clams, and local fish; other nights, expect highly touted Argentine beef. You might just catch and harvest your own dinner, which could be a succulent sea bass wrapped in bacon with caramelized endive, tapenade, and spicy shrimp juice. While more than 85 different Chilean wines are exported, here you'll find local treasures, wines that never leave the country's borders.
By the time you've experienced a few days at The Preserve, you, too, may be of a mind not to leave Chile's borders. Simply put, The Preserve is not merely a vacation destination, but rather a retreat with soul.
[ the details ]
Villas range from about 3,500 to 4,000 square feet; prices are variable, depending on the size villa and the number of people, but in general, the least costly stay is four nights/five days for a Junior Suite, at $4,200 per person, in the low season,* which ends November 30 of this year; the most pricey is a four-bedroom Grand Villa, for seven nights/eight days during high season—December 1, 2009, through March 31, 2010—and costs $47,000 per villa. Prices include meals and many activities.
*Remember, the seasons are reversed south of the equator.
Cliffs Preserve at Patagonia 888-750-4839; cliffspreserve.com
To view the pages in pdf form, click here.