The use of color might seem a key concern for an artist. But for Picasso, the towering figure of 20th century art, color wasn't all-important. "The fact that in one of my paintings there is a certain spot of red isn't the essential part of the painting," he once told his companion Françoise Gilot. "You could take the red away, and there would always be the painting."
"Picasso Black a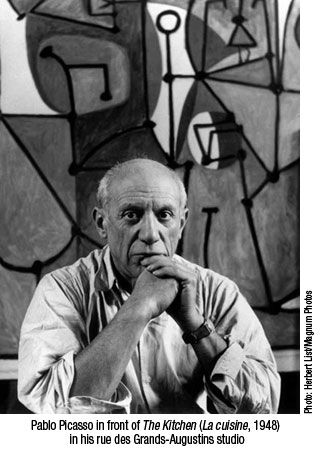 nd White," at the Guggenheim Museum through Jan. 23, does indeed "take the red away"—along with virtually every other color of the palette. Presented as the first major exhibition to focus on Picasso's use of black and white, the sweeping show features 118 paintings, sculptures and works on paper. Spanning his career, they range from 1904 to 1971 (just two years before his death at age 91). And all of them hold back the color.
Visitors needn't hunt for a "black-and-white" period akin to his Blue Period or Rose Period. As the exhibition makes clear, Picasso repeatedly employed a limited palette throughout his career, whether to work out a knotty compositional problem, express a singular emotion or, as he regularly did, explore a different artistic path.
"He's always inventive, very creative," said Carmen Giménez, the Guggenheim's Stephen and Nan Swid curator of 20th century art, who organized "Picasso Black and White" (with the aid of associate curator Karole Vail). "When everyone was settled down in Cubism, he broke with Cubism and went to Neo-Classical. And he was never a Surrealist, but he flirted with it," she said.
In the course of his explorations, Picasso produced an outpouring of black-and-white works, said Giménez, a Picasso scholar who has curated numerous exhibitions on the artist. "He has done thousands of them."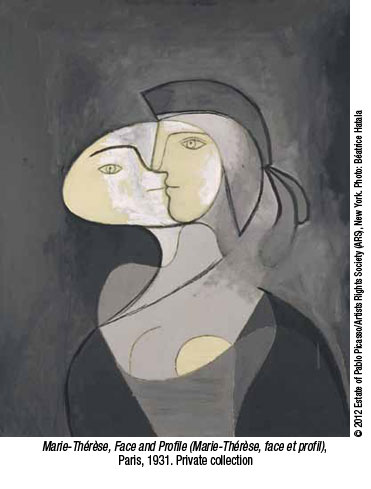 Despite its austere title, "Picasso Black and White" is alive with inky blacks (and their opposite, white) and countless versions of grey. (As Gertrude Stein said of his early still lifes: "There is infinite variety of grey in these pictures, and by the vitality of painting the greys really become color.")
So we get the leached-out, blue-greys of his 1904 "Woman Ironing" (painted toward the end of his Blue Period, when Picasso was desperately poor and mourning the death of a friend); the peachy tint in the 1908 "Study for The Dryad (Nude in a Forest)"; the grey-browns of Cubism; the cool whites, evoking ancient Greek and Roman sculpture, of the Neo-Classical figure paintings.
Many of the works are from private sources—most notably the Picasso family—and some have never been on public view before. In part, that is because Picasso seems to have placed a special value on his black-and-white works. "He didn't want to part with them," Giménez said. One famous exception was "Guernica"—his anguished response to the aerial bombing of a Basque town during the Spanish Civil War —which was painted for the 1937 World's Fair in Paris. (The curator has a deep personal connection with this era: As she writes in the exhibition catalog, she is "the Spanish daughter of an exiled republican forced to leave his country" with the victory of the fascist general Francisco Franco. Her father fled to Morocco, where Carmen Giménez was born. "In my house we had a reproduction of 'Guernica,'" she said. "Many, many republicans had that. And my father really loved Picasso.")
Inevitably, the question arises: Why did Picasso use black and white so often? "I think he was more interested in the line and the structure of his painting—much more than in the color," the curator said. And, she noted of his black-and-white oeuvre, "he used it differently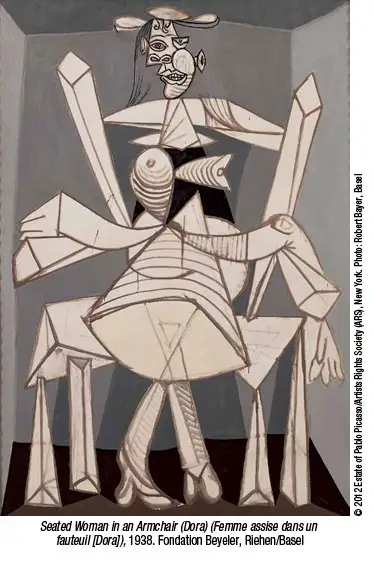 " depending on his purposes. He used it when decrying the horrors of war (though, the show points out, these tended to be complex compositions, and Picasso often reduced his palette when working out difficult compositional problems).
In addition to several studies for "Guernica" (the monumental painting itself is in the Reina Sofia museum in Madrid), the exhibition features such war-related works as "The Charnel House," completed in 1945, as newsreels and photographs documented the horrors discovered within newly liberated Nazi concentration camps.
Another, very different, reason to restrict his palette, the show suggests, was Picasso's desire to reconnect to his fellow Spanish painters, especially Velásquez and Goya, with their own uses of black and grey. Among Picasso's art-historical reinterpretations here is a version of Velásquez's "Las Meninas" ("The Maids of Honor")—the first and largest of his 44 variations on the subject.
Ultimately, said Giménez, "he became free of all this history and had a good time." So he did, producing in his late years a series of sensual images of voluptuous nudes: reclining, playing with little cats, or engaged in more ribald activities. "I think he maintained the same intensity" throughout his life, Giménez added. "In the beginning, and at the end, too, he looks like a very young artist."
Solomon R. Guggenheim Museum
1071 Fifth Avenue; 212-423-3840;
guggenheim.org