If the unexpected, Halloween-weekend snowstorm got you thinking about the potentially harsh winter ahead of us (and don't even get me started about the relentless and deadly winter behind us), then you, like moi, began considering a Caribbean retreat in the next few months. And if you are dreaming about a warm-weather get-away, then think no farther south than Saint Martin/Sint Maarten, an island paradise, shared in the spirit of neighborly friendliness by the French and Dutch for nearly 350 years. Moreover, it's the smallest island in the world, indeed, ever to have been thusly partitioned between two different nations, and for a small island -- a mere 37 square miles -- it sure offers a lotta' bang for the buck.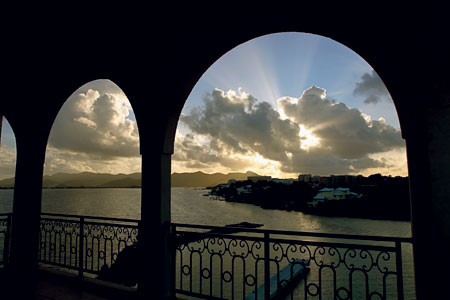 The island is not actually divided fifty-fifty, however. The French have a larger share. The story goes that during the period of European colonization of the New World, the Dutch and French each laid claim here. But, while quibbling over where the borders should be, the two nations decided that two bands of nationals would set off from a common point, each walking around the island in opposite directions. Wherever they would meet on the other side would be the line of demarcation, with a border drawn from that second meeting point to the mutually agreed upon starting point.
Sounds fair enough. BUT, given that the French fortified themselves with wine for this odyssey, and the Dutch armed themselves with gin, you might imagine that "the walking" was not exactly at a marathon pace. And given that the apocrypha of the tale posits that the Dutch had to stop to sleep off the booze, the French made better headway...or so the story goes. However, folklore holds that in reality, the French had gun boats off the coast at the time, a great inducement for the Dutch to accept French terms. And so it was that they drew up their treaty in 1648; the borders changed another 16 times until 1815 when the Treaty of Paris fixed the boundaries for good, giving the French the lion's share, perhaps two-thirds of the island.
No matter. It's an island paradise with the average temperature hovering around 82 degrees. Every day you wake up and it's glorious. There are several dozen enticing beaches, delicious cuisine, duty-free shopping, and for home-owners, Sint Maarten is Mecca, since there are no property taxes and no capital gains taxes on the Dutch side. Sounds good, right? Well, it certainly does to the people who live there -- and the island is home to residents from over 90 different countries. It's a bustling economic center of the northeastern Caribbean, and also offers sun and fun in a casual setting.
Nowhere is this lovely lifestyle more obvious than at Porto Cupecoy, a Mediterranean-style, 184-residence compound on the Dutch side of the island, a stone's throw from the French section. It is snuggled on 20 acres in the Simpson Bay Lagoon, which is landlocked (and very protected), save for two narrow channels (with draw bridges). Porto Cupecoy, developed by the prestigious Orient-Express, Ltd., company, renowned worldwide for the celebrated hotels (and fabulous trains) that it manages, and on which it has bestowed its exacting imprimatur. (And it's worth noting, that scarcely a few miles from Porto Cupecoy is the sensational resort, La Samanna, legendary in the Caribbean, and also an Orient-Express property.)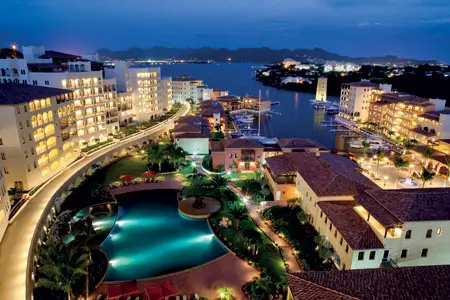 The company has created a charming village here, in tints of ochre, burnt sienna, mustard, and sunflower. Nearly 70% of the homes are sold (sales started in '05, the development broke ground in '06, and residents started moving in in 2010), but there are still properties to be purchased, and for those who do not want to be homeowners, vacationers can rent owners' properties and enjoy the feeling of a home away from home, without any responsibility. In other parts of the world, this type of arrangement is known as villa rental, self-catering or holiday homes, or the like...doesn't matter what they are called, as they represent the perfect get-away for someone who wants a lot of space for the family, many options in accommodations (waterside? garden side?), and who wants to choose from among various offerings -- from one-bedroom apartments to four-bedroom penthouse homes with rooftop pools and countless amenities.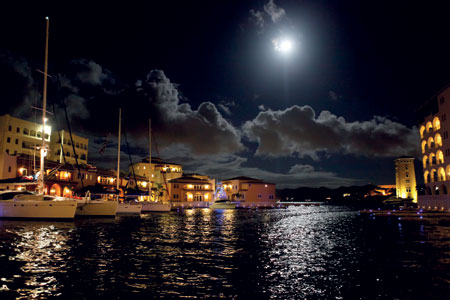 Regardless of where you rent here, at Porto Cupcoy you will find every convenience you could want: tennis courts (lit at night), a leased spa facility (modest, but it certainly does the trick for a wrenched back, or weary feet), a fabulous marina (with slips for 54 boats, and with facilities to handle 11 mega yachts, of three-hundred-plus feet), lots of shopping (in Philipsburg and Marigot you will also find major European designer brands), a local gourmet market, restaurants (Le Moulin Fou Steakhouse, where I had a really wonderful dinner, will meet exacting standards, and it is right in the heart of the on-premises "village"), a good-size pool, and countless other services.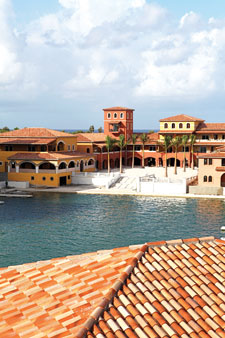 There are 35 buildings spread out over the development, housing one- to four-bedroom homes. Just about all bedrooms have en suite baths, and homes range in size from about 1,000 square feet to just under 3,000 square feet. Purchase prices span the gamut, from about $435,000 to $2.5 million. But when you buy here, you are buying much more than a mere structure. Available to you is a complete menu of concierge services—the staff will fill your fridge in anticipation of your arrival, will arrange for daily housekeeping while you are in residence, will even dry clean your curtains, wash your bedding, and hang up your clothes (if you have stored things in your lock-out closet facility, assuming you've put your home in the rental program). The staff will arrange for and set up your home entertainment system, satellite/cable TV, Internet, and even arrange for baby-sitting, pet care, and personal training at the state- of-the-art gym. Homes are, of course, built to be hurricane-resistant; inside, they are equipped with top-tier Viking appliances, and should you wish to take the hassle out of furnishing, there are furniture "packages" available, so you can simply fly on down to your island nirvana and turn the key in the door, and be in your completely tricked-out home-sweet-home, ready to rock-and-roll.
Additionally, Porto Cupecoy is very self-sufficient, with its own desalinization plant, generators, sewage system, cistern, and chilling plant. And you'll make many new friends here, too: About 35% of the buyers are from France, 35% from America, and the rest from all over the globe—an international community that might include neighbors from Canada, China, South America, and Great Britain.
If you come as a renter, you have the option of staying thee nights during most of the year, with the following exceptions: Thanksgiving (November 21st through the 27th, a five-night stay); the Heineken Regatta festival (February 29th through March 5th, a five-night stay); Easter week (five nights, also); additionally, during the Christmas season (December 21 through January 2nd), the minimum stay is ten nights. Rental fees could be as low as $205.00 per night, during the low season (April 14th to December 14th), for a garden (not water) view, one-bedroom home and range up to $695.00 for a four-bedroom villa (garden view, during the high, but not holiday, season), or a slightly higher $785.00 for a deluxe villa during the same period.
For further information, contact Richard Seay: rseay@portocupecoy.com; 888-412-9922, 917-519-0145; +1721-545-2318 ext 5305; www.portocupecoyvillas.com
(One last note -- a personal one -- I need to put in a plug here for my dog Austin's godfather, Jeff Sochrin, a longtime Saint Martin devotee and fulltime resident...and now a well-known DJ on the island's popular station, Island 92, which features "rock, blues, and good-time radio" at 91.9 FM.)