When considering a real estate purchase in Manhattan, it comes down to two choices: prewar or modern. Beautiful hardwood floors and crown moldings treat prewar property owners to vintage sophistication, while modern construction provides cityscape views from sky-high floors and the option to add a wine cooler to the kitchen or spa Jacuzzi to the bathroom before buying. If selecting one over another proves difficult, consider which of these three lavish properties speaks to your personality.
The Prewar: Exclusively Elegant
Prewar construction in the condominium co-op (Condop) at 995 Fifth Avenue comes in the form of 26 private homes at the former Stanhope Hotel. Each residence has gorgeous coffered and barrel-vaulted ceilings, as well as Santos Mahogany floors, and Lefroy Brooks, Waterworks, and Dornbracht fixtures.
"Prewar home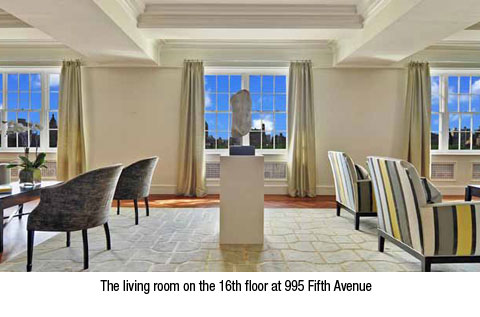 s are simply not made anymore, and there is always a limited inventory. Prewar residential buildings in Manhattan have always commanded the interest and the value that rare art masterpieces realize," says Nikki Field, Senior Vice President and Associate Broker for Sothebys International Realty. "The sheer limited number of homes available in these buildings, which were predominately designed and erected in the Golden Age of Manhattan society, continues to attract collectors of fine real estate."
The full 16th floor, for example, boasts more than 8,000 square feet, a six-room master bedroom suite, and grand gallery for art collectors. Built in 1926 by Rosario Candela, the property received an update in 2008, and this floor's complete redesign concluded earlier this year. The price of this luxurious home with vast views of Central Park, the Reservoir, and the Metropolitan Museum is $30 million.
Modern conveniences, such as an AMX building security system (and a round-the-clock doorman), La Palestra health and fitness spa, and a billiards room, mesh with prewar signatures like 10-foot ceilings, formal dining space, and a library with a wood-burning fireplace
For entertaining, the sun-drenched great room and media room provide plenty of space, as do the dining and sitting rooms and the Smallbone kitchen with Sub-Zero, Miele, and Viking appliances and breakfast room. Visitors will feel right at home in the private guest wing. As one of the largest residences on Fifth Avenue, the four additional bedrooms and 9.5 baths provide ample space to accommodate the whole family.
"Native New Yorkers prefer prewar homes as so many of them grew up in them, and they are driven back to the familiar sense of traditional lifestyles in familiar and beloved neighborhoods," Fields says. "New arrivals are often focused on securing the lifestyle that they have become so familiar with from New York films, and Europeans gravitate to the elegant buildings along Central Park and around Madison Avenue. These are the areas they know best from their visits here and they would like to melt into the fabric of the elegance of the neighborhoods."
In some homes in this residence, precious stones and mosaics are available to create custom baths and there is a choice of contemporary or classic arch detail. Both help customize the space, an option that many who opt to buy prewar miss out on.
The Moderns: Superb Service...
Although prewar construction may play to your love of all things antique and elegant, modern buildings claim some extravagant perks as well. At 400 Fifth Avenue, the condominium tower offers unparalleled service paired with unmatched views.
Located above the five-star-rated Setai Fifth Avenue Hotel, residents can receive hotel services, including housekeeping, valet parking, in-home dining and catering, and linen, and turn-down services, which are available at an additional cost. Homeowners also have access to the 3,000-square-foot Techn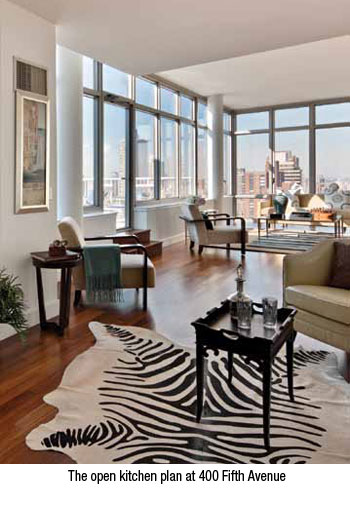 ogym Fitness Center and business center with private conference room. The hotel restaurant serves dishes crafted by celebrity chef Michael White.
"With a prewar situation, you are limited as to what you are able to create," says Karen Mansour, Executive Vice President for Douglas Elliman Development Marketing. "The condominium over [a] hotel allowed us to create something completely different."
In addition to building a space unlike any other, the residences at 400 Fifth Avenue offer buyers views of the entire city, with the homes beginning on the 31st floor.
"You don't have that in any prewar building," says Giuseppe Rossi, Executive Vice President of Bizzi & Partners Development. "It's an urban resort with all the comfort that you want, and there are stunning views and beautiful architecture."
The price point for the homes range from just under $1.5 million for a one-bedroom residence to $32 million for a penthouse with north/south and east/west exposures to create a breathtaking 360-degree view from the top. Because of the central location, Rossi says the building is attracting a global audience.
...Spacious Living
For buyers in the market for a well-located modern building with significant square footage for entertaining, look to The Azure at 333 East 91st Street. Offering 400 square feet more than the typical West of Lexington luxury living space, the 3,005-square-foot, five-bedroom home fits large families comfortably for $3.6 million. For singles, one- and two-bedroom units offer about 1,000 and 2,000 square feet for $775,000 and $1.2 million, respectively.
"The large units are pulling people away from the classic sixes," says Doug Maclaury, Senior Vice President of the Mattone Group, one of The Azure's two developers. "The added space is attracting people in from Park and Madison, who are priced out or can't find the size home they are looking for."
Macla
ury also notes that with a game room for teens, children's playroom, two furnished roof-top terraces and a close proximity to Asphalt Green, Carl Schurz Park, and many private and public schools, this modern property attracts families.
The Azure isn't just for families, though. With 11-foot-high ceilings, floor-to-ceiling windows, Viking kitchen appliances, and marble bathrooms couples and foreign visitors looking for a lavish pied-à-terre are drawn in. Another exciting benefit in this modern residence is the ability to make requests for specialized finishes or reconfiguring the space to allow more room for entertainment.
"It's a huge perk to be able say, 'we would like to have this' or 'can we move that?'" Mansour says.