R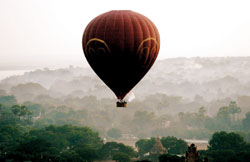 emote Lands bills itself as the world's foremost luxury, custom-travel planner, with a specialty in Asian adventure-"adventure" and "custom" being the operative words. In business since 2007, the Remote Lands team (seasoned explorers themselves) has arranged countless exotic journeys for clients seeking dream itineraries all over the Far East, from Bhutan to Japan, India to Indonesia. Trips are custom-crafted for individuals' need (read: whims or fantasies) and to better service travelers on their far-flung voyages, the firm maintains not only its central headquarters in New York, but also a satellite office in Bangkok to handle on-the-scene logistics and details.
Most trips highlight extraordinary experiences with insider access to remarkable people and exclusive events-and while almost all the organization's itineraries are unique, Remote Lands is offering four suggestions for the coming New Year's Eve, so hurry and book! For party animals, a lively "Bollywood Bash" with a lavish Indian banquet, dancers, and fortune tellers hosted by Prince Shivaji Rao Holkar, the son of the last maharajah of Indore, at the 18th-century Ahilya Fort Hotel; at the other end of the levity spectrum, the company suggests a private-yacht charter to lollygag along the secluded beaches of Indonesia, catching the full "blue" moon rising for the new year; for the spiritual, trips to a monastery can be arranged in Bhutan's Bumthang District, where the Amankora Resort serenely awaits visitors; for the active traveler, schuss down the slopes of Hokkaido in Japan at midnight, and then follow the bracing run with a raucous bonenaki ("forget the year") party with sparkling sake, after which you can ring the 108 bells at a Shinto shrine to celebrate.
Prices usually start at about $1,000 a day per person, but can easily soar way above that, once you start adding in transportation on private jets and über-luxurious yacht charters. For further information, contact Remote Lands:
646-415-8092; remotelands.com.