SOFA New York is an amazing annual show of fine craft art; the acronym stands for Sculptural Objects and Functional Art. From April 13th (Wednesday night is the opening gala) through the 17th, at the Park Avenue Armory, the exhibition has long been heralded as the nation's premier fair for outstanding cutting-edge and contemporary decorative arts and design. The show will feature 55 galleries from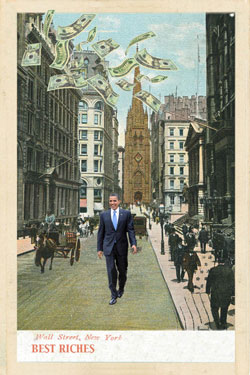 around the world displaying some of the most remarkable work-jewelry, fiber art, glass, wood, ceramics, paper, and who-knows-what-else. This is a serious show for collectors, but it's also a magnet for browsers who want to be educated and for shoppers who might want to pick up, say, a one-of-a-kind beaded necklace from German jewelry designer Axel Russmeyer, or museum-quality glass sculpture from the important glass artists handled by the Heller Gallery. Look for fanciful photo works from artist Lucy Feller at Ferrin Gallery that tell a family history or celebrate a personal milestone. And this year there are new international galleries presenting their artists: Korean Craft and Design Foundation; Litvak Gallery (Tel Aviv); Gallery S O and Sarah Myerscough Fine Art (both from London).
SOFA: Park Avenue Armory (Park Ave. & 67th St.); opening night, private-view gala on Wed., Apr. 13 by invitation only, between 5:30 and 7pm.; the public vernissage, 7 to 9pm, requiring a ticket ($100). Hours: Thurs. & Sat., the 14th and the 16th, 11am-7pm; Fri. the 15th, 11am-6pm, and Sun., the 17th, noon-6pm. Tickets: $25 for a single day/general admission; $40 for a four-day pass (including the catalog). sofaexpo.com; 800-563-SOFA (7632).