My guide in Kuala Lumpur had told me laughingly that the locals are obsessed with food in this exotic city -- the sixth-most-visited on earth, in fact, according to the World Tourism Organization -- and on my first morning there at the exquisitely appointed Shangri-la Hotel, I knew she was right: Most five-star hotels have an omelet bar at the traditional breakfast buffet, so I certainly was not surprised to see a chef custom-crafting eggs at the hotel's breakfast spread. But, I was assuredly not prepared for the depth and breadth of the number of other "bars" (no, none was offering alcohol, but a noodle bar, a sushi bar, a dim sum bar, and a carving station bar were all offered) where eager, toque-topped cooks prepared delicacies that I had not even heard of! And, did I mention that there were two cascading fountains of molten chocolate, with fruits, marshmallows, breads, etc., for dipping? It was 8 a.m. when I went for breakfast, and yet the early-morning fare included a virtual Venetian dessert table!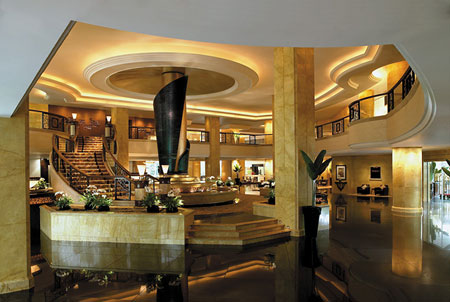 The lobby of the Shangri La Hotel
This is just the tip or the proverbial iceberg: Prepared dishes included fish curry, mutton soup, chicken pau Chinese, long cabbage with carrots and onions, ginger beef, and pork with hot bean paste, among the dozens; suffice it to say that there were Western specialties, Chinese delicacies, Japanese cuisine, and Malaysian traditional foods.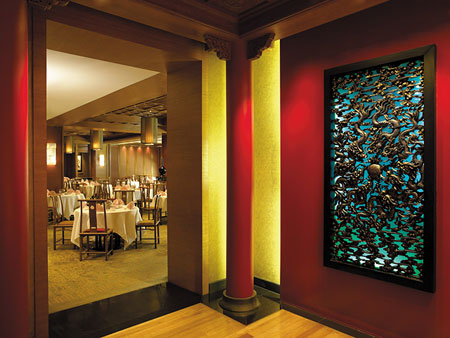 Shang Palace
Since the day had started so deliciously, it made sense to end my first touristy sojourn with another splendid meal, this time at the hotel's Shang Palace, a Chinese restaurant where a scrumptious ten-course banquet is de rigueur, and which might include succulent deep-fried prawns with lemongrass, or stewed marinated spare ribs in a "secret" chef's sauce, with a crispy bun.
But eating is not the whole picture of KL. In the area known as the Golden Triangle, where the hotel is located, and which two million people call home, there is upscale shopping galore where all the usual suspects from Fifth Avenue, Sloane Street, Avenue Montaigne, or Via Montenapoleone have boutiques. But, if you want real fun and adventure shopping, then head to Chinatown's nighttime market, which appears out of nowhere at dusk, and is completely dismantled by 10:30. Hundreds of minuscule stalls seem to pop up with the wave of a magic wand and then, poof! They're gone.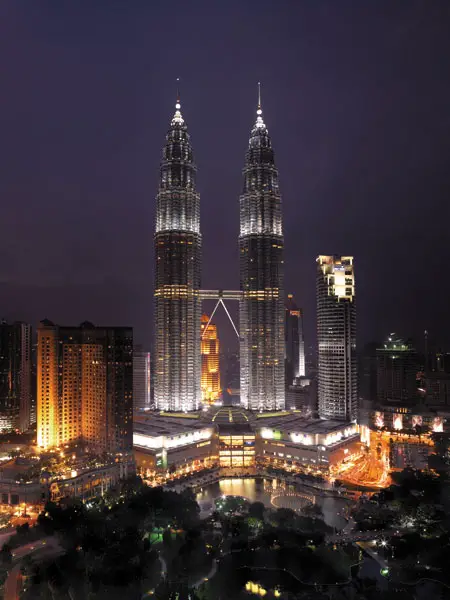 The Petronas Towers
After shopping, the first must-see is the majestic Cesar Pelli-designed Petronas Towers, which were the tallest buildings in the world from 1998 to 2004; they are joined with a sky bridge (between the 41st and 42nd floors) that provides an eagle's-eye view for miles. The bridge is anchored in such a way as to move with the two towers, which do sway a few feet at that high altitude. The National Monument commemorates the nation's felled soldiers, and is worth seeing, as is the Sultan Abdul Samad building, among the lovely colonial-era structures that are centered around Independence Square.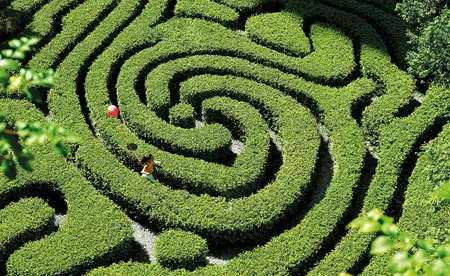 The Children's Maze at the Shangri La Hotel
Outside of the city is the marvelous Orchid Garden, with over 800 colorful species of regal orchids in shades of rose, violet, burnt umber, snowy white, and lime green. The rainbow-bright Batu Caves, the largest Hindu shrine outside of India, are also located outside the city; it is a 300-step climb up a limestone hill to view the hidden temples, so be prepared for a trek. If you are interested in housewares and tabletop objets, then a visit to the Royal Selangor Pewter Company is worthwhile, as you will get to view behind-the-scenes production of the wide range of pewter the company has been producing for four generations, and you'll even get to sit at a pewter smith's workbench and hammer, polish, and engrave a piece of pewter. The factory also has a large shop, where both the traditional wares—tankards, cufflinks, and so on—are sold as well as more modern, unusual pieces, like children's gifts and flash drives. (And speaking of children, in case yours do not want yours to come with you on a sightseeing expedition, the hotel has a charming maze in its courtyard—not that I am suggesting it's a place for them to get lost, but it's certainly a novel site for play.)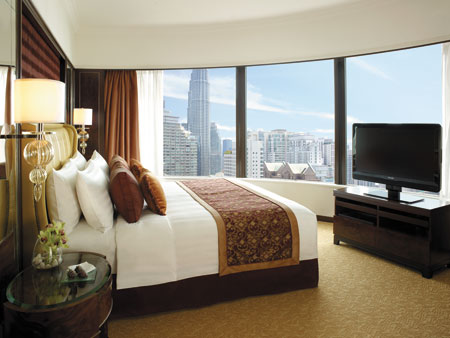 One of the rooms at the Shangri La Hotel
After a rough day of shopping and sightseeing, it's a welcome relief to return to the cossetting hotel where the staff cannot do enough for it guests. A cuppa' in the lobby lounge is a nice respite before heading upstairs to your sanctuary. The Shangri-La's rooms are elegantly furnished and thoughtfully appointed: a flat screen is embedded in the bathroom mirror; there is a box of cords and charging cables as well as office supplies in the desk; and in the closet, there is not only a cuddly terry robe, but also a soft cotton Japanese yukata robe for lounging. Fresh flowers grace the dressers and an entire coffee/tea service is tucked away in the pull-out bar drawers, where countless delicious chocolate bars are also attentively provided for a post-shopping pick-me-up, a wonderful snack that will keep you out of the mini bar, but provide the just-right sugar fix after a heavy day of touring.
Yes, this is definitely a city obsessed with food and the Shangri-La knows how to tempt you. If you still have energy at the end of a long day, take a short hop to the Shangri-La's sister hotel, Traders, where there is a sky bar with a spectacular view of the Petronas Towers (quite something at night, under the stars), and a drinks menu with all kinds of exotic brews. I had a great time there, and it wasn't just because they had a drink named for me! (The Sky Ruth is a heady blend of sweet peach, cinnamon, guava, and I am not sure what else!) A perfect way to end an evening.