The power of prints and patterns has brought on a whole new range of wardrobe options this summer. Inspired by the season's heat, designers have answered the call of the wild and brought fashion b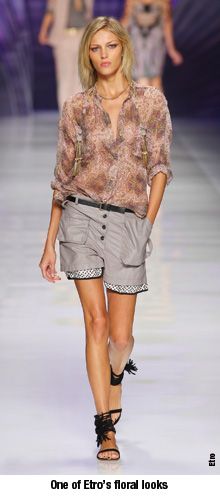 ack to its roots - that is, nature.
This summer, fashionistas can dress themselves in tribal chic and safari luxe - fun looks that infuse primary colors with farouche prints, unleashing a style that has been described as "beautifully wild." Colors are frequently based on tans and browns, but very bright pops of color - red, orange, yellow, turquoise - brighten the earthtones, while feathers or beads are used for accent.
This new trend ruled the runway back in September, when it was first introduced for Spring/Summer 2010; now these styles are dominating the shops and boutiques, where you'll find that acclaimed designers such as Catherine Malandrino, Diane von Furstenberg, Gucci, and Moschino have included their fair share of exotic influences in their collections.
Floral prints are also blooming all over the fashion scene. From silk blouses to long evening dresses, swimwear to harem pants, flowery prints - demure or bold - give women's fashion a touch of the ultra-feminine. Flower-inspired jewelry will also be spilling over from spring lines to decorate summer fashion, as seen in collections by Balenciaga, Marc Jacobs, Donna Karan, and Etro.