Oscar, Emmy, Grammy and Tony luminaries—plus an impressive collection of UK stars—light up New York stages in ensemble plays, new musicals, first revivals and one-person shows.
BROADWAY
Ann (now open) - Holland Taylor (right) - Fresh from Two and a Half Men, Taylor is the first "soloist" of the season. Her theatrical alter ego? Ann Richards, the charismatic 45th Governor of Texas.
The Assembled Parties (Previews 3/19; Opens 4/17) - Jessica Hecht; Judith Light; Jeremy Shamos - Crackling performances are a given as a formidable cast takes on two family gatherings spanning 20 years in this new work by Tony winner Richard Greenberg.
The Big Knife (Previews 3/22; Opens 4/17; Thru 6/) - Bobby Cannavale; Marin Ireland; Richard Kind; Doug Hughes (director) - His platinum star on the rise, Cannavale (Boardwalk Empire) and company are poised to rock this first Broadway revival of Clifford Odets' masterwork.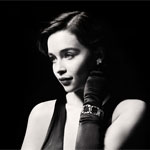 Breakfast at Tiffany's (In previews for a 3/20 opening) - Emilia Clarke (left); Cory Michael Smith; George Wendt; Lee Wilkof - London-born Clarke (Game of Thrones) is Holly Golightly in Richard Greenberg's second play to debut this spring, this one based on Truman Capote's famed novella.
Hands on a Hardbody (In previews; opens 3/21) - Keith Carradine; JD Drew; Hunter Foster - Hot new musical by Pulitzer Prize winner Doug Wright based on 1997's documentary about 10 down-and-out Texans competing for a new truck.
I'll Eat You Last: A Chat with Sue Mengers (Previews 4/5; Opens 4/2) - Bette Midler - The Divine Miss M returns to Broadway as the groundbreaking "superagent" who stormed the male-dominated gates of Hollywood and never looked back.
Jekyll & Hyde (Previews 4/5; Opens 4/18; Thru 6/30) - Deborah Cox; Constantine Maroulis; Teal Wicks - Two pop stars -- R&B diva Cox & American Idol/Rock of Ages alum Maroulis -- head an ace cast in this first revival of Frank Wildhorn's greatest hit.
Kinky Boots (In previews; Opens 4/4) - Billy Porter; Stark Sands - Rock legend Cyndi Lauper and Broadway icon Harvey Fierstein are the creative powerhouses behind this new stiletto-heeled musical must-see.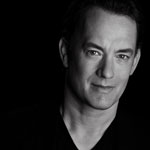 Lucky Guy (In previews; Opens 4/1; Thru 6/1) - Tom Hanks (right); Richard Masur; Peter Scolari; Maura Tierney; Courtney B. Vance - Hanks tackles Broadway as controversial 1980s tabloid columnist Mike McAlary in this play by Nora Ephron (Sleepless in Seattle, You've Got Mail).
Macbeth (Previews 4/7; Opens 4/21; Thru 6/3) - Alan Cumming - Direct from sellouts in Scotland and the Lincoln Center Festival, Cumming (Cabaret; The Good Wife) brings his solo spellbinder to the Barrymore Theatre.
Matilda (In previews; Opens 4/1) - Bertie Carvel - Critical kudos, multiple Olivier Awards and big buzz make this musical adaptation of Roald Dahl's children's book this season's "don't miss" London import.
Motown: The Musical (Previews 3/11; Opens 4/14) - Brandon Victor Dixon; Vakusua KeKae - A feast of R&B classics and such key figures as Motown founder Berry Gordy, Diana Ross, and Smokey Robinson. Worth the flashback? I second that emotion.
The Nance (Previews 3/21; Opens 4/15) - Cady Huffman; Nathan Lane; Lewis J. Stadlen - In his new play reuniting Lane and Huffman (The Producers), Douglas Carter Beane integrates 1930s burlesque with a gay performer's secret offstage life.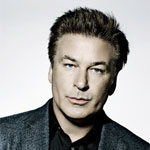 Orphans (Previews 3/19; Opens 4/7) - Alec Baldwin (left); Ben Foster; Tom Sturridge - Dark humor and intense drama from a trio of first-rate performers earmark Lyle Kessler's compelling 1980s drama for a healthy run.
Pippin (Previews 3/23; Opens 4/25) - Charlotte d'Amboise; Terrence Mann; Andrea Martin; Patina Miller - The triumphant American Repertory Theatre circus-centric version of the long-running 1970s musical in its first Broadway revival.
The Testament of Mary (Previews 3/26; Opens 4/22; Thru 6/17) - Fiona Shaw - Premiering on U.S. shores, this solo drama set after the Crucifixion stars the fearless British actress who awed us as Medea in 2002.
The Trip to Bountiful (Previews 3/30; Opens 4/23; Thru 7/7) - Cuba Gooding Jr.; Condola Rashad; Cicely Tyson; Vanessa Williams - The stage and screen pedigrees of this awesome cast merit booking your seats now for Horton Foote's life-affirming family odyssey.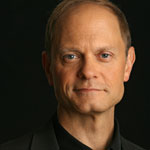 Vanya and Sonia and Masha and Spike (Previews 3/30; Opens 4/23; Thru 6/30) - David Hyde Pierce (right); Sigourney Weaver - From off- to on Broadway with the same starry cast, Christopher Durang's comedic escapade parks Chekhovian themes in a Pennsylvania farmhouse.
OFF-BROADWAY
The Madrid (Opens 3/14; Thru 7/7) - +John Ellison Conlee; Edie Falco; Frances Sternhagen - A new star-filled drama examining a family dealing with loss, freedom, devotion and reality.
Nikolai and the Others (Previews 4/4; Opens 5/6) - Blair Brown; Michael Cerveris; John Glover - The Russian artists behind the ballet Orpheus gather for a weekend in Connecticut in this Lincoln Center premiere.
Old Hats (Thru 4/7) - Bill Irwin; David Shiner - Not since Fool Moon (1999) has this clown duo come together to wreak hilarity on Broadway!
The Revisionist (Thru 3/31) - Jesse Eisenberg; Vanessa Redgrave - Eisenberg wrote and costars with the legendary Redgrave in this captivating drama set in Poland.
SIX DEGREES OF CELEBRITY TRIVIA (ABRIDGED)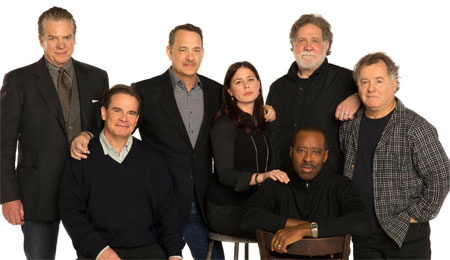 Lucky Guy (above) reunites Tom Hanks and his Bosom Buddies costar Peter Scolari. FYI: Holland Taylor (Ann) also costarred in the iconic cross-dressing sitcom...Pippin stars Terrence Mann & Charlotte d'Amboise have been a married couple since 1996...Cady Huffman (The Nance) and Keith Carradine (Hands on a Hardbody) were both nominated for Tony Awards when they appeared together in The Will Rogers Follies...The Big Knife's Bobby Cannavale's son, Jake, plays his son on Nurse Jackie starring Edie Falco (The Madrid).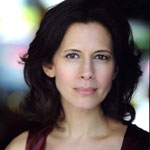 When Jessica Hecht (right; The Assembled Parties) arrived in L.A. in 1993, she worked as a nanny to George Wendt's (Breakfast at Tiffany's) children...Andrea Martin (Pippin) appeared in the 1993 TV version of Gypsy starring Bette Midler (I'll Eat You Last: A Chat with Sue Mengers) as Mama Rose...Nathan Lane (The Nance), John Glover (Nikolai and the Others) and Bill Irwin (Old Hats) appeared together in the 2009 Broadway production of Waiting for Godot. Lane and Glover also appeared together in the groundbreaking stage production of Love! Valour! Compassion! in the mid-1990s...
Of the actors appearing on New York Stages this spring, four have won Academy Awards: Keith Carradine (Best Original Song, Nashville); Cuba Gooding, Jr. (Best Supporting Actor, Jerry McGuire); Tom Hanks (Best Actor, Forrest Gump and Philadelphia); Vanessa Redgrave (Best Supporting Actress, Julia).