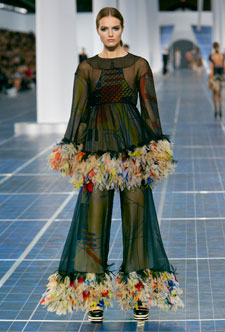 Each spring and fall, when we recap the fashion runway trends, we invariably report on holdover styles from the previous season, since it's no surprise that fashion could not possibly reinvent itself completely each season; if it did, we'd all be condemned to chuck the contents of our closets and start from scratch, a not-so-feasible endeavor, and one that would be a catastrophic leap into the financial abyss. Trendy styles usually build on looks of the last season or two, and in spring, those hot looks almost invariably include interesting stripes, in-your-face polka dots, and over-the-top florals. This spring, however, the trends are somewhat unexpected, with few echoes from the past few seasons.
The ethnic influence was major at many shows—Ralph Lauren, Derek Lam, Diane von Furstenberg, Marc Jacobs, J Crew, Tory Burch, Marchesa, and Peter Som, among the many—and took root in tribal patterns, interesting geometrics, ikat weaves, repetitive native iconography, motifs from wall carvings, and even rich colorations suggesting South-of-the-border native outfits. Bold, saturated tones were also evident on many catwalks, including DKNY, Oscar de la Renta, and Rag & Bone. Not to be outdone by all that color, audacious, contrasting combos of black and white were also present in countless shows, among them Jason Wu, BCBG Max Azria, Christian Dior, Chanel (pictured), and Hervé Léger, among the many, while "fifty shades of white" were shown at houses like Alice Temperley and Diane von Furstenberg.
Stripes were all over the runway, at Marc Jacobs, Tommy Hilfiger, Oscar de la Renta, Michael Kors, Calvin Klein, Pamella Roland, and L'Wren Scott. Lacey sheers and watery-looking incandescent textiles were also plentiful at many shows, among them, Donna Karan, Tracy Reese, Vera Wang, Nicole Miller, Jason Wu, 3.1 Derek Lam, Balmain, and Carolina Herrera; and at some houses, it wasn't enough to show diaphanous fabrics, when bare midriffs could reveal even more—as at Jill Stuart and Timo Weiland. In sharp contrast to the sheers and the watery, iridescent fabrics were the solid looks of leather ensembles at many houses.
A lively season it is and so, this spring when you start shopping for fresh wardrobe additions, think of buying show-stopping staples to augment what is in your closet—a terrific sheer party dress, a boldly striped skirt, or a black and white suit. Whatever you choose, there will be plenty in the stores to seduce you.