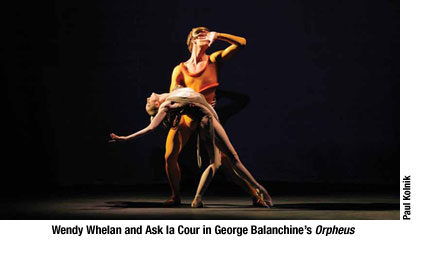 "People are choreographing in the elevators." That, Peter Martins says, was the jest making the rounds of his fellow dancers at the New York City Ballet in 1972, when George Balanchine organized the now-legendary Stravinsky Festival. Every nook and cranny of Lincoln Center's New York State Theater was occupied with the creation of new works – nearly two dozen, by the company's founding choreographers, Balanchine and Jerome Robbins, and others as well. There were revivals, too; some 30 ballets in all, presented in a historic extravaganza honoring Balanchine's great friend and collaborator, the colossus of 20th-century music Igor Stravinsky, who had died the previous year.
To celebrate the 40th anniversary of this seminal event, which New York Times critic Clive Barnes called "the greatest orgy of ballet-making the w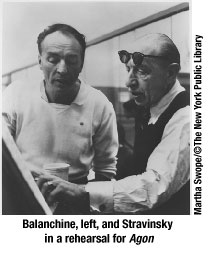 orld has ever known," Martins, who now runs the company he used to dance with, decided on a tribute of his own. On Sept. 18, he opens NYCB's four-week fall season with two weeks of only Stravinsky and Balanchine – Stravinsky/Balanchine: The Collaboration.
"I came to recognize that there had never been a Balanchine-Stravinsky festival with just the two of them by themselves," he says. "The first time it was everybody and their brothers choreographing, including myself. I thought the two of them deserve a festival of their own, because it is possibly the greatest collaboration ever."
He's not alone in thinking so. In American Bandstand parlance, Stravinsky wrote music with a beat – you can dance to it. And Balanchine, who trained not just as a dancer but as a musician, had a true connoisseur's ear. Given their parallel trajectories – from Russia to France to America – they were probably destined for each other. In fact, Balanchine first choreographed a Stravinsky piece in Paris, in the 1920s, for the fabled Ballets Russes of Serge Diaghilev. And Apollo, the ballet Martins made his own as a City Ballet dancer, and which he confesses was his favorite of the Balanchine-Stravinsky works he danced, had its beginnings at Ballets Russes as well.
So of course Apollo, along with two other classic ballets with Greek reference points, Orpheus and Agon, will be kicking off the latter-day Stravinsky-Balanchine festivities at what is now the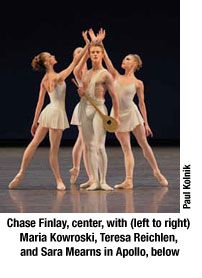 Koch Theater. Martins has also put together a "Black & White" program featuring five of the famed "leotard ballets" – dynamic landmarks of dance modernism performed in practice clothes – Stravinsky Violin Concerto, Monumentum pro Gesualdo, Movements for Piano and Orchestra, Duo Concertant, and Symphony in Three Movements. The neo-classical elegance of the Greek ballets and the abstract purity of the black-and-white selections give way to pure entertainment in the remaining program, which comprises Divertimento From "Le Baiser de la Fée," Danses Concertantes, Firebird, and, as a brief appetizer, Scherzo à la Russe performed by students from NYCB's educational affiliate, the School of American Ballet.
Not surprisingly, many of these works have a deep personal resonance for Martins, and he has a store of anecdotes to prove it. There's the one about how Balanchine had to choreograph the first part of the blissful Duo Concertant twice, because Martins and his partner, Kay Mazzo, forgot the steps between rehearsals. There's the one about how Balanchine assigned him to augment the choreography in the Furies section of Orpheus and then simply dismissed his request for a program credit – "He thought it was a big honor," Martins explains. There's the on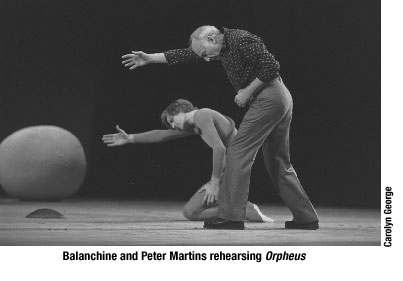 e about Balanchine coming backstage after every performance of Agon – "It's one of the most difficult ballets," Martins says, "and there was always somebody screwing up" – with a big smile saying, "Eventually. Eventually everybody will be together."
Everybody is together when the company does the ballet now, Martins says, "Because I tell them the story." And he's not concerned that audiences will find all these Balanchine-Stravinsky masterpieces he's offering to be too much of a good thing. "Every time you do programming, it's always a risk," he says. "But no other organization can boast of having two giants like this in their house. How could people not want to come?"
New York City Ballet
Lincoln Center, nycballet.com
At ABT, reviving a masterpiece
The idea seems a little preposterous: condense the 13 characters and five acts of a Shakesp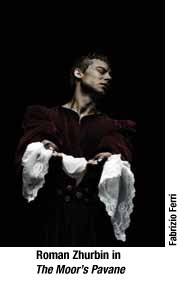 earean tragedy into 20 minutes of dance for two couples and a handkerchief. But in 1949, Mexican-American dancer and choreographer José Limón pulled it off, distilling the personalities and conflicts of Othello into a masterpiece of dramatic dance. The Moor's Pavane, to the music of Henry Purcell, propelled Limón and his company into the charmed circle of modern dance icons, and then crossed what was once a wide gap by entering the repertoire of American Ballet Theatre. It returns after an absence of nearly 30 years during ABT's brief fall season at City Center, October 16-20, offering a new generation of balletgoers the opportunity to experience its brilliance. Also on the agenda are a world premiere by Alexei Ratmansky and ballets by Mark Morris, Twyla Tharp, Antony Tudor and Agnes de Mille, whose spirited, groundbreaking Rodeo is 70 years young in 2012. American Ballet Theatre; City Center,
212-581-1212; nycitycenter.org; abt.org