Legendary "starchitects" like Philip Johnson, Richard Meier and Jean Nouvel helped to define New York's luxury real estate market over the years. Though these players aren't part of the game anymore, New York is never short on architectural brilliance. On the scene, redefining the skyline today, are master designers such as Costas Kondylis, Ismael Leyva, I.M. Pei. and Frank Gehry. Have a look at their latest endeavors:
Kondylis' Continental
In his career, architect Costas Kondylis has accumulated more than 70 New York City buildings to his name and has been referred to as a "trailblazer" among his peers for more than two decades. The septuagenarian is perhaps best known for his work on the Trump World Tower and The Plaza Hotel and Residences. New among the stretch of city skyline trademarked by Kondylis is The Continental at 885 Sixth Avenue (between 31st and 32nd Streets), a 53-story, 338-unit luxury rental tower that began signing leases in mid January.
"With certain architects that have a reputation for good designs, their name carries weight," says Cliff Finn, managing director of new development marketing for Citi Habitats Marketing Group, the exclusive marketing and leasing agent for The Continental.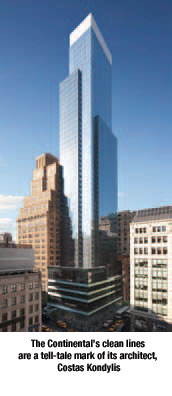 "People want to pay more money for something that's designed better. They come in expecting and assuming the product is superior, and in this case it certainly is."
The building's glass façade resembles a curtain wall, and features Kondylis' signature clean lines. Apartments boast floor-to-ceiling tinted windows, ceilings as high as 11 feet, white oak flooring throughout, and personal washers and dryers. With its soaring height and many apartments with corner exposure, the building provides sprawling views in all directions, including the Empire State Building. "People come to a location like this, in the center of Manhattan, and by definition they want to be able to see everything," Finn says.
In terms of amenities, The Continental is the only building on Sixth Avenue to have a pool-a 50-foot indoor infinity-edge lap swimming pool, no less, with heated hydrotherapy spa and landscaped sun terrace, plus a health club with a fitness/cardio center and yoga studio. The building also offers Abigail Michaels concierge service, a 24-hour doorman, valet, and on-site parking.
Units, which include studios, one-bedrooms, one-bedrooms with a home office, and two-bedrooms, reside on floors 9 through 53. Monthly rental prices range from $2,550 to $8,000.
Arquitectonica and Leyva Team Up at Mima
The 63-story mixed-use complex at 440 West 42nd Street, designed by Arquitectonica and Ismael Leyva Architects, was introduced to the market in March as Mima, a name derived from the property's location in the "middle of Manhattan." Mima's condominium component, occupying floors 51 to 63, is known as 1 Mima Tower.
"It's where uptown meets downtown," says Susan DeFranca, president of Related Sales, of the 42nd Street corridor. "There's something very special about the 42nd Street area. It's still authentic. A lot of neighborhoods have become so gentrified and lost that gritty aspect, but this is what people love about New York."
Mima's scintillating glass exterior is the work of Arquitectonica, but residential design and space planning was done by Ismael Leyva Architects, who created unit layouts to maximize furnishability, light, and the general living space in each luxurious apartment, DeFranca says. The residences possess somewhat theatrical interiors designed by the David Rockwell Group, featuring a colorful, modern mixture of stones, woods and metals.
In addition to a plethora of amenities like two private terraces and an outdoor movie theater, the mixed-use aspect of the building extends the lifestyle of owners, DeFranca says. Mima will house the first U.S. branch of Yotel, London's boutique hotel, which will provide unique dining experiences and lounges; a private, residents-only Equinox Health Club, which will include a basketball court and indoor swimming pool; and the Signature Center, an entertainment venue housing three theaters with interiors designed by Frank Gehry (opening next spring).
The tower contains 151 condominium residences beginning on the 51st floor and climbing to the top. The building's height and central location provide residents with commanding, airplane-like views of the city, from the Statue of Liberty to the Hudson River to Central Park. Residences range from studios (starting at 550 square feet) to three-bedrooms (topping out at 1,800 square feet). At press time, Mima's sales team was monitoring market conditions and said pricing will be available in late spring.
Pei's Centurion
Located at 33 West 56th Street off Fifth Avenue, The Centurion is the first ground-up residential condominium project in New York designed by the internationally renowned Pei Partnership with I.M. Pei. Pei is known for elegant, understated architecture, and his signature shows in this property. "It feels very old world, especially in the context of the neighborhood," says Amy Williamson, sales director with The Centurion and vice president of sales for Prodigy Network. "There's been a significant trend in recent years toward condo buildings that are tall glass towers, and it seems there is increasingly a reaction against that, toward more elegant buildings. You can't get more elegant than The Centurion."
The building's lobby is also characteristic of Pei. The simple grandeur of the space is elevated subtly by the adjoining water garden and the use of Magny du Louvre French limestone, a material that recalls the Four Seasons Hotel lobby.
Beyond mere aesthetics, many of the property's architectural components add to the lifestyle of its residents, Williams says. Soaring windows strike a dramatic impression from the street, but also afford residents striking views of the city. Likewise, the building's cascading terraces make it an impressive specimen visu
ally, but, perhaps more importantly, they also add private outdoor space to many of the property's residences.
The 17-story building contains 47 spacious one- to four-bedroom residences with three penthouses (two of them duplexes with private terraces and triple exposure) that boast up to 3,400 square feet of space. First closings on residences began in spring 2009, and the building passed the 50 percent sold mark at the end of 2010. Remaining residences range in price from $2.5 million up to $14.5 million.
Williams says, combined with the fact that this is Pei's only ground-up residential building in the city, The Centurion is in a league of its own due to its elegant, pre-war aesthetic in a neighborhood of tall glass towers. "People want to live in a building conceived by such a huge name," Williams says. "In addition to all that, there's the idea that it's the only building of its kind in Manhattan. That motivates a lot of buyers at this level, the idea of having something irreplaceable."
Gehry Does New York
Upon completion, New
York by Gehry at Eight Spruce Street claimed the title of tallest residential building in Manhattan (surpassing Trump World Tower by about 15 feet), and added a dramatic silver obelisk to the otherwise undefined skyline of its lower Manhattan neighborhood. The groundbreaking rental property is the first residential tower designed in New York City by world-renowned architect Frank Gehry of Gehry Architects New York, P.C., and it carries the undulating, asymmetrical look of a Gehry building on its stainless steel façade. "With its stunning design and sheer height, it represents an architectural icon," says MaryAnne Gilmartin, executive vice president of commercial and residential development with Forest City Ratner Companies, the building's developer.
To add to the list of "firsts" for this building: The 76-story mixed-use high-rise stands atop a six-story brick podium, which houses the first public school (Spruce Street School) ever built in New York City on private land.
Due to the intricate design of the building's curtain wall, each apartment has a unique shape where it connects with the exterior façade. What that means for residents: The windows are pushed out into the building's curving folds, creating bay windows with window seats in each apartment. Walking into one of these bay windows at the building's uppermost floors is quite the experience. "One can step out past the plane of the exterior wall and be suspended over the whole of Manhattan," Gilmartin says. "They're designed to perfection to allow each home to have something very special and allow units to be furnished in a way that corresponds to the beauty of the building itself."
The endlessly talented Gehry also designed all of the building's finishes, including apartment interiors (from flooring to hardware details) and amenities (down to the ottomans in the library and the lounges in the enclosed swimming pool area), which are on par with condominium living. "It's the first rental building that's had such painstaking design detail done by someone of such a great mind," Gilmartin says.
The building's 903 units opened for leasing in February. Of those units, about half are one-bedrooms, but studios, one-and-a-half-bedrooms, two-bedrooms, and a handful of three-bedrooms (floors 50 and above) are also available. Monthly rental prices range from $2,700 to more than $18,000.