Step into F.D, collector Fiona Druckenmiller's new luxury boutique off Madison Avenue, and it's clear what the theme is here: "I've always been drawn to beautiful things," says Druckenmiller, whose love of beauty spurred a passion for collecting fine items more than 20 years ago. The Manhattan native opened F.D in October to share her collection with fellow seekers of the exquisite and exceptional, and there's no denying that everything here fits the bill-from items that radiate beauty in the traditional sense (vintage jewelry from Cartier, Van Cleef, and Verdura, to name a few) to others that are simply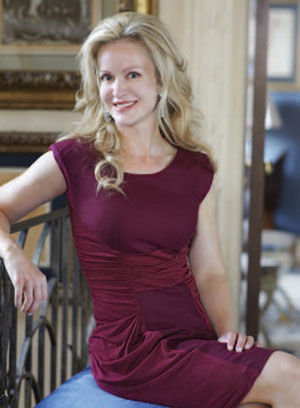 stunning in their rarity (limited-edition manuscripts, signed furniture, and one-of-a-kind works of art by both bygone and modern masters).
All this you'll find among an intimate, gallery-style setting-a bit more reminiscent of Chelsea than the Upper East Side-that invites visitors to look (preferably with a treat from the espresso bar at hand), to learn (ask a staff member or take advantage of touch-screen technology throughout the store), and to linger over the items here (because you probably won't find them anywhere else). "A lot of high-end jewelry stores can be intimidating, with their marble floors, heavy doors, and high ceilings," Druckemiller says. "We want the experience inside the gallery to be intimate, welcoming and always changing, so that it's a fun experience to come in, whether you purchase something or not."
If you are looking to make a purchase, though, you'll almost certainly find something within your budget-prices range from $25 to about $7 million.
Where do you find the objects in your store?
FD: It's very multi-pronged. They're sourced from estates. We also follow the auctions. That's not a big source, but we're always looking. Then there are things that come in and find us. We'll have people call us up and ask if we'll look at a piece that's been privately owned for decades and has never been on the market-in the industry, that's called a "fresh piece." Like an incredible pair of JAR earrings that just came in.
How would you describe the type of person who is drawn to your boutique?
FD: It tends to be a customer who's traveled a lot, has seen a lot of things and is looking for something different. They tend to be a relatively educated consumer. The more our customer knows, the better it is for us-the more they understand the pieces that w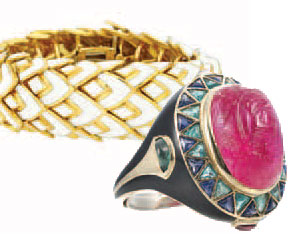 e have, then the pieces sell themselves because they are unique, priced correctly, and have compelling histories.
There's literally something for everybody and every interest. Someone will come in and say, "You won't have anything for my husband because he just loves old cars," and we'll have a first edition of Chitty Chitty Bang Bang.
You carry a lot of Cartier and Van Cleef & Arpels items. What do you like about those brands?
FD: We carry vintage Van Cleef and Cartier because many of the pieces made in the '40s, '50s and '60s were one-of-a-kind or one of just five or six made. And many of the materials they used-coral or jade or Burmese rubies-can't be imported into the U.S. anymore.
Why are you so drawn to vintage jewelry items in general?
FD: At the end of the 19th and beginning of the 20th centuries, the jewelry industry worked on an apprentice system, where a master trained you for five to 10 years on how to make these pieces by hand. But that way has died out, and the beautiful handwork that was done is now done by machines. We're selling pieces that could not be built now for what we're selling them. They couldn't be made with the same quality, and the actual materials themselves are no longer available. You have to comb auction houses or antique stores for old jade, and that's part of what we do. We're basically doing the legwork of finding old pieces and making sure they're authentic, then editing the collection to present things people want.
In addition to collecting, you and your husband are also the philanthropists behind the Druckenmiller Foundation, to which you donated $705 million in 2009. What causes are you involved in?
FD: We make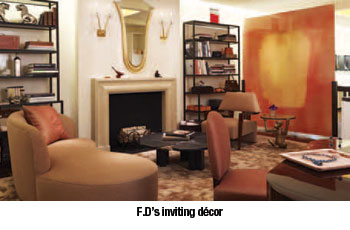 grants to organizations that we have a lot of faith in, so it's across many different sectors, like education, medicine and human rights. We recently contributed to The New York Stem Cell Foundation, the neuroscience initiative at NYU Medical Center and the Harlem Children's Fund.
You've also been ordained as an interfaith Reverend, is that correct? Does your faith influence your style at all?
FD: Yes, I worked as a counselor in an MD office for 10 years, and [the ordination] was part of my training as a counselor.
We don't carry any religious pieces. The interfaith approach is about accepting everybody and also seeing something sacred in everything, so I guess jewelry in a way is a perfect foil, because it's everything and nothing at the same time. It's nothing in the sense that it's just rocks and metal; it's inanimate. But it's everything if it becomes an engagement ring, or your daughter's graduation earrings, or the 15th anniversary watch for your husband. We vest [our accomplishments] with things. And so, they start to take on a history, and sentiments.
I think every single thing that we deal with every day, whether it's furniture, jewelry, or food, is at the very same time sacred and profane, because it's part of your present and it's part of your connection with other people. It's also at the same time, dust.
I think that's part of the whole experience here. Those ideas influence everything we do.
-----------------
F.D
212-772-2440; fionasescape.com
To view the pages in pdf form, click here.