Thirty years ago, David Yurman the man became David Yurman the jewelry company, and thus began an empire. Today his name is known in households throughout the U.S. and Europe, and just the mention of it bring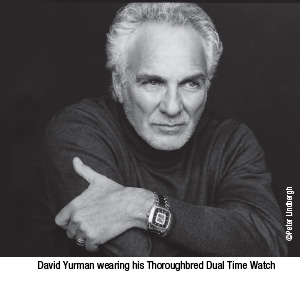 s to mind elegant, cutting-edge designs with a distinctly modern vision.
Yurman first showed his entrepreneurial spirit as a teen, when he sold the sculptures he'd made in his high school cafeteria. "There were many things I was interested in before becoming a designer-science, politics, economics-but art has always been a part of my life," says Yurman, a Long Island native who now resides in Tribeca with his wife and business partner, Sybil. The two founded the David Yurman company in 1980, a year after their marriage.
In 1983 Yurman created the brand's signature cable bracelet, a twisted helix of silver and gold adorned on its finial ends with brilliant gemstones. Since then, he has continued to produce eye-catching pieces for the luxury market, adding men's jewelry and timepieces to his repertoire.
This May, to celebrate its 30th anniversary, David Yurman the company opened its Madison Avenue Townhouse boutique located at 712 Madison Avenue at 63rd Street, which joins an ever-growing list of both domestic and international locations. At this milestone, we caught up with David Yurman the man to discuss past, present, and future.
Q. You sold sculptures you made in your high school cafeteria--how did that experience influence you?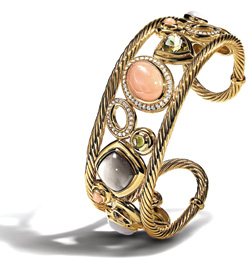 I did sell sculptures in high school. I realized [then] I could sell the pieces I created, which gave me confidence later on in life.
Q: What was it like to apprentice under famed artists like Jacques Lipchitz and Theodore Rozak? How did they influence you?
I learned many things from both. They were insightful and inspirational. Most importantly, I learned discipline in my work.
Q: How would you describe your approach to jewelry design? What or who inspires you?
My approach is following and improving upon a vision. I am constantly available to inspiration.
Q: It seems that your wife, Sybil, was influential in getting the David Yurman company started. Can you tell me more about her role?
Sybil is my partner-we collaborate on every aspect of our business. We inspire and influence each other daily.
Q: Did you ever dream that you would start your own jewelry company?
I never sought to become a 'jewelry designer.' It happened organically when I was in my apprenticeship and experimenting with different forms of art. I am happy to be able to do what I love and with my family. Sybil and I started this company together 30 years ago and here we are at this significant milestone.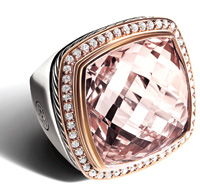 Q:Where did the inspiration come from for that oh-so-famous twisted cable bracelet?
Cable is a commonly used material, and an important one. I noticed it on the Brooklyn Bridge and was inspired to transform what is considered a common element into something beautiful and unique. David Yurman started with the cable design...it was our first iconic piece, and [is] now an emblem of our brand.
Q: Your son, Evan, joined the business in 2003. Was it always the plan for him to join the family business?
It was never planned that Evan would join, it was a natural thing. He has become a positive force within the company, and we have come to rely on him for his unique perspective.
Q: Since you handed over the CEO reigns to Paul Blum, how has your role in the company changed?
Paul's joining our company has allowed me to do more of what I love to do: design...and sleep better.
Q: You launched your own eponymous scent in 2008 and last year you launched the Classic Collection-what's next?
I'm focusing on continued global expansion in the States and abroad. Most recently, we opened a shop-within-a-shop in Paris' famed Printemps, our first European presence, and we opened our Madison Avenue Townhouse in May to celebrate our 30th anniversary. We are working on five collections for 2010/2011 that include 125 new designs. Our presence in multimedia is also a focus for the future.
Q: Tell us about the David & Sybil Yurman Humanitarian & Arts Foundation.
We established the Foundation as a meaningful way to give back. For us, it's important to give back and [it] is rewarding. The David & Sybil Yurman Humanitarian & Arts Foundation honors individuals who give the gift of time as well as funding to charity and the arts.
Q: You own two registered reining Quarter horses-what other hobbies do you enjoy?
Competitive reining. I really enjoy the connection I have with my horses.