When the weather turns sunny and bright, we start to think in terms of all things sunny and bright: We want to don garments that are peppy and vibrant, dress our tables in rainbows of color, and in general surround ourselves with objets that are colorful and joyous.
We start to think of much more outdoor living—whether picnics in Central Park, dinner at the plaza in Lincoln Center during the end-of-season, outdoor opera marathon, or a splendid biking excursion on the river-walk path that snakes along the West Side by the Hudson. The city's boutiques have stocked plenty for our summer pleasures and we've collected a glorious sampling.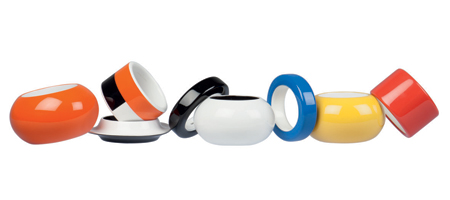 A rainbow of glam, lacqured-wood bracelets in various widths and styles, from Hermès. From $240 to $365. 691 Madison Avenue (62nd Street); 212-751-3181, 800-441-4488; hermes.com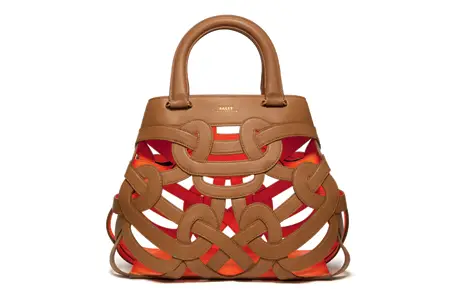 Bally's stunning "Papillon" handbag in biscuit-colored leather features a handsome luggage-tone exterior and a bright orange interior with a peekaboo aspect to it. A great bag for the warm weather. $1,795. Click here for store locations.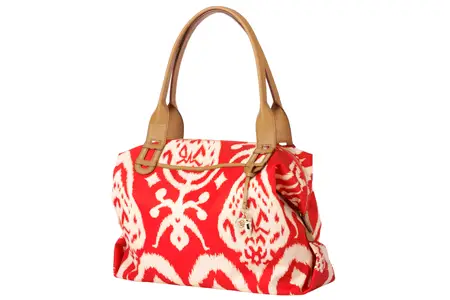 A popping poppy-colored ikat-print bag, 12" x 19" x8", from Stella & Dot. It's roomy enough for all the things you need to bring to the beach or just tote around daily. Top zipper; exterior, interior, and water-bottle pockets. $89. stelladot.com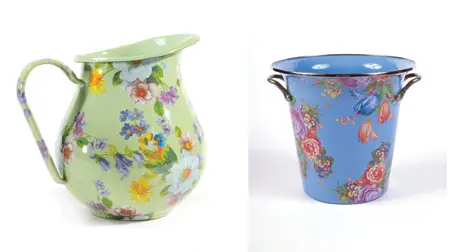 From the masters of pattern and design, MacKenzie-Childs, a duo for summer entertaining in the colorful "Flower Market" pattern, with a heavy-gauge-steel underbody and a ceramic-glaze surface, with hand-applied floral designs: [Left]: A useful and elegant pitcher, $72. [Right]: A coordinated wine cooler or ice bucket that can also hold flowers, or when filled with sand, even candles. $72. 20 West 57th Street (Fifth/Sixth Avenues); 212-570-6050; mackenzie-childs.com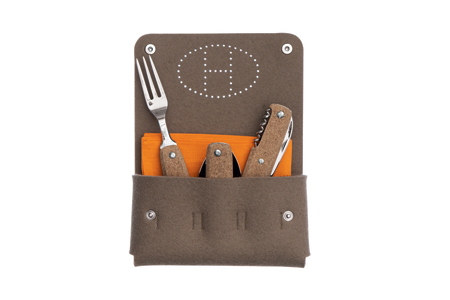 Another clever picnic/beach/travel aid for dining on the go: Hermès' picnic cutlery set, in a charmingly designed felt holder, with stainless steel implements with cork handles. $1,400. 691 Madison Avenue (62nd Street); 212-751-3181, 800-441-4488; hermes.com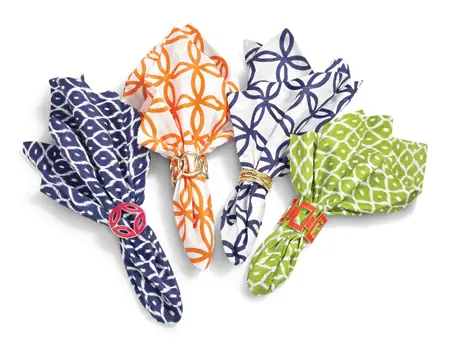 From C. Wonder, an assortment of rainbow-hued dining accessories. Various styles of napkins are available in cotton poplin, in navy, bright green, and orange, $34 for a set of four; napkin rings in a selection of styles and colors, from $38 to $48, for a set of four; and a Lucite ikat-print serving tray in either fuchsia/orange or navy/turquoise, $118. The Shops at Columbus Circle, 10 Columbus Circle (60th Street);
212-956-9760; 72 Spring Street (Crosby Street); 212-219-3500; cwonder.com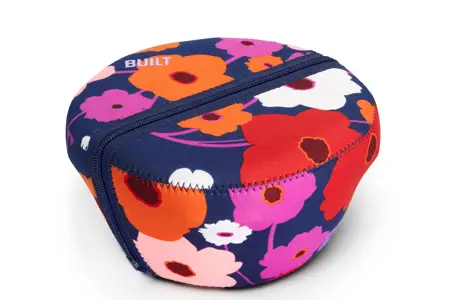 Why didn't anyone ever think of this before? An insulated Neoprene, zippered cover with a made-to-measure salad bowl that fits snugly inside from Built. Will insulate up to four hours; ideal for beach, picnic, travel. $21.99. Zabar's, 2245 Broadway (80th Street); 212-787-2000; zabars.com; builtny.com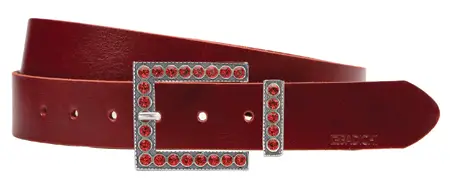 From Badichi, where belts are customized to your size, style, and color preferences. Here a Swarovski-crystal buckle adorns a matching ruby-red leather belt. $190. 367 West Broadway (Broome/Spring Streets); 212-966-4267; 205 West 57th Street (Broadway/7th Avenue); 347-736-9890; badichibelts.com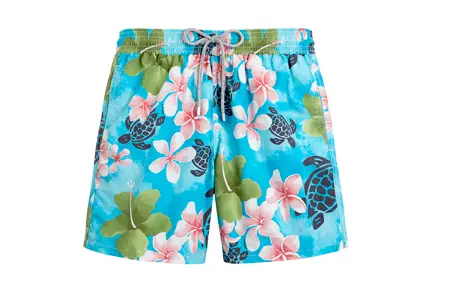 Count on Vilebrequin for bright patterns and bold color. Here, "Tiare" bathing trunks with three pockets, drawstring carry-pouch; 100% polyamide exterior with cotton interlining. $340. 1007 Madison Avenue (77th/78th Streets); 212 650-0353; vilebrequinonlinestore.com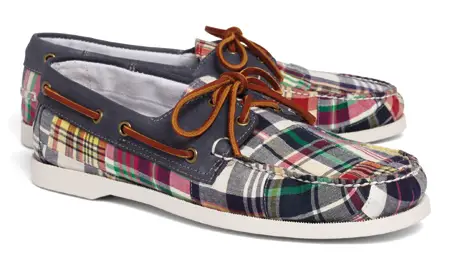 Perfect summer boat shoes from Brooks Brothers. The patchwork madras is cotton and the shoes are trimmed in leather. $128. 346 Madison Avenue (44th Street); 212-682-8800; 1180 Madison Avenue (86th Street); 212-289-5027; brooksbrothers.com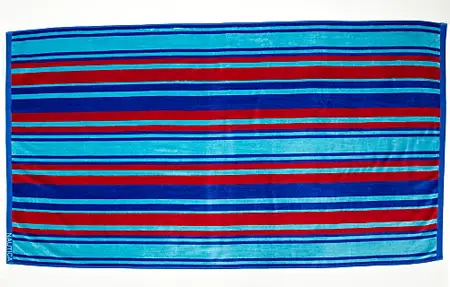 A sturdy and soft beach towel from Nautica in 100% cotton and measuring 38" x 70".
nautica.com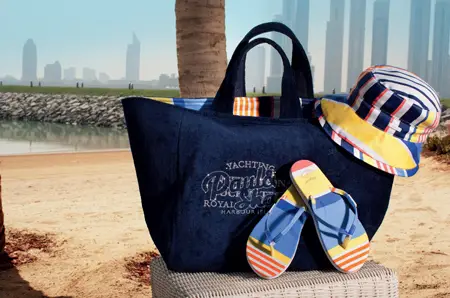 From Paul & Shark, a trio of beach accessories for the ladies: "Harbour Island" beach tote, $349; a woven hat to help block the sun, $190; and sunshiny flip-flops for navigating the hot sand, $140. 667 Madison Avenue (61st Street); 212-452-9868; paulandshark.com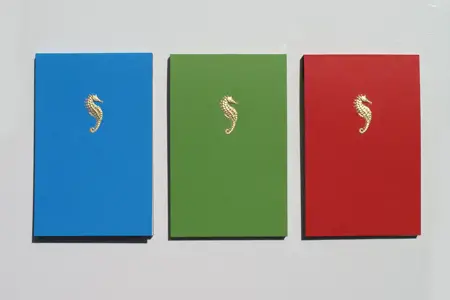 Keep track of your lists and write your thank-you's (for being a good house guest!) with Connor's handsome, gold-stamped, hand-crafted tablets (with embossed seahorses, above), $75, and octopus-embellished tablets, $85. Both sold in the company's signature linen box. Barneys New York, 660 Madison Avenue (61st Street); 212-826-8900; 888-822-7639; barneys.com; connornyc.com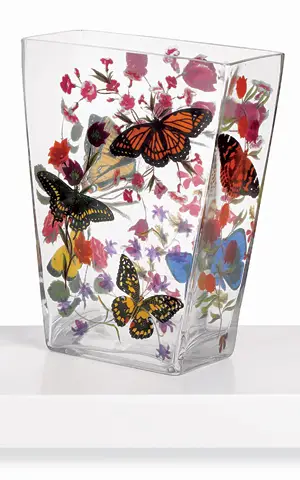 Put your summer flowers in a vase with fluttering butterflies, inspired by one of Louis Prang's Victorian album cards, The Butterflies and Moths of America, in the collection of The Metropolitan Museum of Art. 9" x 7" x 3. $70. 1000 Fifth Avenue (82nd Street);
800-662-3397; store.metmuseum.org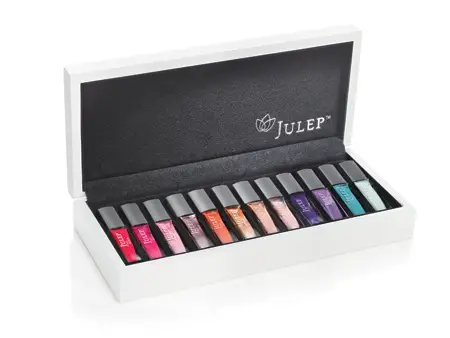 Julep's limited-edition white-lacquer jewelry box holds a set of 12 comment-worthy, toxin-free nail colors, all ideal for summer tootsies and nails; a percentage of the proceeds supports the Powered by Girlfriends Program. $84. julep.com; qvc.com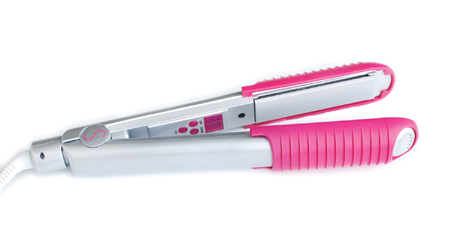 You'll never want to give up your Sarah Potempa ceramic, styling flat-iron with the ingenious stay-cool pretty pink attachments that also put a curl in your bob. It's a miracle product and you won't know how you ever lived without it once you get hooked. $164.50 for iron; attachments, $11. sarahpotempa.com; qvc.com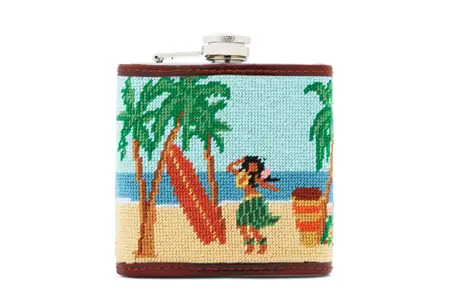 What fun for a sip-on-the-go: Brooks Brothers' "Hula" flask, needlepointed cotton, with leather trim. 4" x 2 3/4". $78. 346 Madison Avenue (44th Street); 212-682-8800; 1180 Madison Avenue (86th Street); 212-289-5027; brooksbrothers.com