When the steam room is the great outdoors and nothing exists between you and an unbearable layer of sticky air, you know summer has reached its heat wave zenith. Thankfully New York is abundant with day spas: cool hands to massage; Jacuzzis to soothe; rejuvenating showers to hydrate. Ahhh...!
Phyto Universe... Personalized pampering for the hair and the face
One enters on street level - just off Lexington on 58th Street into a cubby of space with not much to catch the eye other than a friendly receptionist who confirms your appointment and directs you toward the elevator. Like a very "private club" or "high end hotel"- nice. When you emerge onto the spa floor, though, it's clear that you've crossed over into a sleek other world: lush, atypical and slightly decadent.
The scent is that of plants - a vertical garden of mixed-media foliage covering over 3,000 square feet that spans the public area's back wall.
Unlike traditional spas, Phyto does not offer an extensive menu of wraps and massages, rather it specializes almost exclusively in hair, scalp and facial treatments base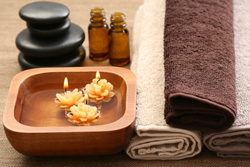 d on spa founder Patrick Ales' celebrated lines of botanical hair products: PHYTO and PhytoSpecifie (available on site).
One of the more intriguing aspects of Phyto Universe is its diagnostic stations, where clients' hair and scalp are magnified 200 times with a "hair" scope, then analyzed by the spa's experts. When the analysis is complete, technicians make a diagnosis and prescribe targeted solutions.
Treatments range from the "Thirst Quencher" for dry hair, to "Ultimate Express," an effective - and luxurious -treatment lasting only 60 minutes, to more intensive treatments like "Dandruff Detox," "Regenerating Thairapy," for thinning hair, and "Vital Force," for damaged and over-processed textured hair.
Phyto's facials are also customized to accommodate clients seeking anti-aging and intense cleansing treatments.
Notably, other than Phyto's complimentary diagnoses, all treatments take place in nine private cabins, each featuring antique wood shutters from a 14th-century French chateau. 715 Lexington Avenue (entrance on 58th St. bet. Lexington & Third Aves.) 212-308-0270; phytouniverse.com.
Féline Day Spa... Full service, and something special for the feet
Manhattan's Upper West Siders - as well as a select group of outsiders (in possession of the inside scoop!) - are frequent visitors to the neighborhood's ultimate full-service day spa: Féline. Established in 1970 by Marlene Katz, Féline's reputation for excellence has not only grown, but flourished under its president, Ingvor Wurmbrand, who took over the spa 20 years ago - a hands-on presence who continues to improve and expand the spa's comprehensive services, which include outstanding year-round packages that seduce the tight-of-muscle and overstressed into surrendering themselves to a full day of such decadent pleasures as aromatherapy, pedicures, facials, peels, massages, body wraps and even hair and make-up.
Also high on the treatment menu is reflexology, a technique embraced by Wurmbrand years ago, when she discovered the holistic benefits associated with Yoga and other similar practices. In fact, one of Féline's signature treatments is a pedicure coupled with reflexology and customized aromatherapy oils.
Wurmbrand, who was born in Stockholm, has a staff of six therapists and carries a variety of product lines, including Dermalogica and my personal favorite, SkinCeuticals.
Finally, for those looking to look their best during swimsuit season, Féline offers GX99, which sounds like a secret weapon from a 1970s sci-fi flick, but is actually a high-tech machine that, according to Wurmbrand, "Takes 45 minutes, is as relaxing as a massage and works wonders on hips, thighs and cellulite." Six treatments, the salon claims, generally result in a loss of three to four pounds. 235 West 75th St. (at Amersterdam Ave.), 212-496-7415; Felinedayspa.com.
Tips & Trends: SUMMER EDITON, 2010
FACE TIME
If you're a spa devotee and haven't dipped your artfully pedicured toes into Twitter and/or Facebook waters, ISPA says now's the time to make your move. Increasing numbers of spas now offer up-to-the-minute deals via tweets and Facebook postings. Also helpful with cancellations, since you can re-book appointments instantly from your computer, cell phone or blackberry. And if you're a true believer in mobile spa access, prepare for an app revolution.
PORTION CONTROL
Tapas-inspired sampling menus, a.k.a. treatment "tastings," are growing in popularity. Figuratively speaking, ISPA has tracked an 86 percent increase in member spas offering treatments running 30 minutes or less. Bonus: Lower price points = multiple indulgences.
THE SKINNY ON SKIN
Spas are taking a pro-active approach with teenagers to treat them - and teach them about - the dangers of sunbathing and tanning by offering aloe-based treatments to soothe burns and repair parched skin, and avoid melanoma issues in the future. "It's particularly important for teens to hear about the harmful effects of the sun at an early age, and the spa is the perfect place for them to learn how to properly care for their skin," says ISPA president Lynne McNees, a firm believer in talking to teens about protecting their skin.
[For more tips from The International Spa Association, go to experienceispa.com ]