For 35 years, the name Cora has been associated with some of the largest and most important diamonds in the world. A recent example: the Cora Sun Drop, a rare 110-carat yellow diamond, mined in Africa, which was on display in London's Natural History Museum and sold at a 2011 Sotheby's auction for more than $10.9 million (a world record for a yellow diamond).
When Suzette Gomes took the helm in 2008, Cora became Cora International, and its exclusive rocks became available to the public. "We were a very closed company," says Gomes, who served as COO from 2006 to 2008. "Our diamonds went to the most important houses in the world, or they would go into private hands. Now we want to open up our doors."
With that in mind, Cora added a Fine Jewel Salon in October to its headquarters on Fifth Avenue, which also houses its manufacturing and design facilities. We sat down with Gomes to learn more about this bold move and what you can expect on a visit to Cora.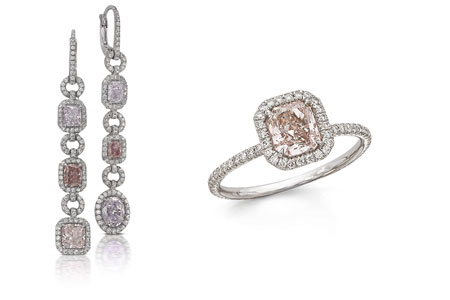 [ Left: Fancy pink and purplish-pink diamond earrings are surrounded by almost 4 carats of round white diamonds and set in 18k white gold. ($225,000); right: The centerpiece of this ring is a 1-carat radiant-cut fancy pink diamond, surrounded by white diamonds and set in platinum. ($67,500) ]

Q. Tell me about the Fine Jewel Salon.
SG: It's a very tactile space where people can sit down and take their time and not feel like they're being forced to buy something. It is up on the 17th floor, not on the crazy street level, so it has a safer and more secure feeling, which is what we want to give our customers.

Q. What sets Cora apart from other diamond companies?
SG: Definitely our supply. We have diamond buyers all over the world, and because of our global expertise we manage to buy some of the best rough in a very competitive market. And that's important, because we don't buy polished diamonds. Everything we buy is rough and then cut in our factory here on the premises.
The cutters who work here have been with Cora for 30 years. We have about 15. We use the latest technology, but we rely on the person looking at the stone. When you're cutting from rough, it's mathematical—there's measuring, estimating, etc.—but the person holding the stone and polishing it, he's also an artist. He's bringing that stone to life. That's where their experience comes in, because once you cut—when it's gone, it's gone.

Q. I read that the 110-carat Cora Sun Drop took several months to cut. Is that true?
SG: Yes. For the most beautiful stones, we make what we call models for the rough, and we'll keep making models to see the best shape for the diamond, because you want to get it exactly right. We had a 218-carat D-flawless diamond—the rough was over 600 carats. That took us a year and a half to cut.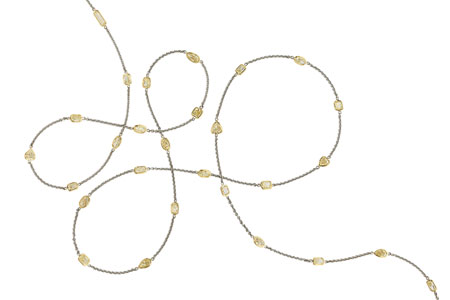 [ This fancy mixed-shape diamond necklace is set in 18k yellow gold, with an 18k white gold 60-inch chain. Available in various lengths and carat weights. ($30,000) ]
Q. Why did you choose New York for your headquarters?
SG: New York City has always been known for diamond manufacturing. It was a natural choice.
I'm originally from London, but I love New York. I love the madness of it and the diversity. I think that's what's exciting. It's crazy busy, but you can escape to your apartment, and of course there's Central Park, [where] you can find peace and quiet. There's a lot to do, or you can do nothing. That's what I love about it.

Q. How often do you come out with new pieces or collections?
SG: Because our diamonds are so unique and special in their own way, we shape the pieces around them. Once the diamonds are on our table, and depending on what is there—we might have 30 or 100 stones, or just one special one—that sets the tone for what jewelry we want to produce. We might do something special with one large stone, or if we have several we'll do a suite with earrings, a ring, and a necklace. It's all about the diamond.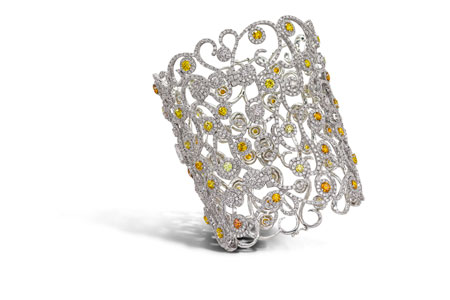 [ Almost 16 carats of mixed-shape colored and white diamonds are surrounded by 24 carats of round white diamonds in this stunning cuff, which is set in 18k white gold. ($135,000) ]

Q. What do you like about the diamond business?
SG: It's a wonderful business. One thing about diamonds, there's always a feel-good factor. People are buying because they're starting a new life together, they're having a baby, or they've been married for so many years. It's one of the few businesses where people come here and they're happy. It's always a celebration. It is stressful when the diamond is on the wheel, but when someone walks in and buys it, and now it's on someone's finger—it makes it all worth it.

Q. What types of diamonds are in demand right now?
SG: Every woman wants a pink diamond. But they're so rare. We just can't keep up with the demand for pinks. Mother Nature isn't generous with them. I have one tiny little one, but I'm waiting for the big one. I keep telling my husband I'd like a bigger one, but he seems to go deaf when I mention it.

Q. Why do they say "diamonds are a girl's best friend?"
SG: I've never met a woman in my life who wouldn't accept a diamond as a gift. If you want to buy a girl a present, you buy her a diamond, because you know she'll love it.
CORA International, 590 Fifth Avenue, 212-575-1433 or 877-922-6274; corainternational.com