Beretta, the Italian company known best for its quality firearms since it was founded in 1526, has recently established itself as a lifestyle brand with the help of its flagship store on Madison Avenue. Don't worry—you can still ogle the beautifully made firearms (the lodge-like gun room is on the townhouse's top floor), but you can also breathe in the scent of leather and luxury as you peruse the Italian-made outerwear, hunting and shooting gear, and access
ories on floors one and two.
The man behind Beretta's extension into clothing and apparel is Dr. Franco Gussalli Beretta, the company's vice president. Together with his brother, Pietro Gussalli Beretta, he is the 15th continuous generation of Beretta family members to own and oversee the company (his father, Cav. Ugo Gussalli Beretta, currently serves as president of the company).
We spoke with Dr. Gussalli Beretta to learn how an outdoor theme thrives in the Big Apple.
Q. Why did you choose Manhattan for Beretta's flagship gallery?
FGB: The idea was that we wanted to create the new world of Beretta. We had started a line of clothing and accessories, and so we thought it was very important to present our company in a different way. In the past, we were naturally a gun manufacturer, and now we wanted to present Beretta as a global lifestyle brand. So this was the first point: Let's open a retail store. Then the second step was 'Where?' Both me and my father, we love New York. From our point of view, it is the best city in the world. It's not just the best place for U.S.-based retail activity but is also the center of the world, because everybody involved in business has to go through New York.
Q. You have other stores in Dallas, Paris, Milan, and London. How does the New York store compare?
FGB: This is the original one. So in the heart of me and my father, it's the 'real' one, our favorite. And by the way, it's the one that has the better result.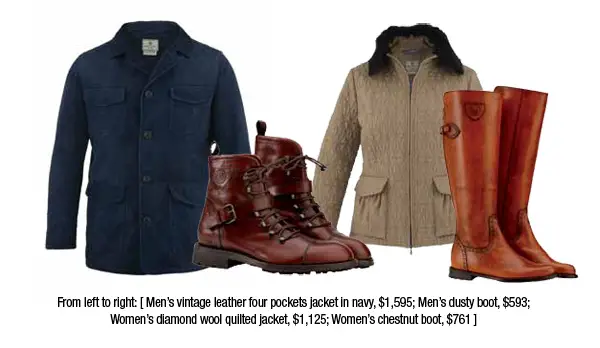 Q. Can you explain what it is you love about New York?
FGB: Let's start from when I was a young kid coming here just to play. Naturally, if you are a tourist, you can have a lot of fun here.
Then the second phase, I got married [to Umberta Gnutti] and my son [Carlo] was born here. When you live here, it's a different world. If you want to be really active, whether from a business point of view or social point of view, you get whatever you want. But if you have a family and you want to just stay with your wife and your son, you go to the park and in five minutes you are in the middle of nature.
Also, when you go out a half hour or an hour [outside the city], you are really in the middle of nowhere. You can be in the center of New York, the center of business, and in less than one hour you can be in the real nature.
Q. What type of person is attracted to the Beretta brand?
FGB: We've succeeded in moving from gun manufacturer to a brand because people connect with the lifestyle. Walking into our store, they feel something special because their mind goes immediately to their outdoor experience, whether it's a lodge in Montana or a country house in Connecticut.
Q. What sets Beretta a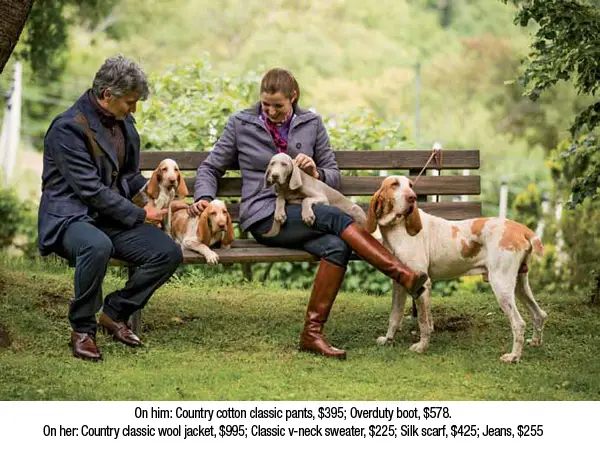 part from other outdoor brands?
FGB: Being a brand that is born and grown in Italy, we combine great outdoor wear with Italian style.
It is something that came from our experience in the shotgun. In my family, there was always a double challenge. On one side we wanted to make the best product from a quality point of view, so the material, the reliability, and so on. But, on the other side, we are Italians and so we like nice things from an aesthetic point of view. So I thought that when we develop the clothing and accessory line that this should be the philosophy that makes Beretta different from the others. To make a very good product—the garments need to have very good technical characteristics to be functional for hunting—but on the other side, it must fit well and look nice.
Q. With such a long history behind the brand, is it a challenge to stay current?
FGB: Sure it's a challenge, but I think this is the thing we like, to be challenged every day. Naturally we feel a responsibility. We are proud that our ancestors did such a great job, and we would like to become an ancestor for somebody. Sometimes it's much more difficult to update a very successful product than to develop a completely new one. I always make a comparison of my company to other brands or products I love. In the car business: Porsche. The 911 is an iconic car. In the '70s and '80s, when they were trying to create a new car, the 928 was a fantastic car, but everybody criticized Porsche because they said 'But it's not a Porsche anymore because the Porsche is a certain shape.' Same in the watch business and in another product that I love, the Rolex. The Rolex Mariner has always been the same, but they continue to make small modifications. These are the most difficult things, because when you are the 911 or the Rolex Mariner, how can you make a mistake? And everybody is expecting that it will still be the best. The same goes for our 92 pistol. They are so successful and they are so well known that every time we need to upgrade, it's very difficult. But we keep working on the product. I think this is the key, no matter if it's a shotgun or a jacket or an accessory.
Q. Did you always know you wanted to join the family business?
FGB: Nobody ever told me 'One day you will have to work there.' My father was very straight with me and my brother [Pietro], saying 'You need to finish your studies, graduate, and do your military service,' which at that time was mandatory in Italy. 'And then you will do whatever you want, but you will need to work because nothing will be given to you until you work.' [Laughs.] And so it was natural that when I finished my responsibility to the university and the military service, I showed up and my father said 'You want to have a job here?' and I said 'Yes, that would be great.'
Q. What about your son, Carlo—will he join Beretta?
FGB: It will be his choice. Naturally, being 15, he is in high school. In university, he will choose whatever subject interests him. Then, if he wants, he will come to work for us. I am a strong believer that it has to be a natural choice.
Q. What do you think you'd be doing if you weren't working for Beretta?
FGB: When I was a young kid, my dream was to own a pastry store. I don't know if I had the talent to make it, but I love dessert. But now I love so much my work that it's really difficult to say I'd love to do something else.