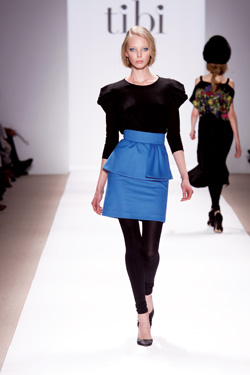 Amy Smilovic, the brainchild behind the Tibi clothing line, cannot imagine wearing a little black dress to a party. "I wouldn't understand the point," she declares. For this fashion designer, clothes are meant to be fun and conversational. "Color is super important," Smilovic says. "I don't like things that look like a candy shop or are too garish but I do want clothes to be bright enough that you feel good yet sophisticated enough that you're still chic." Given the success of the Tibi line – which can be found everywhere from Saks to Bloomingdales and specialty shops in between – Smilovic must not be the only one who favors a palette broader than the one she chides Jennifer Aniston for wearing. We recently sat down with this busy mother of two to find out the secret behind Tibi's success and which celebrities she thinks could use some help with their wardrobe.

Q: Why is the line called Tibi? Are the letters an acronym for something?
A: I wish I could tell you something exciting, but I started the line with a friend in Hong Kong (back in 1997) and it was her grandmother's name and it just stuck once we started.
Q: Your background is in business – how did you end up as a fashion designer?
A: When I was growing up in Georgia, I didn't know I would be a fashion designer but I did love clothes. I was very interested in art and business and starting a clothing line was more about having my own company than anything else. When I graduated college, I fell into the business world more than I had intended and worked in advertising on the account management side. Having learned so much about running a business, I felt passionate about owning my own company. When my husband got transferred to Hong Kong in 1997, I started Tibi. I don't think I would have been brave enough to start a fashion company in New York without a fashion background.
Q: Looking back on those early days when you started Tibi, did you ever envision a clothing line that literally spans the globe?
A: I actually totally envisioned it but now in hindsight I'm like "why did I ever think I could do this?" You operate in a delusional state when you're starting out but I think it would be hard to get somewhere if you're not a certain amount delusional about your capabilities. I'm so glad I didn't know then what I know now because I would have been overwhelmed. I had this crazy optimism.
Q: For those not familiar with Tibi, how would you describe the brand?
A: I'm a Southern girl, and not to stereotype, but Southern girls ultimately want to look pretty and they're not driven by trends. When I design, that is my philosophy. It is amazing how many designers do things just for the sake of design or shock but I know my consumers really want their friends and husband to compliment them and say they look good. Tibi is about clothes that make you feel good or put you in a good mood.
Q: Is it true you run the business with your husband and does he have any say in the designs?
A: My husband, Frank, runs the business. He was at American Express for 27 years and then went to work for Gateway Computers while we were in Hong Kong. I think once he made the leap of leaving Amex after so many years, and I had just started Tibi, he decided we should try to make this work together. Every now and then he gives me opinions on the fashion end but I usually ignore him! He has a European sensibility and can't understand why women need so many clothes. Luckily, we don't all think like him.
Q: Tons of celebrities have donned your clothes. Who wears your line and who do you wish you could dress?
A: Reese Witherspoon, Scarlett Johansson, Drew Barrymore all wear Tibi. I would love to see other girls have more fun with the way they dress. Angelina Jolie and Gwyneth Paltrow are two that I think should have fun with color and print. And, Jennifer Aniston is truly the most boring. She has five million choices and really the jeans, the belt, the Vince sweater – do we need to always wear that?
Q: Tell us about the Fall 2009 line.
A: Fall is based on Russian fairytales, specifically one about the firebird. When you go through the book, you can see how so many of the prints were derived from the ideas and the visuals in the story. My favorite piece for Fall is a dress that has a literal interpretation of the firebird; it is a one-shouldered dress.
Q: What are your future plans for Tibi?
A: I may open more free-standing stores in places such as Los Angeles, the Hamptons, Palm Beach or Boston but I feel no sense of urgency right now. My real goal is to do something in the home arena because I love interior design. I love using the prints that way and I think there is a gap in contemporary design for the home.



Marla J. Wasserman has written for many magazines in New York. Her last
interview for Promenade was with J.Crew Collection's Jenna Lyons.