When it comes to creating fashion, Catherine Malandrino isn't shy about her philosophy. "I want to design irresistible clothes that make a woman desirable, clothes that a man just wants to discreetly take off," she once quipped. Given her loyal following by some of Hollywood's most glamorous and sexy women – including Beyonce, Angelina Jolie,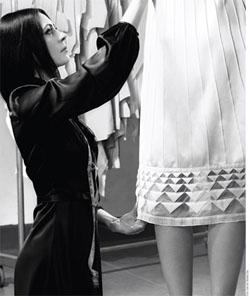 Jennifer Aniston and Demi Moore – Malandrino seems to have succeeded at her goal. Malandrino, who hails from France and started her career with stints at Emanuel Ungaro and Louis Feraud, launched her eponymous label in 1998 and is proud of her brand's recent decade anniversary. We talked with Malandrino on how New York compares to Paris and how clothes foster sex-appeal.
Q: For those less familiar with your romantic creations, how would you sum up the brand's ethos?
A: Femininity is not a weakness but a strength. I want women to feel empowered by my clothes without giving up their femininity. I want to help women express their personality through their clothes.
Q: How do you go about creating clothes that seduce yet still maintain mystery?
A: It begins with the choice of fabric; mine always drapes on the skin, revealing transparency – it could be silk, silk muslin, cotton voile, light cashmere or gloved leather. Sensuality is in the color palette – always intense, vibrant to express passion but combined with powdery neutral colors like skin, pearl, ivory and underlined with black. Sensuality is in the cut. I love clothes that define a women's body – softly curved in the hips, showing shoulder in a carefree movement, accentuating the waist. Sensuality is irresistible and I am designing clothes for the men to remove them.
Q: It's been ten years since you launched your own line – when you think back over the past decade, what do you view as your greatest accomplishment? A: To have been able to combine all my roles together – as a designer, a mother, wife and friend. My anniversary celebrates first my ten years in New York. I fell in love with a city and a man. I decided to build two lives, one in Paris to keep in touch with my roots and one in New York for all the love and excitement it was giving to me. It is the anniversary of ten years of friendship with an amazing woman like Mary J. Blige, who has been at my side from the beginning. We decided to celebrate the anniversary by releasing a book published by Assouline titled "Memoire de Mode" and selected my flag dress, which I first created eight years ago, for the cover.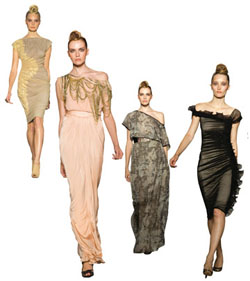 Q: You were born and raised in France, began your career in Paris after graduating from Esmod and presented your first collection in New York in 1998. How would you describe the differences in fashion between New York and Paris?
A: Being trained in Paris taught me the craftsmanship of couture. I learned to work on forms versus flat and how to do draping, bias cut, sheering fabrics and giving attention to detail and layers in the tradition of the Parisian atelier. I had the chance to work with Louis Feraud and Emanuel Ungaro to observe all these techniques. I still spend a lot of time in Paris and it always nourishes my imagination being there. The contrast between Paris and New York is a source of creation for me. In Paris, the poetry is in the air. In New York, it's the vitality that takes me above and beyond. People in New York feel I am very Parisian and people in Paris feel I am so New York! I have a love story with both cities and couldn't live without both in my heart.
Q: Tell us about the Spring 2009 line and what inspired its creation.
A: The Spring collection is inspired by dawn in Paris where you have the illusion that anything can happen. I used sensitive layers of silk tulle and antique French lace to create this feeling.
Q: Is it a special thrill to have such a large celebrity following?
A: Dressing the stars enables you to connect with people you admire. I am fortunate to dress a wide range of celebrities, including Mary J. Blige, Eva Mendes, Beyonce, Demi Moore, Charlize Theron and many others. Celebrity support began right at the start with my famous flag chiffon dress and Madonna's world tour. By dressing stars, I've had the opportunity to get to know many of them on a personal level and it has been very inspiring.
Q: Do you have an ideal client?
A: I always have a woman in mind. She is an individual, a lover and a mother. She travels the world. My ideal woman marries the romance of Paris with the rhythm of New York. She is ultra-feminine, audacious, curious and adventurous. I design for the woman who expresses her individuality and personality through the way she dresses.
Q: What does the future hold for Catherine Malandrino?
A: The worldwide demand has become bigger and bigger and we opened a boutique in Istanbul, Dubai and Kuwait City. [Malandrino has stores in New York's Soho and Meatpacking districts, as well as East Hampton, Paris, TSUM Russia, Kuwait City, two in LA and Las Vegas.] After ten years of my own line, it feels fabulous that women worldwide want to see more of my designs in their own country. Although we have plans to possibly open more stores and to do more accessories – such as jewelry and shoes – we want to keep it very controlled and we feel blessed by our success.