The president/CEO of the nation's fourth largest real estate company and New York's largest residential brokerage firm dishes about up-and-coming neighborhoods in the city, new trends to watch for, and one thing she'd like to change about the Manhattan market.
Q. What's the best location to buy in New York right now?
DH: There is no bad place to live in Manhattan. Prices in every neighborhood are going up. It's really about lifestyle and what you want. In Manhattan, Hudson Yards is being developed and Midtown is likely going to get rezoned, which will change the city skyline and the available inventory. Long Island City and other parts of Queens are also seeing tremendous growth.

Q. What aspect of the market has changed the most since you bought Douglas Elliman in 2003?
DH: It's a whole different game now. We went through a recession and financing changed. There have been huge strides in technology, including social media and blogs. The way we do business is completely different. I'm proud to say that Elliman has been ahead of the curve every step of the way.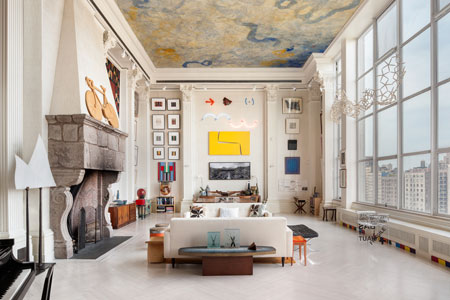 This three-bedroom home at 44 W. 77th St. on the Upper West Side, originally commissioned as an oversize artist's loft in the early 1900s, features a double-height living room with floor-to-ceiling windows overlooking the American Museum of Natural History, hand-painted ceilings, floor-to-ceiling Corinthian columns, and a 17th-century stone fireplace imported from the Iberian Peninsula. (Douglas Elliman list price: $17.5 million)
Q. Where do you see the Manhattan market heading in the next year? Any predictions for the next five years?
DH: Manhattan is a global city and competes on the world stage. I think Mayor Bloomberg has invested a lot in this city, and I hope the next mayor can keep this momentum going. Everyone wants a piece of Manhattan, so there is very limited inventory. It's safe and clean compared to other cities. Foreign buyers want to purchase homes here because it's a safe haven for their investments. All the stars are aligned to keep this trend going, but we have to make sure the city stays this way.

Q. Are you seeing any trends in interior design?
DH: I think designer closets are extremely popular right now, in all shapes and sizes. Manhattan apartments are notorious for having small closets, so now people are building their own in creative ways to maximize space.

Q. If there was one thing you could change about the Manhattan market, what would it be and why?
DH: I just wish there was more land! Manhattan is approximately 22 square miles, and there's a limited supply of inventory. I think what Mayor Bloomberg is doing with the micro-units is really innovative—finding creative ways to live in small spaces. These apartments are around 300 square feet and every square inch of space is functional. I think these units, which are very affordable by NYC standards, will attract more young professionals to Manhattan. It's a great thing for the city and a great thing for young people on a budget who get to claim New York as their backyard!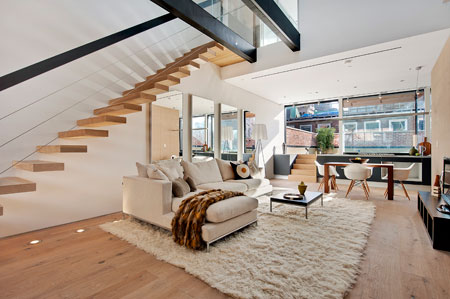 This two-bedroom duplex at 50 Lispenard Street, located on the border of Tribeca and Soho, has industrial chic trimmings: ceilings up to 18 feet, a floating staircase, heated 8-inch plank floors, and a gas fireplace in the skylit living room that's flanked by two decked terraces, one with a Jacuzzi. (Douglas Elliman list price: $4 million)

Q. What is your favorite thing about the real estate business? Your least favorite?
DH: My favorite thing about the real estate business is it's constantly changing and evolving. It never stops. I am always exploring new marketing strategies, new properties, zoning changes, and financing options. It's not just about selling apartments. Buying a home is a very emotional experience. I really get to know my clients and become a trusted advisor. I always tell my agents that knowledge is power. We always have to be current in a world where nothing stays the same.
My least favorite thing about the real estate business is all the misinformation out there. Everyone has an opinion, and with the emergence of blogs and other internet platforms, these opinions are often disguised as facts, and it's hard for consumers to navigate between what's true and what's fiction. I came up with the idea of AskElliman, an online platform hosted on Elliman.com where people could pose questions related to real estate and receive answers in a timely manner from a team of experts that I assembled. It's a good way to ensure you're getting solid information from a trusted source.

Q. What do you love about Manhattan, real estate or otherwise?
DH: I love Manhattan because it's truly an international city, full of excitement and diverse, interesting people. You can walk down the streets and see diplomats, celebrities, presidents, and people from every conceivable cultural background. It's a great place to live and to work.