Luxury shoppers frequenting Aaron Basha's flagship store on Madison Avenue may already be familiar with his idiosyncratic pieces, but a closer look at this family business reveals a long history in jewelry and a warm friendliness that shines through in every product he creates. Stroll into the New York store and you'll see attractive displays of the iconic, fanciful pendants and often get a greeting from th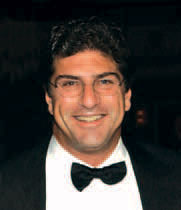 e patriarch himself, Aaron.
Originally from a long line of jewelry traders, Basha's parents were pearl dealers whose clients included royals in the Middle East. Today, Aaron Basha's jewelry is available in 16 countries while he and his children work hard to dream up fresh, whimsical designs that recall a Middle Eastern philosophy, motherhood, childhood, and innocence.
About 15 years ago, the Basha brand gained an international presence with of the arrival of the "Baby Shoe" collection to commemorate the birth of Aaron's first grandchild. These dainty, colorful charms are each encrusted with tiny sparkling diamonds while some contain additional jeweled embellishments with pink or blue sapphires. The Basha brand is also well known for its "Evil Eye" collection, which tends to be made up of white or yellow gold and diamonds, while some boast multi-colored sapphires. Other Basha creations include playful ladybug charms, frogs, and zodiac signs, worn by a number of celebrities, including Catherine Zeta-Jones, Demi Moore, Heidi Klum, Celine Dion, Faith Hill, and others.
Promenade sat down with Sasson Basha, Aaron's son and the president of the company, to talk about his family's history, the ever-popular baby shoe collection, and how his family's values play into the Basha brand.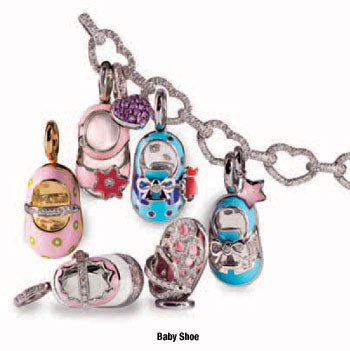 Promenade: I'm very interested in your company's background; I'd love to get a better sense of its history.
Sasson Basha: It's actually a third generation of family jewelers...[my] father was in the business for over 60 years. He understands this business very well from the bench work, the diamond setting, and cutting. We were really born into this business, so we have a very strong understanding about the trade.
Promenade: When did you first start working in the business?
SB: I started when I was born; I was already in the family business. Basically as a teenager, I was always working and getting exposed to the jewelry, to the elements.
Promenade: The company's background is Middle Eastern, correct?
SB: Yes, absolutely. We're from the Middle East. My grandmother used to be the private jeweler to the royals in the Middle East. And that's how we started. She was more into traditional jewelry, you know - diamonds, pearls and heavy pieces...nothing like what we're doing today. Today we are more whimsical.
Promenade: How did the company cross over into more whimsical territory?
SB: Well that happened about 15 years ago. Aaron was looking to celebrate the birth of his first grandchild. He and my mother decided to create the "baby shoe" and present it to their daughter to celebrate her new child and their new grandchild. So it took off from there, basically. [The baby shoe] came out so [beautifully] that many of our customers loved it and wanted us to make some things as well.
Promenade: What about your new "Evil Eye" designs? What's the background there?
SB: The E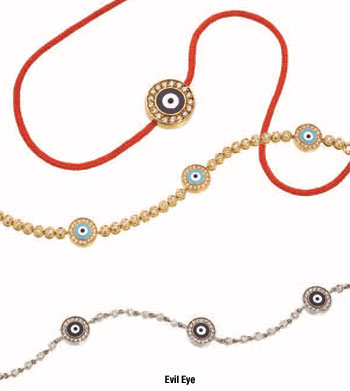 vil Eye is basically [from] a Mediterranean culture, and is buried in the philosophies of life. It covers many countries: Greece, Turkey, all the countries throughout the Middle East...even in Bulgaria there is a very strong belief in the Evil Eye, which is a protection against bad energy. [For] the wearer, it's all about good luck, good fortune, and protection against evil. It's quite amazing...we did not create it, but [our designs] are our interpretation of a contemporary look. [The evil eye] applies to so many people through so many cultures throughout the world, and it has been adopted by North Americans, Europeans, and South Americans. It crosses over the borders. It's quite amazing. We make [the jewelry] in Italy in the finest quality possible. Our designs are simple, classic, yet very contemporary and elegant. It's worn by many, many, many people.
Promenade: I see that you have a lot of celebrity fans.
SB: Absolutely, absolutely. Our jewelry is worn by a lot of celebrities. A lot of Hollywood moms. It's quite magical. I would say almost every Hollywood mom [has worn our jewelry], like Demi Moore and Celine Dion.
Promenade: There's definitely a major theme of youth, family, and innocence. Would you say that your designs are playing to your and your family's personal values?
SB: Absolutely. We're very whimsical and Aaron's philosophy of life is all about happiness, all about smiling; it's all about fun. We take it very
seriously. That's what it's all about. Our work is an interpretation of our life's philosophy. It definitely touches a chord throughout many other families; it represents their lifestyle. It's very happy. It's about people celebrating their special moments. A lot of our customers are collectors and every time there is a new event or a new celebration, they will want to symbolize that with a piece of [Aaron's] jewelry. The jewelry is very childlike, but it's not childish. There's a big difference. It's an interpretation of the different elements of everyone's growth. If it's ladybugs for good luck, if it's butterflies, fish, frogs...all of these fables and myths are coming into play.
Promenade: I can see how the jewelry would help an adult reconnect to a forgotten, younger side of themselves.
SB: The amazing thing is that there's really no border. Our message is global and people adore it whether they're in Japan, Saudi Arabia, Mexico City, or L.A. or New York. It's quite incredible.
Promenade: How is your family involved in the process? How do you collaborate in the creative process?
SB: We all work together, but each of us has separate responsibilities and fields that we specialize in. Aaron is in the store a lot. He's been in retail for over 50 years so that's where you can find him-meeting and greeting customers. I have three more sisters and we're all involved. One of my sisters, Regine, is involved in the technology aspect of the business...with the Internet and the PR activities. My other sister, Osi, is very involved in retail operations, like selling and meeting and greeting customers all over the world. I have another sister, Tali, who is involved in creating all of our advertising internationally and generating the way we look to the world. And I am involved in the distribution and marketing of the product throughout the world. I'm more in the wholesale and distribution. I travel around the world to visit all of our clients.
Promenade: I actually read that Regine has her own line of handbags.
SB: Absolutely, everybody [in my family] is very creative. They graduated from design school or are involved in other different aspects of fashion. Together we collaborate and have a lot of fun.
Aaron Basha Boutique
212-935-1960; aaronbasha.com