Nestled between cashmere emporia and luxury living shops on Madison Avenue lies Yael Sonia art jewelry, a colorful little boutique that doesn't quite blend in with its more conservative neighbors. While the jewelry displayed behind the glass twinkles with traditional textiles like gold and gemstones, its curious designs-which include rolling spheres, swinging pendulums, and spinning tops-catch the ey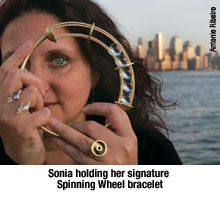 e and kindle the curiosity, tempting the onlooker to touch, to engage, to play. Since designer Yael Sonia draws her inspiration from children's toys, that's exactly the effect she hopes for. "I want people to say 'I want to touch it, I want to play with it.' I love that reaction," Sonia says. "That's when I know the person has been touched by the piece."
Sonia opened her boutique at 922 Madison Avenue in April 2007, adding a third leg to the company that began in Brazil a decade earlier and expanded to Paris. A New Yorker by birth, Sonia has family roots in Paris and spent part of her childhood in Brazil, where all of her jewelry is still made by hand. Her collections-from the original Perpetual Motion line, to the tongue-in-cheek Rock Collection, to her newest Platinum pieces for the bride-to-be-reflect the color and vivacity of Brazil with an unmistakable New York edge. We caught up with the trendsetter to discuss her unique designs and the appeal they hold for the global shopper.
Q. When did you start designing jewelry and how did you get into the business?
I started drawing and designing jewelry as a teenager, for fun. Then, for my 16th birthday, my mother had a piece of jewelry made from one of my drawings. It was the first time I saw one of my drawings in the actual three-dimensional format. I wore that ring for so long-for at least seven or eight years-until I started making my own jewelry.
When I went to college, I had a deal with my parents that I would first study something more academic, then I could study art. As soon as I finished my undergraduate degree [in French literature and sociology, at Columbia University], I went straight to Parsons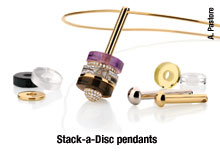 [School of Design, part of The New School]. That was an amazing experience. I realized I wanted to do something more functional than a painting on the wall or a piece of sculpture. I wanted to be more interactive with the clients and produce something that was functional. So I decided to take my first metals class and fell in love. The first time I took that saw in my hand, it was just magical. It was that moment when you realize 'This is what I want to do.' My work at Parsons was very much more about wearable sculpture. My pieces were more about saying something and expressing myself, while taking into account how a piece of jewelry would interact with the body.
Q. Describe your approach to jewelry making.
What's important to me is creating jewelry that goes beyond being decorative and is interactive. Most of my jewelry is inspired by children's toys, so they all move, they're kinetic. The jewelry becomes playful, like an extension of your body-it becomes one with the user. It comes alive, and it adds a whole other dimension to your every day.
It's about bringing back those childhood memories and bringing back that aspect of fun-you can actually have fun when you're wearing your jewelry. The materials are serious, I use gold and real gemstones and diamonds, but it's fun because you can play with it. It really makes everybody smile. Even if it's not conscious, it brings you back to happy memories.
Q. How has your background-growing up in both New York and Brazil and spending a significant time in France-affected your designs?
I think it really depends on the collection. In the Rock Collection, the color and materials used are very influenced by Brazil. However, the collection started as a tongue-in-cheek response to the engagement ring, which I think is something ingrained in American culture.
In terms of inspiration, both New York and Brazil are important for different reasons. I grew up in New York; I spent most of my childhood here and it definitely influenced me more. But Brazil is where I sta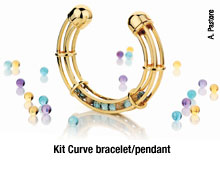 rted my career. Brazil is very inspirational. My best creations I've created while living in Brazil; there's a certain energy there that inspires me. I have my studio in Brazil and get almost all of my materials there, except for the pearls. I use mostly Tahitian pearls and some from Japan, with the occasional ruby or other stone from somewhere else. But everything is still handcrafted in Brazil.
Q. Can you describe the type of person that buys your jewelry?
Women who are self-confident and have already defined who they are. My designs are statement pieces. Because they're so bold, they generally don't go unnoticed. It takes a woman with a certain personality and character to be able to wear them.
Q. Tell me about your interactive kits.
They date back to my first collection. I wanted to add that extra step of interactivity with the client. We're all creatures of habit, and we end up wearing the same ring every day. [With the kits] you can still wear the same piece but make it different every day. A lot of the rings become pendants and vice versa. I like that interchangeable element. I love being able to switch from one to the other.
The newer kits are based on a stack of disks; that is, a central cone with little stackable colored tiers. It's like one of the first very colorful toys we have as a child-I based my collection on that, using slices of gemstones, accented with diamonds, that you can stack on a central peg. They're incredibly playful. It's the idea that you can create what you want to wear-you're part of the creative process.
Q. You've said that New Yorkers are more willing than others to take risks with their jewelry-do you think that's why they're attracted to your pieces?
When I say New Yorkers, I include people coming through New York, who live in other countries or states but are drawn to New York for its differences. I think that the people here tend to be a little more confident and edgier. New Yorkers in general tend to look for what's outside the box. Because it's a city that offers so much, people end up gravitating towards things that are different. The people coming from other countries, they're usually looking for something that's different, that they're not going to get back home. I think [my jewelry] is a definite draw for them.
Q. What would you say is your signature piece?
I love pearls, and in Brazil I'm recognized for my use of pearls. That's my signature in other countries. Here, my signature piece has been the spinning wheel bracelet. It's still the piece that brings the most people in the door.
Q. Tell me about your bridal collection, which came out earlier this year.
It's my first platinum collection. It definitely was a challenge to keep the movement and the kinetic, playful side of my work within something that looks a little more serious. The collection is sort of bridal with a twist. The rings for example are very playful. The only thing traditional about it is the scale and the materials, because the bulk of the collection is in diamonds, but it does have that playful, interactive side. Along the same lines as my other jewelry, this collection is great for a young, confident woman or a younger couple who doesn't want something so traditional.
Q. What's next?
I'm setting up a new studio in Sao Paulo and going back to small scale sculpture. It will also be very playful, almost like tabletop toys. A lot of my jewelry is very sculptural in scale-it looks good sitting in a showcase as well as something you would wear. Something I've been really working on is creating a piece of sculpture that you can
interact with. n
Yael Sonia art jewelry
212-472-6488; yaelsonia.com
To view the pages in pdf form, click here.